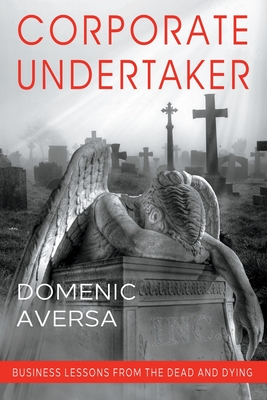 Corporate Undertaker
Business Lessons from the Dead and Dying
Paperback

* Individual store prices may vary.
Other Editions of This Title:
Hardcover (10/1/2019)
Hardcover (10/1/2019)
Description
"Not since first reading Stephen Covey...have I read such a life-changing, inspiring business book....A brilliant book and one I recommend to every single business owner and entrepreneur." --N.N. Light, Top 500 Amazon Reviewer
For more than 25 years, Domenic Aversa has worked as a crisis manager and corporate restructuring professional. He has advised and operated small and middle-market companies in 45 different industries and worked through every possible extreme with his clients, including coup attempts in developing countries, the dot.com bust, 9/11, Ponzi schemes, corrupt bankers, and the Great Recession. In Corporate Undertaker: Business Lessons from the Dead and Dying, he shares his best advice for dealing with adversity and crisis.
There are 50 practical lessons in this book; all designed to help you take immediate action. You'll learn how to:
dramatically improve cash-flow through a period of crisis
preserve the most value in your company while restructuring
create emotional stability in and around your company
effectively communicate with your bank and investors
retain key employees and critical customers
manage and restructure current debt with all creditors
address potential and existing lawsuits
prepare for a bankruptcy filing
effectively manage a partial liquidation or sale of a business
recover from a "corporate death"
If you're looking for answers in today's tumultuous business environment, Corporate Undertaker has them.
Bublish, Inc., 9781950282913, 342pp.
Publication Date: October 1, 2019