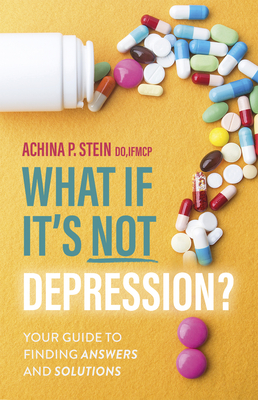 What If It's Not Depression?
Your Guide to Finding Answers and Solutions
Paperback

* Individual store prices may vary.
Description
Is Depression Really the Cause of Your Symptoms?
You're tired. You have trouble sleeping and thinking, you feel down and stressed out, and you worry that you've lost your edge. You're plagued by many physical symptoms, too Your doctor told you that you were depressed, handed you a prescription for an antidepressant, and referred you to a psychiatrist. Your heart of hearts truly believes that you're not depressed, but you don't know what causes you to feel this way.
What if It's Not Depression? is for the person who is sick and tired of feeling sick and tired, doesn't know why they suffer, is tired of going to doctors who just hand them prescriptions, and is willing to do the work so that they aren't crippled by multiple chronic problems requiring multiple medications.
Psychiatrist and certified functional medicine practitioner Dr. Achina Stein will transform your health through her winning strategies and help you:
Figure out whether you're really depressed or not, and what's actually causing you to feel this way
Get off that emotional roller coaster
Clear up that brain fog and increase your energy and vitality
Avoid being stamped with a lifelong mental illness diagnosis that requires years of medication
Add quality years to your life
What if It's Not Depression? solves your problems by looking for the root causes of your emotional symptoms and helps to bring your mind, body, and spirit back into balance naturally without medication. There is hope for you.
Lifestyle Entrepreneurs Press, 9781950367641, 200pp.
Publication Date: April 6, 2021