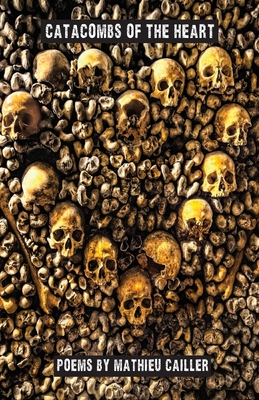 Catacombs of the Heart
Paperback

* Individual store prices may vary.
Description
"Catacombs of the Heart explores the loveliest and the most dreadful corners of existence. Its bittersweet accounts will break your heart, inspire you to see beauty in the mundane, and even, at times, make you laugh out loud. A gorgeous and powerful collection through and through."
-Zara Lisbon, author of Fake Plastic Girl
"Cailler's voice is unmistakable as he keenly observes his world, both inside and out. In poems that view the ordinary as extraordinary, Catacombs of the Heart is a collection that weaves together the emotions of our fragile and beautiful human coexistence."
-Kali White VanBaale, author of The Monsters We Make and The Good Divide
"In this poetry collection, the catacombs of the title are a fascinating repository of the 'things' that comprise a life. These catacombs are a magical mystery tour swerving along Southern California's freeways whereby the speaker encounters "a tango of perfume and Bay Rum cologne," "kisses that taste like Friday," or a homeless man explaining he imagines an assassination, while watching Bye-Bye Birdie, wouldn't be so bad. To one crucial line, 'maybe my brain isn't a series of nerves and pink-gooey folds, but a map, a globe, ' a reader can only nod in recognition. These poems with their stunning, surprising details, are bright, shining, revelatory globes."
-Sue William Silverman, author of If the Girl Never Learns
"A deeply moving portrayal of the complexities of the human heart. We all carry our own catacombs and Cailler's sharp, but balanced command of language makes his poems accessible and relatable. They deliver the message that maybe none of us are as alone as we think."
-Racquel Henry, Founder of Black Fox Literary Magazine
Mathieu Cailler is an award-winning author whose poetry and prose have been widely featured in numerous national and international publications, including the Los Angeles Times and The Saturday Evening Post. A graduate of the Vermont College of Fine Arts, he is the winner of a Short Story America Prize and a Shakespeare Award. He is the author of the short-story collection, Loss Angeles (Short Story America Press), which has been honored by the Hollywood, New York, London, Paris, Best Book, and International Book Awards; the poetry collection, May I Have This Dance? (About Editions), winner of the 2017 New England Book Festival Poetry Prize; and the children's book, The (Underappreciated) Life of Humphrey Hawley (About Editions), which has been nominated for the Caldecott Medal and the Newbery Award, among other notable prizes. Catacombs of the Heart is his second full-length poetry collection. Another children's book, Hi, I'm Night, is forthcoming from Olympia. For more information, please visit mathieucailler.com.
Luchador Press, 9781950380794, 130pp.
Publication Date: December 25, 2019