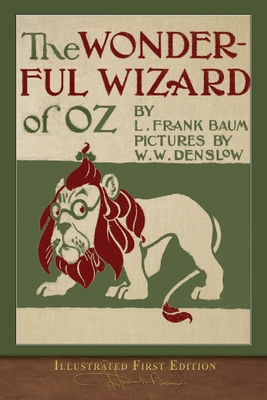 The Wonderful Wizard of Oz (Paperback)
Illustrated First Edition
Seawolf Press, 9781950435432, 200pp.
Publication Date: October 22, 2019
Other Editions of This Title:
Digital Audiobook (6/11/2012)
Paperback (9/5/2017)
Paperback (3/8/2020)
Paperback (10/20/2015)
Paperback (12/5/2011)
Paperback (1/27/2018)
Paperback (5/21/2012)
Paperback (2/26/2020)
Paperback (5/11/2011)
* Individual store prices may vary.
Description
A beautiful edition with more than 160 illustrations and the cover from the 1900 first edition.
The Wonderful Wizard of Oz is an American classic. A children's novel written by author L. Frank Baum and illustrated by W.W. Denslow, it is one of the best known stories ever written. Sometimes called just The Wizard of Oz, it was adapted for the blockbuster 1939 movie starring Judy Garland. The story chronicles the adventures of a young farm girl named Dorothy in the magical Land of Oz, after she and her pet dog Toto are swept away from their Kansas home by a tornado. Her adventures with the Scarecrow, Tin Man, and Lion are known by almost everyone. The author followed up this first book with thirteen additional Oz books that are sequels to the first story.