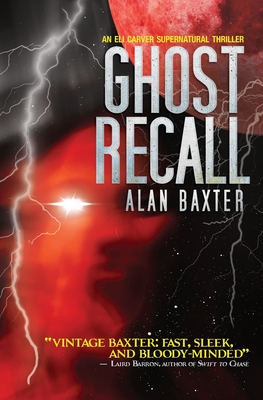 Ghost Recall
An Eli Carver Supernatural Thriller - Book 3
Paperback

* Individual store prices may vary.
Description
THE NEXT CHAPTER IN THE ELI CARVER SUPERNATURAL THRILLER SERIES FROM THE AWARD-WINNING MASTER OF DARK FANTASY
Life has calmed down for Eli Carver and he's grown complacent. Enjoying the high-stakes spoils of his new girlfriend's gambling wins, the duo is living large in Las Vegas. It's the most peaceful time he can recall. But when things turn quiet, Eli finds trouble.
Dragged into the strange machinations of a dangerous secret society, Eli will finally face everything he's been ignoring if he hopes to make it out the other side. And even then, nothing will ever be the same again. Eli and his ghosts find themselves battling powerful adversaries as violence and dark magic coalesce with lethal consequences. Strap yourself in for the third installment of award-winning author Alan Baxter's unrelenting Eli Carver Supernatural Thriller Series.
Praise for Alan Baxter's Ghost Recall and the Eli Carver Supernatural Thrillers:
"Ghost Recall Book Three] bottles the essence of impending doom that drives the most powerful noir. Vintage Baxter: fast, sleek, and bloody-minded."- Laird Barron, author of Swift to Chase
" Book One] Manifest Recall grabs you by the scruff of the neck from word one and doesn't let go. It's fast paced, bad people doing bad things to other bad people. I gobbled it down in two nights. You should, too. Highly recommended " - John F.D. Taff, Bram Stoker Award-nominated author of The End in All Beginnings
"Eli Carver is back with a vengeance That's bad news for some but good news for readers. Book Two] Recall Night is brutal, gritty fun and a phenomenal follow-up to Manifest Recall." - Brian Keene, author of The Complex
"Alan Baxter's fiction is dark, disturbing, hard-hitting and heart-breakingly honest. He reflects on worlds known and unknown with compassion, and demonstrates an almost second-sight into human behaviour." - Kaaron Warren, Shirley Jackson Award-winner and author of The Grief Hole
"Alan's work is reminiscent of that of Clive Barker and Jim C. Hines, but with a unique flavour all of its own." - Angela Slatter, World Fantasy, British Fantasy and Aurealis Award winner
Grey Matter Press, 9781950569083, 170pp.
Publication Date: December 7, 2021