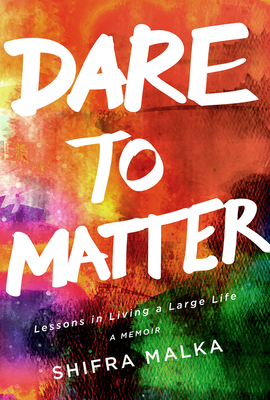 Dare to Matter
Lessons in Living a Large Life: A Memoir
Paperback

* Individual store prices may vary.
Description
Waiting for the world to tell you that you matter?
In her unguarded, deeply affective, and witty memoir, Shifra shares the relatable story of being raised in an image-driven world into which she did not easily fit. Specifically, being told that she resembled her personality-disordered aunt—whose life didn't matter—she deeply feared that hers wouldn't either. 
Shifra writes to the core of this struggle to recover her beaten spirit and build the large life that matters to her. She explores the question of what mattering means, through the prism of how the question personally played out in her relationships with her family, her Orthodox Jewish religion, and the American culture focused on appearance, food, and money. She demonstrates that we cannot buy or borrow our individual mattering, but we can create it.
Dare to Matter gives readers the will and courage to rebuild their collapsed inner space into the large life that makes getting out of bed every morning, and staying out of it, irresistible. This is a call to satisfACTION and a challenge to beat back the messages we get from family and society that shut us down. Renewing your energy to opt into your life, DARE TO  MATTER will fuel you in meaningful and miraculous ways.
Praise For Dare to Matter: Lessons in Living a Large Life: A Memoir…
"In Dare to Matter, Ms. Malka has written a compelling and courageous book about one of life's most important topics. Namely, that we are all created to matter. As we find ourselves in a world awash in people who have inadvertently fallen prey to the lie that they are somehow too insignificant or inadequate to assert a presence that matters, the author beautifully compels her readers to rethink their circumstance and rediscover for themselves how we all possess personal power to lead our lives in meaningful and miraculous ways. I urge you to read this important, very well-written book. It is, in a word, superb." —Brigadier General John E. Michel, author, Executive Director of Skyworks Global

"It is rare that I see the impact of my own work in such a clear and complete way. I listened to you read your cover copy which sent chills through me. I was struck by the brilliance of your understanding about what mattering is and why it is integral to accessing and maximizing our highest creative selves. There are literally endless numbers of people who need to hear that they matter. With your personal voice, you will undoubtedly broadcast the meaning of mattering in a singularly potent manner."  —Barbara Sher, NY Times best-selling author

"Shifra has a commanding and distinctive writing style. Her writing is descriptive, profound and tantamount to a novelist. In all her endeavors, Mrs. Malka is a personable, skilled professional and a team player."  —Rabbi Joseph Friedman, attorney, author and Director of The Jewish Learning Exchange, Olney, MD (a philanthropic Jewish organization focused on educational and social initiatives)
Green Place Books, 9781950584420, 340pp.
Publication Date: October 13, 2020
About the Author
Shifra Malka is fascinated with the inner spaces humans inhabit. As the producer and host of a weekly radio program on social and educational issues that aired live in the Mid-Atlantic region, Shifra was known for eliciting hard, honest responses from her interviewees when posing the questions that others were too hesitant to ask. Underlying these conversations was one pressing question Shifra always wanted to answer: What makes our lives matter? Daring to step right into the heart of life's complexities, her search for answers to this question is refreshingly approachable and impactful. Shifra is an award-winning writing and communications consultant based in Baltimore, Maryland.