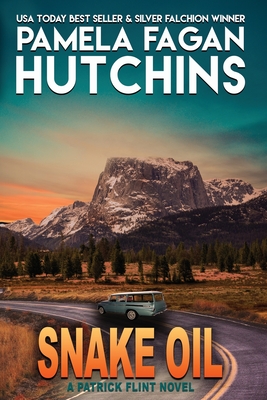 Snake Oil
A Patrick Flint Novel
Paperback

* Individual store prices may vary.
Other Editions of This Title:
Digital Audiobook (12/8/2019)
Paperback, Large Print (9/13/2021)
Hardcover (3/17/2021)
Description
Patrick Flint feels a calling to volunteer at the impoverished Indian Health Services clinic on the Wind River Reservation that he can't completely explain. His wife Susanne supports this-usually-but her family is coming for their first Wyoming visit, twelve-year-old Perry is stir crazy and looking for trouble, teenager Trish is dangerously in love, and she and Patrick are in the final stages of negotiations for their dream house. The Christmas holidays are not a convenient time for him to be gone, to say the least, or to be out of communication, which is exactly what happens when a series of blizzards knocks out power and phone lines all over the region. When Patrick arrives in Fort Washakie to a flirty reception from the young clinic manager, Constance, he discovers Big Mike Teton, a tribal council member, dead in the health center parking lot. The circumstances point toward poisoning, but local law enforcement pooh-poohs that idea the second Patrick brings it up. So does Big Mike's widow-none other than the lovely Constance. Stranded in the storm, Patrick follows his heart and the medical evidence in his quest to figure out what killed Big Mike. No one on the reservation seems happy about his involvement. But they aren't half as unhappy with him as Susanne is back in Buffalo when their realtor calls with a make-or-break counteroffer on the house, and she still can't reach him after two days of radio silence. As Patrick's investigation begins to ruffle the wrong feathers, a frantic Susanne loads up the kids and her extended family for a trek across Wyoming to roust her husband, only to discover she's not the only woman with a strong interest in the good doctor. Snake Oil is the second book in the Patrick Flint series of thrilling mysteries, a spin-off from the What Doesn't Kill You saga. Available in digital, print, and audiobook. If you like C.J. Box or Craig Johnson, you will love USA Today Best Seller Pamela Fagan Hutchins' Patrick Flint series. A former attorney, Pamela runs an off-the-grid lodge on the face of Wyoming's Bighorn Mountains with her husband, living out the adventures in her books with their rescue dogs and cats and enormous horses. What Amazon readers are saying about the Patrick Flint Mysteries: "A Bob Ross painting with Alfred Hitchcock hidden among the trees." "Edge-of-your seat nail biter." "Unexpected twists " "Wow Wow Highly entertaining " "A very exciting book (um... actually a nail-biter), soooo beautifully descriptive, with an underlying story of human connection and family. It's full of action. I was so scared and so mad and so relieved... sometimes all at once " "Well drawn characters, great scenery, and a kept-me-on-the-edge-of-my-seat story " "Absolutely unputdownable wonder of a story." "Must read " "Gripping story. Looking for book two " "Intense " "Amazing and well-written read." "Read it in one fell swoop. I could not put it down."
Skipjack Publishing, 9781950637911, 248pp.
Publication Date: January 23, 2020