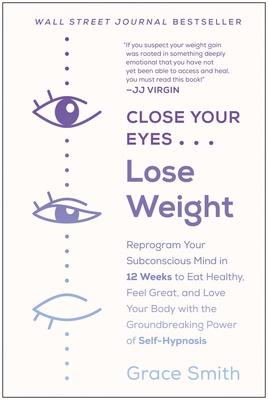 Close Your Eyes, Lose Weight
Reprogram Your Subconscious Mind in 12 Weeks to Eat Healthy, Feel Great, and Love Your Body with the Groundbreaking Po
Paperback

* Individual store prices may vary.
Benbella Books, 9781950665020, 256pp.
Publication Date: April 21, 2020
About the Author
Grace Smith is on a mission to make hypnosis mainstream. A pioneer in the Hypnotherapy field, Grace's private clients including Fortune 500 CEOs, A-list celebrities, Olympic athletes, and government officials. She is founder of the world's #1 provider of hypnosis education, products, and services, Grace Space Hypnosis (gshypnosis.com) and Grace Space Hypnotherapy School (gshypnosis.com/school), a world-class hypnotherapy certification program. Grace is the author of Amazon bestseller, Close Your Eyes, Get Free: Use Self-Hypnosis to Reduce Stress, Quit Bad Habits, and Achieve Greater Relaxation and Focus." Grace's work has been featured in The Atlantic, Forbes, Entrepreneur, InStyle, Marie Clarie, Buzzfeed, MindBodyGreen, She Knows and dozens of podcasts. She is a regular guest on CBS's hit show, The Doctors and her "Relax, Brazil!" segment on popular Brazilian late night talk show, "The Noite con Danilo Gentili" went viral, bringing her powerful self-hypnosis techniques to millions of viewers. Her keynote speeches include OZY Fest with Hillary Clinton, Proctor & Gamble, Summit.Live, Women Empowerment Expo, Soul Camp, and more.