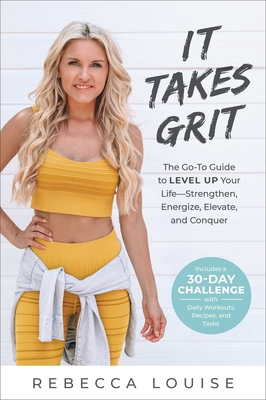 It Takes Grit (Paperback)
The Go-To Guide to Level Up Your Life--Strengthen, Energize, Elevate, and Conquer
Benbella Books, 9781950665280, 304pp.
Publication Date: September 15, 2020
* Individual store prices may vary.
Description
Ready to transform your body and mind into the healthiest, happiest you? You're going to need enthusiasm, an open mind, and a good deal of grit.
In It Takes Grit, fitness expert and mindset coach Rebecca Louise shares a practical no-BS guide to take your workouts, health, and your motivation to the next level--along with a 30-day challenge to kick-start your results.
Through her ultra-popular YouTube channel and social media, Rebecca Louise has helped millions of people improve their mindset and achieve their wellness goals. The secret behind Rebecca's success isn't just her cheeky British humor or her adorable dog Alphie; people come to Rebecca because she's shared many of the same experiences--she knows what's it's like to feel lost, unable to find the right career, live broke, go through a divorce, and struggle with a negative relationship with food. It wasn't until she changed her mindset and started to master high-performance habits that she truly found her way to a career she loved and a healthy lifestyle.
Now, in It Takes Grit, Rebecca shares her tried-and-true tools to lock onto your purpose, uncover your inner grit, and get in the right mindset to go after your goals. She shares:
the 10 healthy habits that changed her life (see: not living in fear of carbs)
an action plan to get started no matter where you are right now (emotionally, physically, and mentally)
instructions for how to build an optimal morning routine, fitness schedule and meal plans that will never go out of style
tips for staying on track and remaining inspired no matter what life throws at you
nutrition plans that will fuel your body (and never leave you hungry)
a "no excuse" fitness plan that actually fits into your lifestyle
Rebecca also shares targeted daily workouts to make sure you're never overworking your body, easy-to-follow meal plans that include recipes for every meal, and daily tasks that will help you reset your mindset and get to the next level. It takes grit will give you the tools needed to enhance your life and create positive, lasting changes--all to help you take control of your health and happiness.
About the Author
Originally from the UK, Rebecca Louise came to the USA at 23 on a whim to get her commercial pilot's license, which she completed out of the Long Beach, CA airport. The small-town girl from Eastbourne UK had grown up watching MTV's The Hills, and after landing at LAX, she knew that this is where she was meant to be. Rebecca played field hockey for the South of England, was in many sports teams at school, and is a trained dancer. After going through anorexia at 17 and being bullied throughout school, she never let anything stop her from following her dreams. Although Rebecca loved flying, it was not her ultimate passion. After obtaining her work visa to come to the states, she was cast on a fitness Youtube channel. This is where Rebecca's love for fitness, helping people, and hosting came alive. Since then, her Youtube views have surpassed over 400 million, and Rebecca went on to create her Fitness and Nutrition App, BURN. Rebecca lives in Huntington Beach, with her two dogs, Alphie and Pennie. She has travelled to more than 20 countries to host fit camps to meet her fans and help them feel the BURN! Her Podcast, It Takes Grit launched in January 2019 and is already in the top charts in some countries. The purpose of the podcast is to inspire and give YOU the plan to take ACTION! Rebecca's programs have been featured in/on Entrepreneur, Vogue, Allure, Cosmopolitan, Shape, KTLA, FOX, Oxygen, Closer, Well+Good, and Goop.