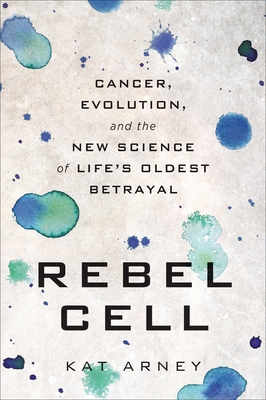 Rebel Cell
Cancer, Evolution, and the New Science of Life's Oldest Betrayal
Paperback

* Individual store prices may vary.
Description
2020 Foreword Indie Award Winner in the "Health" Category

Why do we get cancer? Is it our modern diets and unhealthy habits? Chemicals in the environment? An unwelcome genetic inheritance? Or is it just bad luck?

The answer is all of these and none of them. We get cancer because we can't avoid it—it's a bug in the system of life itself.

Cancer exists in nearly every animal and has afflicted humans as long as our species has walked the earth. In Rebel Cell: Cancer, Evolution, and the New Science of Life's Oldest Betrayal, Kat Arney reveals the secrets of our most formidable medical enemy, most notably the fact that it isn't so much a foreign invader as a double agent: cancer is hardwired into the fundamental processes of life. New evidence shows that this disease is the result of the same evolutionary changes that allowed us to thrive. Evolution helped us outsmart our environment, and it helps cancer outsmart its environment as well—alas, that environment is us.

Explaining why "everything we know about cancer is wrong," Arney, a geneticist and award-winning science writer, guides readers with her trademark wit and clarity through the latest research into the cellular mavericks that rebel against the rigid biological "society" of the body and make a leap towards anarchy.

We need to be a lot smarter to defeat such a wily foe—smarter even than Darwin himself. In this new world, where we know that every cancer is unique and can evolve its way out of trouble, the old models of treatment have reached their limits. But we are starting to decipher cancer's secret evolutionary playbook, mapping the landscapes in which these rogue cells survive, thrive, or die, and using this knowledge to predict and confound cancer's next move.

Rebel Cell is a story about life and death, hope and hubris, nature and nurture. It's about a new way of thinking about what this disease really is and the role it plays in human life. Above all, it's a story about where cancer came from, where it's going, and how we can stop it.
Praise For Rebel Cell: Cancer, Evolution, and the New Science of Life's Oldest Betrayal…
"This book is packed with big ideas about life. Every chapter has something in it which made me think wow. Having worked in a major cancer charity for many years, Arney writes with genuine in-depth understanding and is a perfect guide."

—Daniel M. Davis, author of The Beautiful Cure

"Better than just a history or scientific rundown of cancer, Kat Arney presents a philosophy for how to think about cancer."

—Zach Weinersmith, coauthor of Soonish and creator of Saturday Morning Breakfast Cereal

"Kat Arney is a science writer for all of us—a powerful and talented storyteller."

—Stephen McGann, author and actor on Call the Midwife

"A crystal clear reappraisal of the story behind that word we fear to mention. If you want to know your enemy, read this book. A myth-busting masterclass in science writing."

—Dallas Campbell, science broadcaster and author of Ad Astra

"Forget magic bullets and much-hyped miracle cures; to improve the chances of cancer patients we need revolutionary new thinking. And that new thinking, Arney forcefully argues, is evolutionary . . . This lively, scholarly, and accessible book should be essential reading for oncologists the world over and powerfully demonstrates that nothing in biology, cancer included, makes sense except in the light of evolution."

—Laurence D. Hurst, director of the Milner Centre for Evolution and president of the Genetics Society 

"Kat Arney does it again: taking the complex and making it easy to grasp, demystifying the mysterious, asking the right questions and finding the surprising answers—and all with rollicking good humor and bonhomie. The war on cancer would itself be far more advanced if its practitioners knew how to communicate with us and each other as well as Kat does in this mind-thrilling page turner."

—Mark Stevenson, futurist and author of We Do Things Differently: The Outsiders Rebooting Our World
BenBella Books, 9781950665303, 416pp.
Publication Date: October 20, 2020
About the Author
Dr. Kat Arney is a leading British science writer, broadcaster, and public speaker. Her previous books are Herding Hemingway's Cats: Understanding How Our Genes Work and How to Code a Human. Kat has a degree in natural sciences and a PhD in developmental genetics from Cambridge University and was a key part of the science communications team at Cancer Research UK from 2004-2016, co-founding the charity's award-winning science blog and acting as a principal media spokesperson. As a writer, her work has featured in Wired, the Daily Mail, Nature, Mosaic, New Scientist, and more. She has fronted several BBC Radio 4 science documentaries, as well as the comedy factual series Did the Victorians Ruin the World? and presents the fortnightly Genetics Unzipped podcast.