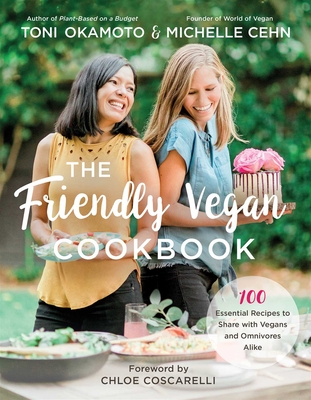 The Friendly Vegan Cookbook
100 Essential Recipes to Share with Vegans and Omnivores Alike
Paperback

* Individual store prices may vary.
Description
Nominated for best cookbook in the 2021 Veggie Awards by VegNews

The founder of World of Vegan and the author of Plant-Based on a Budget have teamed up to create the ultimate kitchen resource for longtime vegans and the veggie-curious alike, with 100 foolproof, flavor-forward recipes.

Eating vegan doesn't have to mean a lifetime of bland veggie burgers and boring salads—nor does it have to make every shared meal a source of stress. As all plant-based cooks know, when it comes time to please a crowd, the pressure in on. You want to serve delicious, memorable dishes, and you're also well-aware that many will be skeptical of vegan food measuring up to their favorites.

Enter Michelle Cehn and Toni Okamoto, longtime friends and two of the most trusted figures in the online vegan community. Through their popular food blogs, videos, podcast, and cookbooks, the two have helped millions of people make living vegan easy, fun, and delicious. Michelle and Toni share 100 amazing recipes for satisfying meals, snacks, and treats, designed for both the veggie-curious and longtime vegans looking for a trusted recipe resource. 

In The Friendly Vegan Cookbook: 100 Essential Recipes to Share with Vegans and Omnivores Alike, you'll find rigorously tested, no-fail recipes including favorites such as:

   • Fettuccine Alfredo
   • Sushi
   • Pot Pie
   • Breakfast Burritos
   • Pop Tarts
   • Chocolate Mousse
   • Cinnamon Rolls
   • Mac 'n' Cheese
   • Corn Chowder
   • Chewy Brownies


Michelle and Toni also share their go-to kitchen tips to make meal planning a breeze, helpful shopping lists, and directions for making your own staples—nut milks, dressings, pasta sauces, and breads. The Friendly Vegan Cookbook is filled with meals that will become your new favorites and go-to staples for when you have meat-eaters to impress. Because amazing food should be shared.
Praise For The Friendly Vegan Cookbook: 100 Essential Recipes to Share with Vegans and Omnivores Alike…
"From the tofu ricotta stuffed shells drizzled with flavorful tomato sauce to the slurpable noodle soups, you won't want to stop cooking from this inspired collection of recipes that show that a kind kitchen should come with no sacrifice—only joy." 

—Daniella Monet, actress and singer starring in Nickelodeon's Victorious

"Eating vegan should be FUN! These wonderful dishes are a celebration of delicious food and the experience of sharing nourishing meals with loved ones. The Friendly Vegan Cookbook will become a staple in so many kitchens!"

—Mýa, Grammy award-winning artist

"There is a unique pressure that comes with cooking plant-based meals for non-vegan friends . . . With The Friendly Vegan Cookbook, and Toni and Michelle's expert guidance and inspiration, impressing your guests will come easy to you! Just be ready to act humble when everyone's minds are blown by these incredible dishes." 

—Evanna Lynch, actress appearing in the Harry Potter film series

"The Friendly Vegan Cookbook is the perfect starting point for anyone wanting to go vegan or add more plant-based foods into their diet. The recipes are easy-to-make, the book is chock-full of great tips, and Michelle and Toni are incredibly upbeat and charming. The Friendly Vegan Cookbook should grace everyone's plant-based cookbook collection."

—Colleen Holland, publisher of VegNews

"Toni and Michelle's mission to create a more plant-forward world is hugely inspirational. This book is packed with delicious and easy plant-based recipes that will inspire you to make kinder, healthier and more environmentally friendly food choices. The future is vegan, join us!"

—Robbie Lockie, cofounder of Plant Based News

"Food should be a means for connection and community—but it can be tricky to satisfy everyone at the table. The Friendly Vegan Cookbook will help you do just that, while demonstrating that plant-based meals are satisfying, familiar, and delicious!" 

—Colleen Patrick-Goudreau, author of The Joy of Vegan Baking and The 30-Day Vegan Challenge

"This fantastic cookbook shows how you can be a friend to animals while also being a good friend to your human companions. Cook up these perfected plant-based recipes and share them with friends as often as you can!" 

—Gene Baur, cofounder of Farm Sanctuary

"Adopting a plant-based diet is the single most impactful action an individual can take to reduce their carbon footprint!" 

—Aidan Gallagher, United Nations Environment Programme Goodwill Ambassador, North America
BenBella Books, 9781950665365, 304pp.
Publication Date: October 27, 2020
About the Author
Michelle Cehn is the founder of the popular food and lifestyle website World of Vegan and a YouTube personality who has reached millions through her creative and relatable videos. She is also co-host of the Plant-Powered People Podcast and co-creator of the 12-Day Dairy Detox, Plant Based on a Budget Meal Plans, and 7 Days documentary. Michelle has been on a lifelong mission to make kind and healthy living enticing, easy, and fun, ever since the age of 8 when she first became a vegetarian. Also a passionate photographer and filmmaker, you can find her dishing out mouth-watering food photos and inspiration daily on Instagram, hanging with her pup Chance, and stepping into mommahood with her hubby Dan. 

Toni Okamoto is the founder of Plant-Based on a Budget, the popular website and meal plan that shows you how to save dough by eating veggies. She's also author of the Plant-Based on a Budget Cookbook, The Super Easy Vegan Slow Cooker Cookbook, and the co-host of The Plant-Powered People Podcast. Okamoto's work has been featured in the popular documentary What the Health, profiled by NBC News and Parade Magazine, and she's a regular presence on local and national morning shows across the country, where she teaches viewers how to break their meat habit without breaking their budget. Toni lives in Sacramento, CA with her husband Paul, and spends her free time swing dancing across the country.