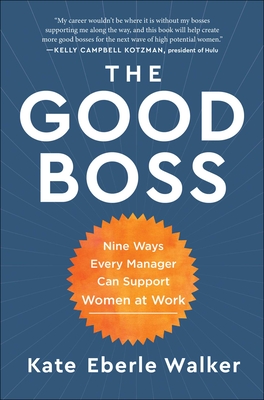 The Good Boss
9 Ways Every Manager Can Support Women at Work
Hardcover

* Individual store prices may vary.
Other Editions of This Title:
MP3 CD (4/20/2021)
Compact Disc (4/20/2021)
Description
When it comes to a woman's day-to-day experience and her career trajectory, one key player has the most significant impact: her boss. If we really want to support women in the workplace, managers must step up.

The good news is that many of the things you can do to be a better manager for women are easy. 

In The Good Boss, CEO and business consultant Kate Eberle Walker offers timely, tactical advice based on her experience coaching managers, as well as the lessons she learned working her own way up the corporate ladder. Eberle Walker outlines nine straightforward rules that any manager can follow to help the women on their team—whether they oversee one, one hundred, or one thousand employees. 

You'll learn:

   • How to build stronger working relationships by being your authentic self
   • How she balances work and family, and what you can do to help
   • What to do (and what not to do) when a new mother returns to work
   • How to identify and deal with problematic comments and behaviors from her coworkers
   • When is the right time to be a tough boss and how to navigate difficult conversations


Eberle Walker also shares insights from CEOs across a range of industries who use creative, forward-thinking methods to support women throughout an entire organization. This guide is for all managers—male and female—who want to avoid common missteps, get great results from their employees, and put them on the path to happy and fulfilling careers.
Praise For The Good Boss: 9 Ways Every Manager Can Support Women at Work…
"The Good Boss frames the full scope of challenges that women encounter. The book is a must-read for every male CEO and manager, and it gives all of us practical ways we can support women every day."

—Brian Grey, CEO of Remind and former CEO of Bleacher Report

"Any leader seeking to create value recognizes the critical importance of a high-performing team. The Good Boss provides an understanding of why diverse organizations outperform their peers and actionable guidance on how to get there."

—Laurence Franklin, former CEO of Tumi

"The Good Boss helps managers genuinely understand, support, and develop the women on their teams. A must-read for leaders who are serious about helping people reach their full potential."

—Robert Avossa, EdD, national education leader

"Kate Eberle Walker's The Good Boss comes at a critical time when it is being shown that the pandemic and the 'she-cession' it has brought have disproportionately impacted working women."

—Deborah Quazzo, managing partner of GSV Ventures and cofounder of ASU+GSV Summit

"The Good Boss helps us all, from the workplace veteran struggling against antiquated norms to the new mom to the boss struggling to help in each situation. The Good Boss should be required reading for all of us—to not only understand the potential landmines, but also how to navigate them with absolute aplomb." 

—Darria Long, MD, national bestselling author of Mom Hacks and international medical TV contributor
BenBella Books, 9781950665815, 256pp.
Publication Date: March 9, 2021
About the Author
Kate Eberle Walker is the CEO of Presence Learning, the leading provider of online special education services for K-12 schools. In this role, she leads a majority female employee population, whose mission is not only to serve students with learning needs, but to provide a flexible career path for nearly 1,000 special education clinicians, many of whom are working mothers. Kate worked her way up to become CEO of The Princeton Review at age 39. While CEO, she not only made the business profitable; she did so while building a 50% female executive team, making her C-suite fully aligned with the gender balance of the organization as a whole. Before becoming a CEO, Kate navigated the male-dominated world of Wall Street as a Goldman Sachs investment banker for five years and worked her way up through management roles. She offers straight, tells-it-like-it-is advice to her fellow managers, and is an approachable and relatable mentor to younger women, whom she regularly supports and advises on career decisions.

Currently a Brooklynite, she lives in Carroll Gardens with her husband Chris, whom she met 15 years ago when they were both students at Harvard Business School. They have two daughters, ages eleven and eight. As her children can attest, she loves telling people what she thinks they should do, and most of the time people find it worth listening.