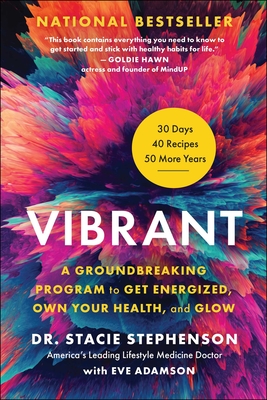 Vibrant
A Groundbreaking Program to Get Energized, Own Your Health, and Glow
Hardcover

* Individual store prices may vary.
Other Editions of This Title:
Compact Disc (6/1/2021)
MP3 CD (6/1/2021)
Description
USA TODAY BESTSELLER • PUBLISHERS WEEKLY BESTSELLER • 2021 FOREWORD INDIES BRONZE WINNER — BODY, MIND, AND SPIRIT

"Vibrant is a wellness book that promises to be life-changing." —Foreword Reviews

Stop thinking of your own well-being as something that's beyond your control.

Today's view of wellness is far too often fragmented, focusing on specific symptoms rather than the whole person. In Vibrant, Dr. Stacie Stephenson introduces readers to a new and empowering way of looking at health. A recognized leader in functional and integrative medicine, Stephenson has helped thousands by focusing not on treating disease, but on creating health-by giving individuals the knowledge, confidence, and inspiration they need to do so for themselves.

By the end of this life-changing book, readers will have the tools to transform their energy, weight, fitness, and general wellness, tackling everything from enhancing sleep quality to building an iron-clad immune system. Beginning with basics such as the truth about the best diet, the critical role of exercise in vitality and longevity, and the importance of human connection, Vibrant also dives deeper to give a holistic picture of health and how to achieve it. With helpful breakdowns on supplements, detoxification, and how to think about disease, this is much more than just another wellness book.

It's also packed with practical, useful features, including:

   • Self-assessment tools to aid you in listening to your body
   • A foolproof two-week meal plan
   • 40 delicious, healthful chef-created recipes
   • 30 days of baby steps to start building the habit of health

With Stephenson's candid and conversational voice, Vibrant is like having a friend who also happens to be a leading health authority take you under her wing. Along with practical advice, she shares powerful insights that will change the way you think about everything from exercise to relationships, and sends readers off with an inspirational chapter on how health has a ripple effect that can change your family, your community, and help to create a more vibrant world.

With a step-by-step program for making foundational lifestyle shifts, Vibrant shows you how to reclaim your health and energy, reverse aging, and glow-not just on the outside, but from deep within yourself.
Praise For Vibrant: A Groundbreaking Program to Get Energized, Own Your Health, and Glow…
"Dr. Stacie Stephenson is a lifestyle medicine doctor who understands that health begins with the basics you control: eating good food in small portions, moving every day, and connecting with the people you love. Anyone can do it, but not everyone knows how. This book contains everything you need to know to get started and stick with healthy habits for life."
—Goldie Hawn, actress and founder of MindUP

"In Vibrant, Dr. Stacie Stephenson delivers on how we can achieve the goal of her book's title. We all want to age and live vibrantly, and this book tells you how. Elevate your health by reading Vibrant!"
—Dr. William Li, New York Times bestselling author of Eat To Beat Disease

"Life is like a great banquet, at which each person is only well if everyone is well. This is how Dr. Stacie Stephenson sees her mission. Her energy is boundless and this book is an amazing achievement, with the admirable goal of bringing physical and mental wellness to all, so life can be the ultimate celebration for everyone."
—Andrea & Veronica Bocelli, The Andrea Bocelli Foundation

"his colorful, warm, and energetic book can help anyone build (or rebuild) a foundation for vibrant health. Dr. Stephenson walks you through the essentials, while dipping into health wisdom from the wide variety of integrative fields she's studied. Whether you are a beginner or you just need a refresher, this book can set you on the path to enjoy vibrant health for the rest of your long and happy life." 
—Dr. Will Cole, leading functional medicine expert and author of Ketotarian, The Inflammation Spectrum and Intuitive Fasting

"We will always need doctors, but what you do for yourself right now is what will determine your health in the future, and that's something you get to control! I love how this book walks you through the steps to make that happen." 
—Samantha Harris TV host, certified health coach, and author

"This book is pure gold. Its straight—forward information, understandable for the layman, provides the key to unlock the secrets of vibrant health for all those who desire it but aren't sure how to get there. I've learned so much and I'm so thankful that Dr. Stephenson was willing to put in the time and investigative work to create a roadmap for this wonderful and important journey."
—David Foster, producer, songwriter, and artist

"I consider myself a healthy person, but after reading this delightful and illuminating book, I've got a whole list of new habits to incorporate into my life. I want energy, glow, and joy for many years to come, and this book is a path to get and keep that amazing feeling of vibrant health."
—Pia Toscano, singer and contestant on American Idol season 10

"Dr. Stacie Stephenson's book Vibrant does exactly what the title implies. It provides an uplifting, can-do program for all of us trying to get the most out of the rest of our lives. It represents a road map for the achievement of vibrant health." 
—Jeffrey Bland, PhD, FACN, FACB, president of The Personalized Lifestyle Medicine Institute

"Only 15% of disease is due to genetics. That means your health is under your control. Dr. Stacie shows you how."
—Dr. Joseph Pizzorno, author of The Toxin Solution and coauthor of the Encyclopedia of Natural Medicine

"Dr. Stacie's no-nonsense approach will delight you, and if you follow her savvy advice, you'll soon see a vibrantly beautiful new you." 
—Lara Pizzorno, MDIC, MA, LMT, author of Your Bones: How You Can Prevent Osteoporosis and Have Strong Bones for Life

"VibrantDoc Dr. Stacie Stephenson has seen your future . . . and it is vibrant! In this book, she draws on her deep personal and professional reservoir to journey with you to truly vibrant living."
—Michael Stroka, JD, MBA, MS, CNS, LDN, CEO of the American Nutrition Association

"Make your health a priority and take care of yourself using the techniques in this book, to lay the foundation for a long and healthy life."
—Cameron Mathison, actor and cohost of Home and Family

"Vibrant is a book about cultivating that vitality in your life so it can shine upon the lives of those in need. Find your abundance, joy, and sense of vibrant purpose between these pages."
—Sara O'Meara & Yvonne Fedderson, founders of Childhelp

"Finally—a holistic, common-sense approach to overall wellness! In Vibrant, Dr. Stacie Stephenson offers a guided tour to optimal health that educates, informs, and empowers you to take control of your daily well-being." 
—Lonnie Ali, philanthropist and Parkinson's advocate

"This indispensable book is your pathway to a happier, healthier, more vibrant you. Your trusted guide on this journey is Dr. Stacie Stephenson, who brings deep wisdom, inspiration, and passion to every page of this must-read work. Take that first step with her and you will soon be living your best life."
—Michael Burton, president and CEO of Gateway for Cancer Research

"No question, Vibrant is a must-read if you want the knowledge to improve the quality of your life. Should you meet Dr. Stacie, the author, you would see this knowledge personified—beauty, intellect, grace, and health."
—Horst Schulze, author of Excellence Wins and founding member of the Ritz Carlton

"Full of energy, life, vitality, and vibrancy, this book is full of inspiration for how to own your health and live a more healthful life by making better choices. Her nutrition and health information is highly advanced—yet easy to understand and apply to your everyday lifestyle. Full of great advice, interactive assessments, and delicious recipes, this book can set anyone on the right path to a vibrant life! Brava, my friend!" 
—Christine Avanti, CN, author of Skinny Chicks Eat Real Food

"In Vibrant, Dr. Stacie Stephenson drives home the concept of integrative medicine which embraces all of the best practices of psychology, regenerative medicine, clinical nutrition, lifestyle medicine, chiropractic care, anti-aging medicine, functional medicine, and more to provide the patient with a truly personalized, holistic approach to healthcare. She lays out a groundbreaking 30-day program to engage patients and their healthcare providers on a path to optimizing their wellness and health. And she does it all in a way that a 'conventionally' trained practitioner can wholeheartedly embrace."
—Robert G. Darling, MD, FACEP, FFSEM, former white house physician (1996–1999) and founder and chief medical officer of Patronus Medical, LLC

"I found quite a lot to like in Dr. Stephenson's program. Not just tips for changing an unhealthy diet, but also tips she provides for slowly incorporating new and healthy habits into a daily routine. . . . Vibrant is one of those books that I'm sure I will consult again and again."
—Susan Miller, The San Francisco Book Review

"Vibrant is a wellness book that promises to be life-changing."
—Foreword Reviews
BenBella Books, 9781950665822, 368pp.
Publication Date: March 23, 2021
About the Author
Dr. Stacie Stephenson is a recognized leader in functional medicine focused on integrative, regenerative, anti-aging, and natural medicine modalities. In addition to her functional medicine and anti-aging board certifications, she is a Certified Nutrition Specialist and Doctor of Chiropractic Medicine. Dr. Stephenson is the founder and CEO of a new health and wellness media venture, VibrantDoc, dedicated to making integrative medicine concepts and optimal wellness accessible to all. She spent close to 15 years in private practice before she was named Chair of Functional Medicine at Cancer Treatment Centers of America. She is also a board member for the American Nutritional Association, an ambassador for the American Heart Association, and the Vice Chair of Gateway for Cancer Research, a non-profit organization dedicated to funding breakthrough cancer research and early stage clinical trials. Dr. Stephenson has always championed a whole-person approach to disease prevention and healing, with an emphasis on healthy lifestyle, natural medicine, and personal empowerment.