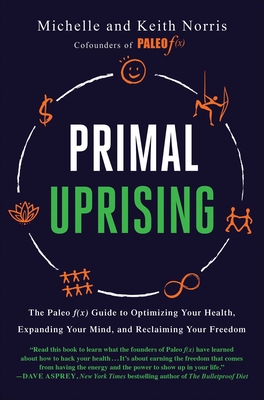 Primal Uprising
The Paleo f(x) Guide to Optimizing Your Health, Expanding Your Mind, and Reclaiming Your Freedom
Hardcover

* Individual store prices may vary.
Description
What does it mean to be healthy? 

True well-being means so much more than just looking good—it means living without chronic aches and pains, waking up with energy every morning, and maintaining a resilient immune system that protects you from getting ill.

The benefits don't end with your own body. Genuinely healthy living empowers you to improve your community—and even the world.

Until now, other food philosophies have dominated the conversation of diet as an ethical or socially responsible choice. This eye-opening book argues that Paleo isn't just a diet: it also encompasses physical movement, thought, emotion and spirit, connection and resources, and tribe. 

Primal Uprising: The Paleo f(x) Guide to Optimizing Your Health, Expanding Your Mind, and Reclaiming Your Freedom makes the case that the modern Paleo way of eating and living can not only make us healthier and happier, it may even save the planet and our souls.

Michelle and Keith Norris are cofounders of Paleo f(x), one of the premier wellness conferences in the world and the largest dedicated ancestral health conference in the nation. In Primal Uprising, Michelle and Keith reveal the seven pillars of human health: the physical, mental, emotional, relational, financial, spiritual, and tribal pillars that contribute to making us truly whole. They dive deep into how your body is meant to eat, move, handle stress, find your tribes, and live. In each chapter, they've consulted with the experts—cutting-edge health practitioners, scientists in a variety of fields, coaches and gym owners, popular bloggers, community and sustainability activists, biohackers, chefs, and more—who provide practical advice and tips to help you create a game plan to step into your full potential and thrive. They also outline what you can do right now to start optimizing your whole self and showing up for your community and your environment. 

Not "just another paleo book," Primal Uprising defines what it means to be Paleo in 2021 and beyond—a manifesto for better health, stronger communities, and a cleaner planet.
Praise For Primal Uprising: The Paleo f(x) Guide to Optimizing Your Health, Expanding Your Mind, and Reclaiming Your Freedom…
"Read this book to learn what the founders of Paleo f(x) have learned about how to hack your health. Health isn't really about being healthy; it's about earning the freedom that comes from having the energy and the power to show up in your life. Lots of great advice here!"

—Dave Asprey, New York Times bestselling author of The Bulletproof Diet

"There are amazing lessons from our ancestors that can dramatically upgrade our model life. Primal Uprising merges ancestral principles of wellness with the technological advances of the modern world to facilitate deep, meaningful health." 

—J. J. Virgin, celebrity nutritionist, Fitness Hall of Famer, and New York Times bestselling author of four titles including The Virgin Diet and The Sugar Impact Diet

"The journey to optimal health is highly personal. Each individual will have different contributing factors, different goals, different genetics, and a different environment. Yet, there are some things that hold true for everyone, and in Primal Uprising, Michelle and Keith Norris have taken something very complex and confusing made it simple and clear with the seven pillars of health." 

—Shawn Wells, MPH, RD, LDN, CISSN, CISSN, bestselling author of The Energy Formula, biochemist, dietitian, and dubbed as "World's Greatest Formulator" 

"As a metabolic scientist, my perspective on optimal health is viewed through the lens of the food we eat. However, while food matters, it alone fails to shine light on all facets of a sound body and mind. In Primal Uprising Michelle and Keith Norris illuminate seven diverse and distinct dimensions of human health and wellness that create a comprehensive view and strategy to a long and productive life." 

—Benjamin T. Bikman, PhD, author of Why We Get Sick and associate professor of physiology and developmental biology at Brigham Young University

"Leverage the wisdom in this transformative book to enhance the human system and upgrade your life experience into a life of excellence!"

—Dr. Mickra Hamilton, cofounder and CEO of Apeiron

"Health is about looking at your whole life and changing the parts that aren't working. That's what Michelle and Keith have done in Primal Uprising, a stupendously comprehensive approach to health that covers food and movement, mind and emotion, spirit and human connection, money and tribe."

—Ben Greenfield, New York Time bestselling author of Boundless and Fit Soul, and the founder of Ben Greenfield Fitness and Kion

"Primal Uprising offers you real wisdom, the application of which will create sustainability, foster responsible use of technology, and more importantly, guide you to finding and using the most advanced technology of all, which lives and breathes within you."

—Paul Chek, holistic health practitioner and founder of Chek Institute

"Michelle and Keith Norris, founders of Paleo f(x), have created not just a conference but a full-on movement, bringing together thousands of people who want to explore how to live a modern lifestyle rooted in ancestral principles. You can see how ahead of the trends they are, just by seeing who presents at their conference. With their book, Primal Uprising, they are helping people find health freedom—freedom from fad diets and dogma—by simplifying health into a fantastic framework that anyone can relate to." 

—Molly Maloof, MD, adjunct professor in the Wellness Department of the School of Medicine at Stanford, healthspan-focused concierge doctor, biohacker, and futurist
BenBella Books, 9781950665853, 320pp.
Publication Date: May 4, 2021
About the Author
Michelle and Keith Norris are the cofounders of Paleo f(x)™, the largest of-its-kind health and wellness platform and event in the world. They are passionate speakers and motivators to those seeking deliverance from a broken healthcare system and disabled economic system. Having left the corporate grind far behind, they are now serial entrepreneurs in the health and wellness space, as well as tireless firebrands for advancing the Paleo movement—a cultural reawakening of self-empowerment for the 21st century. In addition to leading the Paleo f(x) movement, Michelle and Keith speak at events and conferences world-wide on the topic of self-empowerment and breaking free of the human zoo.