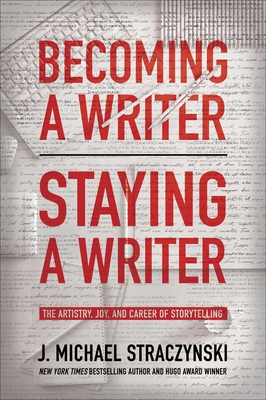 Becoming a Writer, Staying a Writer
The Artistry, Joy, and Career of Storytelling
Paperback

* Individual store prices may vary.
Description
2021 Best Indie Book Award - Writing

In the words of novelist Harlan Ellison, "The trick is not becoming a writer. The trick is staying a writer.

New York Times bestselling author and British Academy Award nominee J. Michael Straczynski knew he wanted to be a writer ever since he was a child. What he didn't know was how to actually become, or stay, a writer. 

Now, he's giving fellow writers the comprehensive guide he wishes he had all along, personalized tips and techniques that can't be found in any other book on writing.

Becoming a Writer, Staying a Writer culls from Straczynski's more than thirty years of experience writing for film, television, books, and comics. Designed for writers in any stage of their career, this quirky, insightful and often humorous book provides an inside look at these industries with advice and wisdom covering such topics such as:

   • What fledgling writers need to know to improve and sell their work—and avoid wasting valuable time
   • Tips for experienced writers who want to get to the next level
   • Staying disciplined when writing is your day job
   • Why writers should never wait for inspiration 
   • Story-planning strategies that don't kill your spontaneity
   • Expert techniques for effective, memorable world-building
   • How to get an agent and survive the writer's journey in more personal relationships
   • Revising and editing with precision
   • When and how to reinvent yourself as an artist 


Becoming a Writer, Staying a Writer includes Straczynski's unique, tried-and-true methodologies that will help storytellers sharpen their work so that it's polished and ready for publication. Part toolbox and part survival guide, this book will be an indispensable guide throughout your entire writing career, offering fresh and practical insights every step of the way.
BenBella Books, 9781950665884, 230pp.
Publication Date: June 1, 2021
About the Author
J. Michael Straczynski has written for TV, film, streaming video and audio, comic books, fiction and nonfiction. He began his career as a reporter for The Los Angeles Times, The Los Angeles Herald Examiner, and TIME Inc., before going on to work in television and film, creating series such as Sense8 for Netflix, and writing the Oscar-nominated Changeling directed by Clint Eastwood. His other work includes Babylon 5, Thor (both the movie and the comic), audio dramas for Syfy and Penguin/Random House, and a six year run on The Amazing Spider-Man. His autobiography, Becoming Superman, was published in 2019 to rave reviews in the Wall Street Journal, NPR, BBC and the Washington Post. His work in comics has sold 13 million individual copies, and his graphic novels have frequently appeared on the New York Times bestseller list. His latest novel, Together We Will Go, will be released in March 2021 from Simon & Shuster.