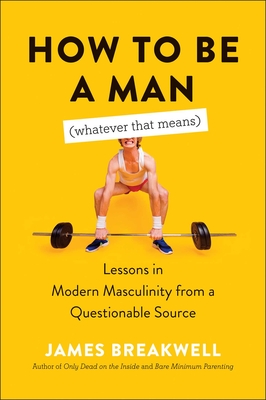 How to Be a Man (Whatever That Means)
Lessons in Modern Masculinity from a Questionable Source
Paperback

* Individual store prices may vary.
Other Editions of This Title:
Compact Disc (2/15/2022)
MP3 CD (2/15/2022)
Description
There's no wrong way to be a woman. There are countless wrong ways to be a man.

James Breakwell should know. He's tried just about all of them. Journalism. Pig ownership. Felony lawn gnome theft. Whatever masculinity is supposed to be, this can't be it. But can you really fail at something no one can quite define? Apparently. 

Now, in a series of funny, sharply observed, and occasionally poignant essays, everyone's favorite internet-famous father of four daughters lays down a lifetime of lessons in what it means to be a man. You'll laugh. You'll cry. You'll wonder what really happened to those creepy lawn gnomes on that deserted country road. (Spoiler alert: They're right behind you.)

If you ever wanted to know how to fail at altruism, dodge the priesthood, and stumble your way into unexpected wisdom, this book is for you.

How to Be a Man (Whatever that Means) presents a vision of manhood that looks very different from what you'll see on TV. And that's a good thing. Probably.
Praise For How to Be a Man (Whatever That Means): Lessons in Modern Masculinity from a Questionable Source…
"How to Be a Man is like reliving the crazy things we all did growing up, and surviving to chuckle about them today. Expect to laugh and roll your eyes at Breakwell's stories. How to Be A Man will keep the reader entertained from beginning to end. But be warned . . . the writing is addictive and the book is hard to put down." 

—Cynthia D'Alba, New York Times and USA Today bestselling author

"Masculinity is a perfect topic for James Breakwell, who knows a good joke when he writes one. He uses his life experience like a sculptor, chiseling away what man is not, and what's left looks kind of like Michelangelo's David in clown pants." 

—Doug French, cofounder of Dad 2.0

"Breakwell deftly punctures the main myths of modern masculinity, leaving behind something more genuine and engaged and a whole lot funnier."

—Chad Orzel, author of How to Teach Quantum Physics to Your Dog and Breakfast with Einstein

"Buy this book for the dude in your life right now! He'll laugh, sure. He'll laugh real hard. But he will also realize once and for all that masculinity is a huge sham."

—Clint Edwards, author of I'm Sorry... Love, Your Husband and Father-ish

 "This book isn't just for men. Women will also laugh out loud at James' tales of making sense of crazy family stories and the ups and downs of life—and ultimately be inspired to realize that the right way to be a man (or a woman) is simply to embrace who you really are." 

—Jen Fulwiler, standup comic and bestselling author
BenBella Books, 9781950665907, 218pp.
Publication Date: June 1, 2021
About the Author
James Breakwell is a professional comedy writer and amateur father of four girls, ages eight and under. He is best known for his family humor Twitter account @XplodingUnicorn, which boasts more than a million followers. The account went viral in April 2016 and transformed James from a niche comedy writer into one of the most popular dads on social media. James has published three books, with several more planned for release in coming years. Only Dead on the Inside: A Parent's Guide to Surviving the Zombie Apocalypse offers useful advice for how to raise happy, healthy children in a world overrun by the undead. Bare Minimum Parenting: The Ultimate Guide to Not Quite Ruining Your Child teaches regular moms and dads to best overachieving parents by doing less. How to Save Your Child from Ostrich Attacks, Accidental Time Travel, and Anything Else that Might Happen on an Average Tuesday is a guide for dealing with literally everything else. And most recently, Prance Like Nobody's Watching is a guided journal specifically for kids.
or
Not Currently Available for Direct Purchase