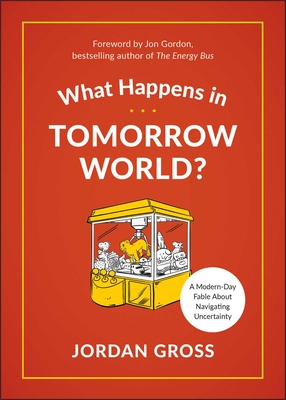 What Happens in Tomorrow World?
A Modern-Day Fable About Navigating Uncertainty
Hardcover

* Individual store prices may vary.
Other Editions of This Title:
Digital Audiobook (5/24/2021)
MP3 CD (5/25/2021)
Compact Disc (5/25/2021)
Description
Bestselling author and TEDx speaker Jordan Gross's What Happens in Tomorrow World? offers a poignant, relatable, and necessary parable for navigating uncertainty.

What Happens in Tomorrow World? tells the story of Opti, Pessi, Chill, and Sage—four prizes found in a traditional arcade claw machine game, and what happens when one special player, Cayla "Catch" Alltoys, plays their game.

As Catch maneuvers the claw over, down, and around them, the four prizes face their own crisis—the possibility of what will happen when they are removed from their safe environment and thrust into the unknown "real" world. Each prize reacts in one of the four typical responses most people have to facing uncertain situations. And it is through those reactions, and subsequent actions, that they—and we—learn how our own responses to uncertainty can either help or harm ourselves, those around us, and society as a whole.

An urgently needed guide for managing the anxiety and ambiguity in our daily lives, this book will help readers thrive in challenging situations. 

Through this memorable story, you'll learn:

   • How to embrace uncertainty in all parts of life
   • Why no single response to uncertainty works for every situation
   • How various personality types typically respond differently to uncertainty 
   • Why it's crucial to resist responding negatively to uncertainty
   • Why it's important to take action, no matter how uncertain you feel


In the spirit of Spencer Johnson's Who Moved My Cheese? presents a modern, unique, and useful toolbox for confronting and managing the overwhelming amount of uncertainty we face every day.
Praise For What Happens in Tomorrow World?: A Modern-Day Fable About Navigating Uncertainty…
"A fun to read, delightful, and most definitely wisdom-filled story! Once I began . . . just couldn't put it down. So many wonderful life lessons, including mentorship that might just be some of the most profound I've ever read."

—Bob Burg, coauthor of the Go-Giver series

"If you're looking for an empowering, purposeful, and heartwarming read, you'll love this story . . . The four friends—Sage, Opti, Pessi, and Chill—helped me better understand my own behavior during challenging times. You'll relearn some fundamental lessons and discover how to deal with uncertainties—no matter how unexpected they are."

—Sinem Günel, entrepreneur, mentor, and fifteen-time top writer on Medium.com

"What Happens in Tomorrow World is a creative, entertaining, and engaging fable that teaches you how to inspire each other and work together even when there is a gap in perspectives and opinions. I encourage you to savor each chapter, examine yourself, adhere to Sage's wisdom, and become your very best right where you are."

—David Cottrell, author of Monday Morning Leadership and Quit Drifting, Lift the Fog, and Get Lucky

"A delightful parable with an important lesson for us all: 'I don't know what's going to happen. If I win, I win. If I lose, I lose. But, no matter what, I learn, I learn.' Life is about learning, and we don't always win; it's the journey that matters."

 —Chester Elton, bestselling coauthor of The Carrot Principle and Leading with Gratitude and The Apostle of Appreciation
Matt Holt, 9781950665952, 112pp.
Publication Date: March 30, 2021
About the Author
Jordan Gross believes that personal development is a never-ending process of imagining who you want to be, interpreting why you want to be that person, creating a plan to get there, and then implementing that plan in the most enjoyable and fulfilling way possible. Through his platform, imagitivetation (imagination + interpretation + creativity + implementation), he helps guide people to think differently and make daring changes in their lives. Jordan is trailblazing in the personal development field by using creative storytelling to allow people to gather their own insights from the characters he creates and the stories he shares.

Jordan is a Northwestern and Kellogg School of Management graduate, where he studied absolutely nothing to do with writing. He's a former startup founder, restaurant manager, and soccer goalie. A solopreneur, podcast host, 2x TEDx speaker, editor, and coach, he is the bestselling author of Getting COMFY: Your Morning Guide to Daily Happiness and The Journey to Cloud Nine.