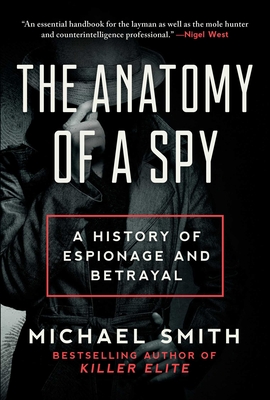 The Anatomy of a Spy
A History of Espionage and Betrayal
Hardcover

* Individual store prices may vary.
Description
For fans of both real spy dramas and fictional ones—both Ben Macintyre and John le Carré—the story of why spies spy.
 
Why do people put their lives at risk to collect intelligence? How do intelligence services ensure that the agents they recruit do their bidding and don't betray them? What makes the perfect spy? Drawing on interviews with active and former British, American, Russian, European, and Asian intelligence officers and agents, Michael Smith creates a layered portrait of why spies spy, what motivates them, and what makes them effective.

Love, sex, money, patriotism, risk, adventure, revenge, compulsion, doing the right thing— focusing on the motivations, The Anatomy of a Spy presents a wealth of spy stories, some previously unknown and some famous, from the very human angle of the agents themselves. The accounts of actual spying extend from ancient history to the present, and from running agents inside the Islamic State and al-Qaeda to the recent Russian active measures campaigns and operations to influence votes in the UK, European Union, and United States, penetrating as far as Trump Tower if not the White House.
 
Praise For The Anatomy of a Spy: A History of Espionage and Betrayal…
"Afascinating study of betrayal, the foibles and compulsions that motivated so many traitors to betray their countries and compromise classified information. Definitely an essential handbook for the layman as well as the mole hunter and counterintelligence professional." —Nigel West

"There are very few ex-intelligence officers who know their stuff better than Michael Smith. If you want to know why spies put their lives in danger, this is the book for you."— Andy McNab, author of the bestseller Bravo Two Zero and the Nick Stone thrillers

"A forensic, enthralling, and extremely accurate analysis of what motivates spies. Bags of history. Bags of intrigue. The Anatomy of a Spy is an unprecedented and instant classic."—Matthew Dunn, former MI6 officer and author of the Spycatcher series and Ben Sign series

"The book is rich in historical anecdotes [and] tackles current affairs, including chapters on what may or may not be going on in American halls of power today. It's a fascinating read for anyone with an interest in traditional spycraft, both past and ongoing."—Criminal Element

"Anatomy of a Spy captures the gritty and dirty world of spycraft in all phases. Michael Smith seizes the narrative and never lets up."—Portland Book Review

"A wide-ranging survey of the reasons why people spy that mixes the familiar with the less well-known, corrects numerous myths, and provides many new insights by a master intelligence expert."—Andrew Lownie, author of Stalin's Englishman

"A lot of people will do a lot of things for money and a lot of people will do things for spite or ego. There are also people who do things for an ideal, and wouldn't take your money if you shoved it down their throats."—John le Carré, from Agent Running in the Field

Praise for THE EMPEROR'S CODES
"Tells the full riveting story of the breaking of the Japanese codes. An enthralling tale, the stuff of John le Carré or Robert Harris, but true."—Daily Telegraph

"Smith writes a real-life thriller that unfolds like a classic spy story. An engrossing and exciting recounting of an obscure but important facet of World War II."—Booklist

Praise for FOLEY: THE SPY WHO SAVED 10,000 JEWS
"Gripping. An outstanding book. The last word on the Final Solution."—Mail on Sunday

"A fascinating book. Smith writes well: coolly and unexaggeratedly, sensibly and authoritatively."—Alan Judd, Daily Telegraph

"'Very effectively conveys the atmosphere of cumulative danger experienced by Jews in Germany under the Nazis."— The Times 

"In his splendid book, Smith has done a fine service in putting the full facts on record."—Chapman Pincher, Western Daily Press  

"One of the greatest untold stories of heroism and humanity from the Second World War."—Evening Mail 

Praise for KILLER ELITE
"Well written and authoritatively sourced, Killer Elite is the first detailed account of a special operations unit that Smith regards as America's most effective."— Sunday Telegraph

"An extensively researched and crisply written exposé . . . An important primer for anyone hoping to understand the successes and failures of U.S. intelligence in the last twenty-five years." ―Publishers Weekly

"Smith lives up to his reputation as an expert in his field."—Bangkok Post

"We have the SAS. The Americans have 'the Activity', a top-secret special operations unit forming and re-forming itself under code-names such as Torn Victor. They are a shadowy body, but Michael Smith tells their story with style and authority." —Daily Telegraph

"The author writes compellingly and has clearly done his homework. It's hard to put Killer Elite down once you start reading; it will educate, amaze and excite you, mainly because you've heard about most of these missions before – just not in this much detail."—Air Force News
Arcade, 9781950691166, 336pp.
Publication Date: January 21, 2020
About the Author
Michael Smith spent a decade in British intelligence before becoming a journalist, first with the BBC and then with  the Daily Telegraph and Sunday Times. Smith is the author of numerous books on espionage, including the number one UK bestseller Station X: The Secrets of Bletchley Park, the US bestseller Killer Elite, The Emperor's Codes, published by Arcade, and Foley: The Spy Who Saved 10,000 Jews, which led to the recognition of former MI6 officer Frank Foley as Righteous Among Nations. Smith is a Visiting Fellow at Kellogg College Oxford and a member of the Historical Advisory Group of the Bletchley Park Trust. He lives in Oxfordshire in England.
or
Not Currently Available for Direct Purchase