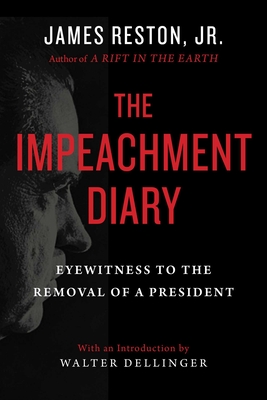 The Impeachment Diary
Eyewitness to the Removal of a President
Hardcover

* Individual store prices may vary.
Description
This eyewitness account of the impeachment process against Richard Nixon—which historian Robert Dallek wrote "could not be more timely"—holds lessons for now.

James Reston, Jr., took leave from teaching during the summer of 1973 to witness the Senate Watergate Committee hearings as he worked with his coauthor on what became the first full-length book to advocate for Richard Nixon's impeachment. During the following summer, he returned to Washington, DC, to witness the final act of the impeachment drama, attending the Watergate trials, Supreme Court deliberations over executive privilege, and House Judiciary Committee hearings to consider and eventually vote on articles of impeachment. In the exciting days after the smoking gun tape was revealed, Reston joined the throng of reporters at the White House, hungry for news of Nixon's response.
 
When he arrived in Washington, he decided to keep a diary. The Impeachment Diary is his contemporaneous account of those heady, uncertain times: when a president, having been investigated by a special counsel and Congress, was called to account for acts contrary to his oath and office, and fundamental questions about the Constitution were engaged. The diary offers lessons—both insights and cautions—for our own time. Former solicitor general of the United States and constitutional scholar Walter Dellinger has provided an introduction discussing the nature and meaning of impeachment and helping to draw the links between then and now.
Praise For The Impeachment Diary: Eyewitness to the Removal of a President…
"James Reston Jr.'s Impeachment Diary could not be more timely. It reminds us that the Congress can not only remove a lawless president but also restore the traditional rule of law and give voice to the majority will."—Robert Dallek, author of the forthcoming How Did We Get Here? From TR to Donald Trump

"An edge-of-the-seat account from inside hearing rooms, court rooms."—Christian Science Monitor

"This is such an important book."—Joe Donahue, The Roundtable, WAMC

"Reston's 1974 diarymirrors today's impeachment drama."—Raleigh New & Observer

 "Insightful in raising an issue that has become controversial againas the Democrats investigate Trump: the problem of secrecy in the hearings. . . . One thing both books capture well—Reston's in particular—is the fraught sense of not knowing how it would all turn out. . . . A companionable guide [with] juicy tidbits to offer."—Washington Post

"[An] edge-of-your-seat account that conveys a real time sense of uncertainty about what would happen next."—Christian Science Monitor
       
"Timely. . . provides a flavor of what it was like to live through those heady, fearful, historic days. . . . Reston also re-creates the feverish speculation about various possible scenarios. He tells of hearing one story, unverified, that Julie Nixon was urging her father, 'Bring down everybody with you, Pa.'"—Dallas Morning News

"If ever there was an 'eyewitness to history' worthy of the name, James Reston, Jr. surely deserves that title. His close-up-and-personal account of the process that drove an American president from office is impossible to put down.To read it is to live it. For those of us old enough to recall from a distance the events that gripped our nation in that fateful time, this autobiographical memoir captures better than our own memories the texture and tempo of a process that has renewed significance today. And for those who didn't live through those events, the chance to do so now as a virtual participant sheds vital light on the history we must make in our own time. Reston's dramatic diary is destined to be the definitive account of what made the process work to remove one lawless president, what almost went wrong, and what lessons to draw from the past as our Constitution's last resort for a presidency gone wrong must be deployed."—Laurence H. Tribe, Carl M. Loeb University Professor and Professor of Constitutional Law, Harvard Law School

"Who knew there was something so fresh and worthy to add to the saga of Richard Nixon's impeachment? Yet Reston, in this thoughtful diary, revives the scenes and rekindles the passions of that historic Washington summer—with all its harrowing correlations to today."—John A. Farrell, author of Richard Nixon: The Life

"The diary . . . is entertaining as a page-turning saga. But it is more than that. This account of the only time in American history that a president was forced from office by the impeachment process teaches us valuable lessons about how the impeachment process can work—and how it might not work."—Walter Dellinger, from his introduction
 
Arcade, 9781950691180, 168pp.
Publication Date: October 15, 2019
About the Author
James Reston, Jr. was an assistant to Secretary of the Interior Stewart Udall before serving in the US Army from 1965 to 1968. He is the bestselling author of seventeen books— including The Conviction of Richard Nixon: The Untold Story of the Frost/Nixon Interviews, which helped inspire the film Frost/Nixon (2008)— three plays, and numerous articles in The New Yorker, Vanity Fair, and the New York Times Magazine. He won the Prix Italia and Dupont-Columbus Award for his NPR radio documentary, Father Cares: The Last of Jonestown. He lives with his wife in Chevy Chase, Maryland.