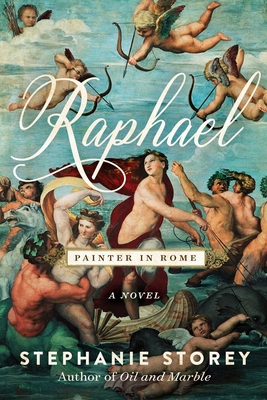 Raphael, Painter in Rome
A Novel
Hardcover

* Individual store prices may vary.
Other Editions of This Title:
Digital Audiobook (4/6/2020)
Paperback (9/21/2021)
MP3 CD (4/7/2020)
Compact Disc (4/7/2020)
Description
Another Fabulous Art History Thriller by the Bestselling Author of Oil and Marble, Featuring the Master of Renaissance Perfection: Raphael!

Michelangelo's Sistine Chapel ceiling is one of the most iconic masterpieces of the Renaissance. Here, in Raphael, Painter in Rome, Storey tells of its creation as never before: through the eyes of Michelangelo's fiercest rival—the young, beautiful, brilliant painter of perfection, Raphael. Orphaned at age eleven, Raphael is determined to keep the deathbed promise he made to his father: become the greatest artist in history. But to be the best, he must beat the best, the legendary sculptor of the David, Michelangelo Buonarroti. When Pope Julius II calls both artists down to Rome, they are pitted against each other: Michelangelo painting the Sistine Ceiling, while Raphael decorates the pope's private apartments. As Raphael strives toward perfection in paint, he battles internal demons: his desperate ambition, crippling fear of imperfection, and unshakable loneliness. Along the way, he conspires with cardinals, scrambles through the ruins of ancient Rome, and falls in love with a baker's-daughter-turned-prostitute who becomes his muse. 

With its gorgeous writing, rich settings, endearing characters, and riveting plot, Raphael, Painter in Rome brings to vivid life these two Renaissance masters going head to head in the deadly halls of the Vatican. 
Praise For Raphael, Painter in Rome: A Novel…
"As the plot thickens, intrigue and political machinations simmer, and the result is a rich and delicious portrayal of art and its creators and the forces that drive and often work against them. More than 25 years of research in Italian Renaissance art deepens the story and renders it full of fascinating detail about people and process, while Storey's painterly prose is also sure to delight art lovers and fans of historical fiction." —Booklist
"Stephanie Storey paints a warm, witty, mesmerizing portrait of the Renaissance's most famous painters: the charming Raphael and the irascible Michelangelo, dueling for the title of greatest artist in Rome. Only one will win the ultimate commission of the Sistine Chapel, and Raphael is determined the ceiling will be his—but at what cost? RAPHAEL: PAINTER IN ROME is a feast for the senses, every brush-stroke a delight." —Kate Quinn, author of The Huntress, The Alice Network,The Empress of Rome Saga,and The Borgia Chronicles
 
"Stephanie Storey takes one of the most towering figures of the Renaissance and seats him across a tavern table from the reader. Raphael's voice is as vibrant and colorful as one of his paintings, and he positively leaps off the page and to life. Impeccably researched, this is an engaging and timely novel about the ways in which politics and art are and always have been intertwined."—Alyssa Palombo, Author of The Violinist of Venice, The Most Beautiful Woman in Florence, The Spellbook of Katrina Van Tassel, and The Borgia Confessions 
 
"A breathtaking portrait of a self-portrait. In it, the artist and his vision, drive, eccentricity, earthly loves and rivalries all come to life in brilliant color. Storey captures the way art can be a tangled creature, born both deliberately and subconsciously from a slice of the artist's life, and the swirl of history, politics, and magical moments." —Carmit Delman, author of Consider the Feast and Burnt Bread and Chutney
 
"A sumptuous, dazzling dive into the world of Italian Renaissance art through the eyes of one of its most celebrated artists. Raphael, Painter in Rome unfolds in unforgettable detail, with all the color and richness of the era: popes and princes, courtesans and cardinals, mystery and murder, ardor and art. The world of Raphael is one I wanted to linger in forever." —Crystal King, author of The Chef's Secret and Feast of Sorrow 
 
"Stephanie Storey conjures the masters of the Italian Renaissance back to life in full vivid detail. This entertaining tale will steep readers in the scheming, the romance, and brilliant talents behind the creation of the Sistine Chapel. Prepare to be charmed! Your Art History 101 class was never this suspenseful and fun."—Elise Hooper, author of The Other Alcott, Learning to See, and Fast Girls

"Stephanie Storey's gorgeous, unputdownable book Raphael: Painter in Rome illuminates the Renaissance and its storied artists in brilliant, page-turning prose. This novel will have readers laughing out loud and cheering for quirky, sweet, playful, unassuming Raphael in his efforts to fulfill his boyhood promise at his father's deathbed to be the greatest painter in history and, later, to win the pope's favor over the brooding, talented artist Michelangelo. Storey's is a novel of forbidden love, loss, faith, determination, carnage, beauty, and ultimately the ties that bind us all in the human condition. Raphael's commitment to paint pictures that "bend the world toward beauty" even in the ugliest of days will leave readers with a keen interest in Renaissance art and the 16th century Vatican, and a love for this charming, endearing man, Raphael. Five stars!"—Michel Stone, author of The Iguana Tree and Border Child

"Along with Michelangelo and Leonardo da Vinci, Raphael Sanzio forms part of an unofficial "holy trinity" of Italian Renaissance artists. In Stephanie Storey's new historical novel, Raphael: Painter in Rome, however, we experience Raphael not as a towering giant but rather as a lively, engaging friend. Storey deftly weaves together extensive historical research on artistic, political, and religious events without it feeling heavy or didactic. Raphael's first-person narrative and his interactions with the other characters—most of whom are important historical figures of Renaissance Italy—pulls the reader seamlessly through the story to a satisfying conclusion. You'll want to have your internet connection ready so that you can look up each and every one of the beautiful works of art described in this engaging tale of ambition, rivalry, and ultimately, the power of art to transcend it all."— Laura Morelli, PhD, art historian and author of The Painter's Apprentice and The Gondola Maker

"Storey makes the world of Renaissance Rome come alive and draws the reader into its constant intrigues... Above all, she has excellent insight into the Renaissance art world and the genius of these two great artists, Raphael and Michelangelo, who were opposites in many ways—painting vs. sculpture, idealism vs. realism—and who disliked each other but also supported each other at crucial moments." —Historical Novels Review, Editor's Choice
Arcade, 9781950691272, 336pp.
Publication Date: April 7, 2020
About the Author
`
or
Not Currently Available for Direct Purchase