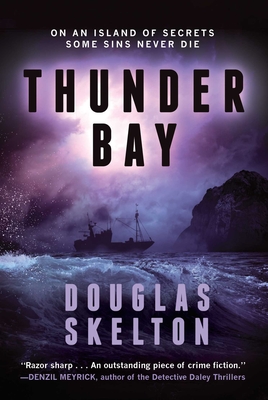 Thunder Bay
A Rebecca Connolly Thriller
Hardcover

* Individual store prices may vary.
Description
Stoirm Island's secrets are worth killing for in this immersive, unrelenting thriller for readers of All the Missing Girls and Neon Prey—"this crime novel has it all" (Publishers Weekly, starred review).

When reporter Rebecca Connolly gets a tip that suspected murderer Roddie Drummond will be returning to the island of Stoirm, she smells a story. Though never convicted in the death of his girlfriend Mhairi fifteen years earlier, Drummond is still guilty in the eyes of many islanders, and his return for his mother's funeral is sure to stir up old resentments, hatreds, possibly even violence. Rebecca has another reason for going to Stoirm. Her own father came from there, but he never went back, and he always refused to speak of it or say what drove him away.
                                                          
Defying her editor, Rebecca joins forces with local photographer Chazz Wymark to dig into the mystery surrounding Mhairi's death and her unexplained last words, "Thunder Bay"—the secluded spot on the west coast of the island where, according to local lore, the souls of the dead set off into the afterlife. When a string of violent events erupts across the island, Rebecca discovers the power of secrets, and she must decide what to bury, and what to bring into the light.
 
Longlisted for Bloody Scotland's McIlvanney Prize for best crime book of the year, Thunder Bay has been hailed as "Immersive, compelling . . . [with a] jaw-dropping climax" (Neil Broadfoot, author of the MacGregor and Drummond thrillers).).
 
Praise For Thunder Bay: A Rebecca Connolly Thriller…
"Exquisite language, credible characters, and unrelenting suspense—this crime novel has it all. . . . Powerful flashbacks help build to the spectacular conclusion."—Publishers Weekly, starred review

"Imbued with the stark beauty of Scottish island life, this atmospheric mystery pulls us into an exploration of human frailty, family loyalty, and the destructive power of secrets. For readers of Denise Mina or anyone seeking a relatable protagonist and a well-told story."—Library Journal

"A darkly claustrophobic tale set on a remote Scottish island, where secrets and lies and family feuds all lead to murderous consequences. Douglas Skelton's writing always delivers, nowhere more than with Thunder Bay."—Craig Russell, author of The Devil Aspect

"Did Roddy kill his girlfriend, Mhairi? . . . On the way to figuring this out, there are a lot of deep, dark—and I mean dark—secrets that are uncovered. . . . Almost everyone on this island is hiding something terrible. . . It's the type of crime fiction that Irish and Scottish writers do particularly well."—Inside Flap

"A surprisingly gripping read. I had no idea where things were going to end up, . . . Skelton's characters kept bucking expectations as they tried to stick to Stoirm's "ethical" code. . . . Readers looking for something out of the ordinary and atmospheric might like this one."—A Bookish Type

"A mesmerizing novel with an intriguing mystery, a distinctive setting and interesting characters. . . . With shocking plot twists, Skelton brings this multilayered mystery to a very dramatic conclusion."—book reviews and more by kathy

"The risks Skelton took in creating Thunder Bay have paid off in spades. As well as creating a sympathetic new protagonist, he has crafted an emotionally truthful tale and delivered it in a lyrical style that places him among Scotland's top cadre of crime writers."—Scotsman
 
"Immersive, compelling, and shot through with Skelton's pitch-black humour, Thunder Bay will reverberate like the last echoes of a storm long after you read the jaw-dropping climax."—Neil Broadfoot, author of the MacGregor and Drummond thrillers
 
"Razor sharp . . .An outstanding piece of crime fiction. Not to be missed."—Denzil Meyrick, author of the Detective Daley thrillers

"Skelton builds up the suspense before going in for the kill. A particularly gripping thriller."—Herald

"'Skelton proves once more that he is master of his craft. I can't think of many, if any, other writers who bring such varied and distinctive styles to their books. . . . [He's] a writer who you can't pidgeon-hole or pin down. I, for one, can't wait to see what he gives us next."—Scots Whay Hae

"Digs deeply, focuses closely on the families at the heart of events. The novel follows Rebecca's attempts to understand what being an islander means, and her own relationship with the island of Stoirm. I'd say it's [Skelton's] best yet, and I hope there are more to come in this vein."—iScot Magazine

"It's beautifully written, descriptive and atmospheric. The pacing is perfect, and the conclusion unexpected. Douglas Skelton has delivered possibly his best work yet, and that really is saying something! It's a triumph."—Simply Suze Reviews
 
"Douglas Skelton excels at planting little seeds throughout his writing, drawing the reader in, and ensuring that they pull up a chair and watch them grow. He succeeds in intriguing you and keeping you firmly on your seat until the last page is turned."—Chapter in My Life
 
"Dark, brooding, atmospheric and full of mystery, this is a book I would highly recommend you read. I loved it."—Jen Med's Book Reviews
 
"Skelton has produced an evocative, beautiful, and tense tapestry of a read."— Live and Deadly
 
"A gripping and thrilling read from one of the great Scottish crime writers, themes of crime, mystery, secrecy and loyalty all woven together to make Thunder Bay one of those books that will stay with you long after you ve turned the last page."—Kate Noble, The Quiet Knitter
Arcade Crimewise, 9781950691340, 312pp.
Publication Date: February 11, 2020
About the Author
Douglas Skelton was born in Glasgow. He has been a bank clerk, tax officer, taxi driver (for two days), wine waiter (for two hours), journalist, and investigator of real-life crime for Glasgow solicitors. He has written eleven true crime and Scottish criminal history books but now concentrates on fiction. His novels Open Wounds and Thunder Bay, the first Rebecca Connolly thriller, were longlisted for the McIlvanney Prize for best crime book of the year. He lives in southwest Scotland.
or
Not Currently Available for Direct Purchase