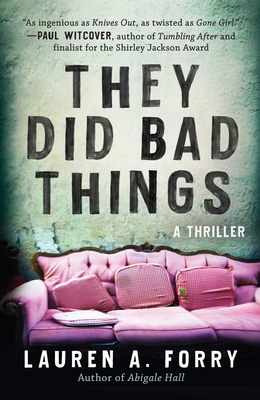 They Did Bad Things
A Thriller
Hardcover

* Individual store prices may vary.
Other Editions of This Title:
Digital Audiobook (10/19/2020)
Paperback (3/1/2022)
Description
And Then There Were None meets The Last Time I Lied in this dark and twisty psychological thriller.

In 1995, six university students moved into the house at 215 Caldwell Street. Months later, one of them was found dead on the sofa the morning after their end-of-year party. His death was ruled an accident by the police. The remaining five all knew it wasn't, and though they went on with their lives, the truth of what happened to their sixth housemate couldn't stay buried forever.
 
Twenty years later, all five of them arrive—lured separately under various pretenses—at Wolfheather House, a crumbling, secluded mansion on the Scottish isle of Doon. Trapped inside with no way out and no signal to the outside world, the now forty-somethings fight each other—and the unknown mastermind behind their gathering—as they confront the role they played in their housemate's death. They are given one choice: confess to their crimes or die. 

They Did Bad Things is a deviously clever psychological thriller about the banality of evil and the human capacity for committing horror.
 
Praise For They Did Bad Things: A Thriller…
"A superior riff on And Then There Were None . . . Forry expertly maintains the nail-biting suspense while fully developing her characters. Agatha Christie fans won't want to miss this one."—Publishers Weekly, starred review

"Forry keeps readers on edge. . . . The solution to the past and present mysteries involves a well-executed twist. This is one for fans of Lucy Foley's The Hunting Party."—Booklist

"Forry does a fine job keeping the surprises coming in rapid succession, making this life-like game of Clue one that will be very hard to predict when the envelope is opened and all is revealed."—bookreporter

"As ingenious as Knives Out, as twisted as Gone Girl, They Did Bad Things is a very good thing indeed."—Paul Witcover, author of Tumbling After and finalist for the Shirley Jackson Award

"Lauren A. Forry creates a chilly, claustrophobic thriller with a group of misfit characters who not only have a history together but also a bucketful of secrets. They Did Bad Things covers all the 'dunnits'—who, what, why, where, and how—and you'll want to read to the end to find out all the answers."—Raymond Benson, author of Blues in the Dark and The Secrets on Chicory Lane

"Lauren A. Forry . . . is obviously well-versed in nightmares."—The Skinny

Praise for Lauren A. Forry's Debut Novel, the Gothic Thriller Abigale Hall
"I mean, come on, who doesn't love an atmospheric, creepy-as-hell Gothic novel featuring two tormented sisters? ABIGALE HALL recalls the classics of the genre while smartly pushing and prodding at the genre boundaries as well as the discomfort level of the reader."—PAUL TREMBLAY, author of A Head Full of Ghosts and Disappearance at Devil's Rock

"Set in Britain's difficult postwar years, Abigale Hall is a moody, Gothic fantasy that transports the reader from the grimy streets of London to a remote, crumbling mansion in the Wales countryside. Forry's well-drawn, idiosyncratic characters find themselves absorbed into a surreal world where reality is not what it seems, and which becomes more horrifying with every turn of the page. A tense, intelligent read that surprises right up to its unexpected conclusion!"—RICHARD COX, author of The Boys of Summer

"From the first paragraph . . . readers know they have entered a splendid gothic novel, with dark shadows and a disturbing creep of horror. It then comes as an intriguing surprise that the book is set in the years following the end of WWII . . . Forry shows herself a master at seductive prose that keeps the reader turning pages, eager to discover the next shocking turn of events."—Publishers Weekly, starred review

"This is the kind of book that grabs the reader by the throat and doesn't let go. I am usually a silent reader, but this story made me squirm, gasp and even scream several times. Forry expertly ratchets up the tension on every page . . . And while the story is timeless, as all good tales of terror are, Forry anchors it with period details that explain the psychology and concerns of the characters. Fans of gothic classics such as du Maurier's Rebecca and James's The Turn of the Screw will love this creepy, gruesome tale of terror. Just don't read it before eating or going to bed. Highly recommended."—The Historical Novel Society

"I had thought it not possible for any contemporary writer to be able to retrieve the feelings of gloom and dread encountered in such iconic novels as du Maurier's Rebecca, Brontë's Wuthering Heights, and even the more jagged side of Shirley Jackson. Lauren A. Forry, whose work is new to me, takes the gothic—and neo-gothic—sensibility common to these authors and folds in a harsher, yet equally atmospheric, texture . . . a mix of deep wonder, texture, complicated players, and a sense of unease that never is relieved—even at the end. "—Hell Notes

"Full of atmosphere and with that irresistible creeping dread from start to end, this Gothic horror is a real treat."—HEAT MAGAZINE

"Lauren A. Forry was PA to Zooey Deschanel on The Happening— that being an M. Night Shyamalan movie, she's obviously well versed in nightmares . . . This debut novel of the Faber & Faber Creative Writing MA prize winner, touted as Daphne Du Maurier meets Hitchcock, is one to watch."—THE SKINNY

"Lauren Forry has created a brilliant debut novel, one that creeped me out, kept me hooked and will have me recommending Abigale Hall to everyone."—READING WITH A VIEW

"Abigale Hall hooks you in... Death hangs on the edge of the pages."—HEATHER WRITES (4 Stars)

"The mansion is something out of a gothic horror in its own right, and there's even a sinister housekeeper something along the lines of the terrifying Mrs Danvers from... what was that book... Ah yes, Rebecca!"—CRIME FICTION LOVER

"A beautifully written novel full of rumours, intrigue, love and loss."—THE WELSH LIBRARIAN

"Forry ratches up the tension expertly, until we don't know if it's madness, ghosts, someone toying with Eliza, or her own imagination that makes the mansion such a place of fear. Whatever it is, it works — keep the lights on when reading!"—CRIME WORM

"It's all the ingredients for a classic tale of Gothic style horror, yet Forry still manages to wring fresh blood (figuratively and literally) out of the genre. . . . In the course of the novel, there come plot twists that are so genuinely shocking at one point it feels like being slapped across the face. The final denouement is extraordinary.  But be forewarned: in such a dark world do not look for a happy ending." —Woman Around Town

"This is a story that goes from merely atmospheric to outright terrifying as you compulsively turn the pages. Forry lulls you into thinking this is just a typical historic, Gothic thriller in the style of Rebecca, until the increasing panic, merging storylines, and uncovered, deadly secrets begin to precariously pile up, ultimately crashing down in a dark and very sinister collapse. Shirley Jackson's influence clings to every page of this intense debut."—Ra for All

"Without a doubt Abigale Hall is cloaked with an unnerving surrealness."—Little Bookness Lane

"This creepy tale of Gothic horror and suspense is the perfect book to curl up with on a dark and stormy night. But, beware . . . you might go to sleep with the lights on!" — The Book Review

"This Victorian novel will have you on the edge of your seat. This Gothic story is perfect for fans of Shirley Jackson and Gillian Flynn."—Cup of Tea With That Book Please

"This book is full of lovely descriptive passages and creates a great sense of menace and eeriness. . . . The atmosphere builds beautifully as one strange thing after another happens leading to a surprising ending. I'm glad I didn't read this book at night!" —Promoting Crime

"Wonderfully vivid and bleak and horrible."—Bloggy Come Lately

"A SERIOUSLY good read. . . . Lauren Forry has created a brilliant debut novel, one that creeped me out, kept me hooked and will have me recommending Abigail Hall to everyone."—Reading Room With a View
Arcade Crimewise, 9781950691449, 288pp.
Publication Date: June 2, 2020
About the Author
Lauren A. Forry was brought up in the woods of Pennsylvania before moving to New York City to earn her undergraduate degree in Cinema Studies and Screenwriting from New York University. She later earned her MA and MFA in Creative Writing and Publishing from Kingston University in London, England. She was awarded the Faber and Faber Creative Writing MA Prize for her thesis work, Abigale Hall, which was published by Skyhorse and translated into multiple languages. Her short stories have been featured in The X-Files: Secret Agendas, Brick Moon Fiction, and Lamplight Magazine. She currently teaches English at Harcum College and resides in Bucks County, Pennsylvania. She never murdered anyone while in college.
or
Not Currently Available for Direct Purchase