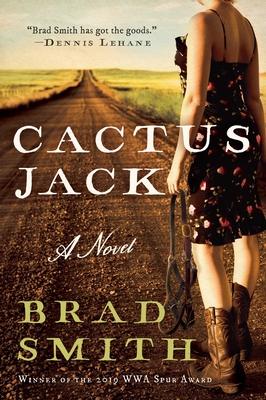 Cactus Jack
A Novel
Hardcover

* Individual store prices may vary.
Description
** A delight from paddock to finish line." --Booklist (STARRED REVIEW) **

Brad Smith "rivals Elmore Leonard at his best" (Publishers Weekly). His latest novel, for fans of Richard Russo and Jane Smiley, is a terrific novel about a thirty-something single woman, the untried colt she inherits, a horse crazy little girl, and their band of misfits and has-beens who stick it to the establishment in the cutthroat world of horse racing.

Billie Masterson is a thirty-something chronic underachiever, drowning herself in alcohol and bad relationships in Ohio. She hasn't been home to the family's broken-down thoroughbred farm in Kentucky since college. Her mother committed suicide when Billie was a teen and she blames her father, Will Masterson. When Will drops dead while working on the farm, Billie returns to rural Kentucky for the funeral, intending only to pay her respects before high-tailing it back to Ohio. However, she's informed by her father's lawyer, the garrulous David Mountain Clay, that she now owns the farm…and all the debt that goes with it. Determined to sell everything, settle the debts and get out of town, Billie discovers that her father's colt, a horse named Cactus Jack, is the object of obsession for billionaire Reese Ryker, the louche scion of a department store dynasty and now owner of Double R Racing, one of the top thoroughbred stables in the world. Billie is willing to sell everything to Ryker—until she realizes that he's an entitled misogynist and a not-so-subtle racist. Against her better judgment, she decides to keep the farm and the untested horse. To do that she needs to race the animal—and beat Ryker at his own game. Assisted by a team of misfits, including a washed-up trainer with whom she has a bit too much history, the horse-crazy little girl next door, and her father's ex-girlfriend, Billie and Cactus Jack take the track by a storm.
 
Praise For Cactus Jack: A Novel…
Praise for Cactus Jack:

** A delight from paddock to finish line." --Booklist (STARRED REVIEW) **

Praise for The Return of Kid Cooper:

"The Return of Kid Cooper is Brad Smith at his best—clear-eyed, tough-minded and true of heart. Smith— once a farmer, signalman, truck driver, bartender, teacher and carpenter— understands that work will take its toll, even when it's the only thing holding a soul together. This is a powerful novel, fully felt and beautifully written." — T. Jefferson Parker, award-winning and New York Times bestselling author

"The Return of Kid Cooper is a western set in the forgotten time between horses and the sterilizing of the American West. Kid Cooper is a classic tragic hero and Brad Smith's rendering of him is full-hearted and poignant."— Dan O'Brien, author of Buffalo for the Broken Heart

"The Return of Kid Cooper can claim a secure place in the canon of literature of the American West. Brad Smith's tale of old-fashioned courage and western justice is reminiscent, in its high drama, wit, and splendid idiosyncrasy, of Lonesome Dove. I was reminded also of Annie Proulx's laconic Wyoming stories, and that most iconic of Western loners, Shane." —John Hough, Jr., author of Little Bighorn
 
"A tour de force. Brad Smith explores powerful universal themes while bringing to life unforgettable characters that make this book a must read. If Cormac McCarthy, Larry McMurtry, and Elmore Leonard collaborated on a book, it might sound very much like The Return of Kid Cooper." —D.B. Jackson, Winner of the Western Heritage Award, and author of Slow Moving Parts.

"From the soft click of a cue ball in a quiet saloon, to lovers on the run reuniting after thirty years, or the blast of a .44 at the final shootout, Brad Smith can really tell a story. He paints this elegiac tale of early twentieth-century Montana on a big canvas with the easy authority of Larry McMurtry's Lonesome Dove and the unflinching violence of Dashiell Hammett's Red Harvest, pulling the Western into this new era with heartbreaking intensity, where tenderness and threat exist in every character, and on every page."— Bart Paul, author of Under Tower Peak and Cheatgrass

"Brad Smith has got the goods—he's funny, poignant, evocative, and he tells a blistering tale. A writer to watch, a comet on the horizon."—Dennis Lehane, award-winning author of Mystic River

"Brad Smith is a writer with lots of skill, lots of heart, [and] lots of brains."—Richard Russo, Pulitzer Prize-winning author of Empire Falls and Mohawk

"A compelling, action-packed romp through politics, romance, morality and history by author Brad Smith . . .  a history buff that who reportedly count the actor Burt Reynolds among his fans."— Toronto Daily Star
 
"Men trapped outside their times—it was the great theme of Sam Peckinpah's best movies, and Brad Smith makes it his own in his first-rate novel, The Return of Kid Cooper."—True West magazine
 
 
 
Praise for Brad Smith
 
"Stellar…Wonderfully wrought characters, delicious wit, and droll storytelling make [Shoot the Dog] a delightful romp." --Publishers WeeklyStarred Review

"Smith has marvelous control of his material, effortlessly mixing laugh-out-loud comedy with streaks of country noir that call to mind Daniel Woodrell." --Booklist

"With dialogue that crackles like musket fire, Brad Smith's novel is true to Gettysburg's heroic past and madcap present, and a deliciously entertaining tale of uncivil war of the legacy of America's greatest conflict." --Tony Horwitz, author of Confederates in the Attic

"Smith has written tight, fast-paced novels his entire career…and reading one is like riding a thoroughbred."--The Chronicle Herald

"Brad Smith combines smooth writing with a twisted mind to give readers Carl Hiassen humor, but with horses instead of gators." --Julie Kramer, author of Shunning Sarah 
Arcade, 9781950691456, 312pp.
Publication Date: June 16, 2020
About the Author
Brad Smith was born and raised in southern Ontario. He has worked as a farmer, signalman, insulator, truck driver, bartender, schoolteacher, maintenance mechanic, roofer, and carpenter. His novels include All Hat (a 2007 major motion picture staring Keith Carradine), Big Man Coming Down the Road, Busted Flush, Crow' s Landing, One-Eyed Jacks (nominated for the Dashiell Hammett Prize), Red Means Run, Rough Justice, and Shoot the Dog. He lives in Dunnville, Ontario, near the north shore of Lake Erie. http://www.bradsmithbooks.com/
or
Not Currently Available for Direct Purchase