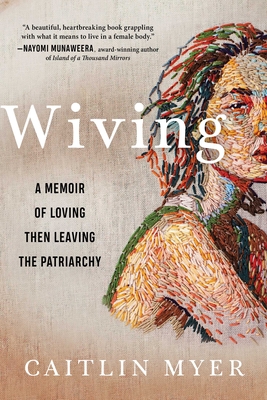 Wiving
A Memoir of Loving Then Leaving the Patriarchy
Hardcover

* Individual store prices may vary.
Description
The Most Anticipated Memoirs of 2020, She Reads • Bay Area Authors to Read This Summer, 7X7

A literary memoir of one woman's journey from wife to warrior, in the vein of breakout hits like Cheryl Strayed's Wild and Jeannette Walls's The Glass Castle. 
 
At thirty-six years old, Caitlin Myer is ready to start a family with her husband. She has left behind the restrictive confines of her Mormon upbringing and early sexual trauma and believes she is now living her happily ever after . . . when her body betrays her. In a single week, she suffers the twin losses of a hysterectomy and the death of her mother, and she is jolted into a terrible awakening that forces her to reckon with her past—and future.
 
This is the story of one woman's lifelong combat with a culture—her "escape" from religion at age twenty, only to find herself similarly entrapped in the gender conventions of the secular culture at large, conventions that teach girls and women to shape themselves to please men, to become good wives and mothers. The biblical characters Yael and Judith, wives who became assassins, become her totems as she evolves from wifely submission to warrior independence.
 
An electric debut that loudly redefines our notions of womanhood, Wiving grapples with the intersections of religion and sex, trauma and love, sickness and mental illness, and a woman's harrowing enlightenment. Building on the literary tradition of difficult women who struggle to be heard, Wiving introduces an urgent, striking voice to the scene of contemporary women's writing at a time when we must explode old myths and build new stories in their place.

Wiving  is a finalist for the 2021 Association for Mormon Letters Creative Nonfiction Award.
Praise For Wiving: A Memoir of Loving Then Leaving the Patriarchy…
The Most Anticipated Memoirs of 2020, She Reads • Bay Area Authors to Read This Summer, 7X7

"Starkly revealing . . . An absorbing, emotionally raw confessional memoir . . . Myer recounts in candid detail her process of self-discovery and eventual, hard-won empowerment."—Kirkus Reviews

"Haunting . . . disturbing . . . Myer writes beautifully and with a sense of humor, even about traumatizing events. . . . Be prepared to reflect on feminism, family, fertility, solitude, and mental health with this record of one woman's dramatic life."—Booklist

"Myer is not a shy writer; she covers religion, sexual abuse, suicide, reproduction, trauma, mental illness, divorce. . . . The narrative is fragmented, yet it holds together, and the writing is visceral, and unabashed. . . . Myer's ability to embody her history infuses the text with an electric corporeality."—San Francisco Chronicle

"A beautiful, heartbreaking book grappling with what it means to live in a female body; what it takes to love and to wrench oneself out of the constraints of love and into a terrifying and dazzling freedom. A gem of a book that is more important now than ever." —Nayomi Munaweera, award-winning author of Island of a Thousand Mirrors
 
"Wiving is a wonder, a hypnotic account of the dangers of desire—specifically female desire—when it dares to run counter to all the barriers that were created to keep such passions in their place. Myer's self-examination and honesty go way past brave and into a dizzying kind of free-fall confession. When I finished this, I felt heart-broken to know what finally 'shook her free.' Highly recommended."—Glen David Gold, author of Carter Beats the Devil and I Will Be Complete
 
"In Wiving, a memoir of her journey away from Mormonism, Caitlin Myer brings a compelling new voice: lyrical, heart-wrenching, and sexy. Myer's identification with the Biblical figures Judith and Yael and her wild, unconventional choices kept me enthralled." —Ayelet Waldman, bestselling author of Love and Other Impossible Pursuits and Bad Mother 

"Beautifully written . . . Every word held my attention. . . . This book tackles a lot of bigger wide-world issues including the role of women in society and how to give your life a purpose but personalizes these issues in an intimate way. I felt so connected to the author/narrator as I read. This is a great book. I'm glad I had a chance to read it."—thebookloversboudoir

"Wiving, is a love letter to being alone as much as it is a memoir of escaping the constricting role of the Wife, in all her various forms—the Mormon homemaker, the eternally supportive girlfriend, the mother who gives up everything for her children. What does it mean for women to live in a world where they are expected to define themselves only relationally?"—sweetlit
Arcade, 9781950691470, 264pp.
Publication Date: July 28, 2020
About the Author
Caitlin Myer is the daughter of a poet and a visual artist, and she grew up in a large, chaotic Mormon family in Provo, Utah. Her short stories, poetry, and essays have appeared in No Tokens, Electric Literature, The Butter, Cultural Weekly, and Joyland, among others, and she was a 2012 MacDowell Colony Fellow. In 2010, Myer founded the San Francisco–based literary reading series, Portuguese Artists Colony (PAC), which has extended its reach beyond the US to performances in Portugal. For seven years she traveled the world, and she has recently settled in Guimarães, Portugal.