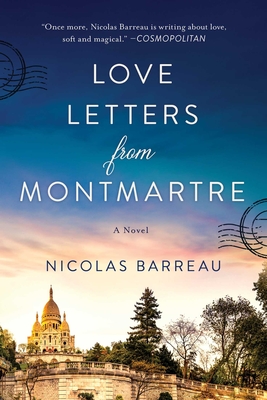 Love Letters from Montmartre
A Novel
Hardcover

* Individual store prices may vary.
Description
For fans of Nina George, Elena Ferrante, and Valentina Cebeni, a charming, uplifting novel about a man who sets out to fulfil his dead wife's last wish.
 
Julien Azouly, the famous French writer of beautiful romance novels, has stopped believing in love. When his beloved wife, Hélène, dies at the age of thirty-three, leaving him alone to raise their young son, Arthur, he is so devastated that he loses faith in the happier side of life—and along with that his ability to write.
 
But Hélène was clever. Before her death, she made her husband promise to write her thirty-three letters, one for each year of her life. Six months after the funeral, Julien finds himself standing in the most famous cemetery in Paris, the painful first letter in his hand. Little does he know that something strange—and wonderful—is about to happen.
 
An ode to love, Paris, and joie de vivre, Love Letters from Montmartre brings the reader down narrow streets, past the cozy red bistro on Rue Gabrielle, and all the way to Montmartre cemetery with its beautiful stone angels, where we will discover the truth we all hope to find: that love is real, that miracles can happen and that—most of all—it's never too late to rediscover your dreams. Empathetic and wise, this is the deeply profound yet very human story of a man who finds love just when he thinks all is lost.
Praise For Love Letters from Montmartre: A Novel…
**An ELLE Book of the Month**

"An enjoyable tale for readers of gentle romance . . . Barreau has a practiced hand in portraying the sorrows and joys of love along with the magic of Paris."—Booklist

"Enchanting. Reading Barreau is like having me-time with your best friend."—Nina George, author of The Little Paris Bookshop

"Heartbreaking . . . touching and magical until the very last page." —ELLE
 
"Exquisitely romantic, without being burdened with the usual tired cliches. Now, once more, Nicolas Barreau is writing about love, soft and magical." —Cosmopolitan
 
"Nicolas Barreau is the master of the romantic comedy." —La Stampa (Italy)
 
"Close the curtains—and let every heart open." —Brigitte (Germany)
 
"Stunningly witty, seductive, sharp, and romantic. Parisian joie de vivre and the search for happiness. A novel imbued with tenderness from cover to cover." —Christine Westermann, Westdeutscher Rundfunk (Germany)
 
Praise for Paris is Always a Good Idea:

"Endlessly charming. Barreau creates a delightful, sparkling yet still relatable heroine. [His] distinct style is a genuine pleasure. A perfect gift for a Francophile, or just anyone else who is looking for a charming good time."―Library Journal

"Both humorous and poignant, this novel is for romantics at heart. . . . The book itself carries the heart of Paris within its pages."―RT Book Reviews

"Nicolas Barreau is a master who knows what to bring his readers and make them stand in awe."―Manhattan Book Review
 
Praise for One Evening in Paris
 
"Barreau has written an enchanting story of love lost and found in the world's most romantic city. With charming characters, a beautiful location, and perfect pacing, Barreau's latest is part romance, part mystery, part travelogue, and a satisfyingly good read." ―Booklist

"Nicolas Barreau takes one evening and magnifies it from every angle to create a stellar memory as well as an outstanding novel." ―Night Owl Reviews

"The twists and turns in the novel leave the reader frantically turning the pages. This book is a perfect read for anyone who appreciates classic cinema, a good mystery, and a love story set in Paris." ―Fresh Fiction

"As romantic as Woody Allen's Midnight in Paris. Rarely has the French metropolis been described in more poetic terms." ―Freundin (Germany)

"In every publishing season there is really only one love story that touches me deeply. One Evening in Paris is my absolute emotional highlight." ―Gala

"A love letter to the movies. A wonderful gift, a magical book." ―SAT 1 (Germany)

"Those readers who are unable to discover their romantic side through Nicolas Barreau's dream-like, beautiful book, probably don't have one." ―taz (Germany)

"A book to warm your heart..." ―Rheinische Post (Germany)
 
Praise for The Ingredients of Love
 
"These are The Ingredients of Love: a delightful heroine, a mysterious hero, romance, Paris, and beaucoup de charme!" ―Ellen Sussman, New York Times bestselling author of French Lessons

"I loved every moment of being transported to Paris in this charming, disarming novel about matters of the heart. A gem of a novel, sparkling with surprises." ―Melissa Senate, author of The Love Goddess' Cooking School and See Jane Date

"A frothy exposé of the perils of book packaging, seasoned with a soupcon of culinary courtship . . . Lovers of Paris and voyeurs of the French publishing scene will find much to relish." ―Kirkus Reviews
 
Arcade, 9781950691524, 264pp.
Publication Date: May 12, 2020
About the Author
Nicolas Barreau has sold over four million copies of his books throughout Europe. Born in Paris in 1980, he studied Romance languages and history at Sorbonne University. He currently works in a bookstore on the Rive Gauche in Paris but is far from an inexperienced bookworm. He is the author of nine novels, including Paris Is Always a Good Idea, One Evening in Paris, and The Ingredients of Love. He lives in Paris, France.