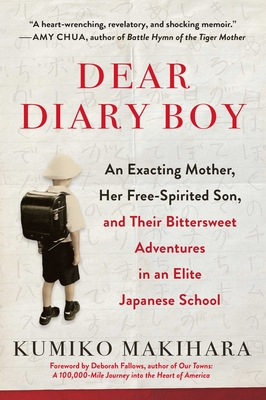 Dear Diary Boy
An Exacting Mother, Her Free-Spirited Son, and Their Bittersweet Adventures in an Elite Japanese School
Paperback

* Individual store prices may vary.
Other Editions of This Title:
Digital Audiobook (6/28/2021)
Description
"A heart-wrenching, revelatory and shocking memoir that opens a fascinating window into the world of traditional Japanese education." —Amy Chua, author of Battle Hymn of the Tiger Mother and Political Tribes

An intensely personal, heartwarming, and heartbreaking chronicle of one mother and child's struggle to fit in at a prestigious private elementary school in Japan.

When her five-year-old son passed the rigorous entrance exams to one of Japan's top private elementary schools, Makihara, a single mother, thought they were on their way. Taro would wear the historic dark blue uniform and learn alongside other little Einsteins while she basked in the glory of his high achievements with the other perfect moms. Together they would climb the rungs into the country's successful elite.

But it didn't turn out that way. Taro had other things in mind. While set in Japan, their struggles in the school's hyper-competitive environment mirror those faced by parents here in the US and raise the same questions about the best way to educate a child—especially one that doesn't quite fit the mold. Public or private? Competitive or nurturing? Standardized or individualized. Helicopter parenting or free-range? Amid this frenzied debate, how does one find balance and maintain a healthy parent-child relationship?

Dear Diary Boy is an intensely personal, heartwarming, and heartbreaking chronicle of one mother and child's experience in a prestigious private Tokyo school. It's a tale that will resonate with all parents as we try to answer the age-old questions of how best to educate our children and what, truly, is in their best interests versus what is in our own.
Praise For Dear Diary Boy: An Exacting Mother, Her Free-Spirited Son, and Their Bittersweet Adventures in an Elite Japanese School…
"Dear Diary Boy is a heart-wrenching, revelatory and shocking memoir that opens a fascinating window into the world of traditional Japanese education. Kumiko Makihara tells a beautiful and universal story of the hard choices so many women face and the depth of a mother's love." —Amy Chua, Yale Law Professor and author of Battle Hymn of the Tiger Mother and Political Tribes

"A vivid insider's look at education and mothering in Japan. Kumiko Makihara's recently published memoir "Dear Diary Boy" might well come with a trigger warning for parents of school-aged children in Japan. Many will be able to relate to the references to heaps of homework, judgmental parents and teachers, long lists of things that children must bring to school each day and the frustrations of getting kids to comply with parents' demands. . . . A book about one person's struggles and how she responded and learned from her experiences." —The Japan Times

"To straddle two cultures is to feel always, to some extent, a stranger; add in the strange country of motherhood, and things become even more difficult. Kumiko Makihara's memoir—anguished, defiant, joyful, and unflinchingly honest—is difficult to read but harder to put down. In our increasingly hybrid global culture, it is an important story." —Janice P. Nimura, author of Daughters of the Samurai: A Journey from East to West and Back

"Kumiko Makihara has written a spare, thoughtful gem of a book about the education of her charming if exasperating son that should be read by anyone interested in modern Japan. It speaks volumes about motherhood, boyhood, cross-cultural adjustment and the power of conformism and parental ambition everywhere." —Jonathan Alter, author of The Center Holds: Obama and His Enemies

"Kumiko Makihara's eloquent memoir offers a rare glimpse into Japanese parenting from deep inside. She is a conscientious mother jumping to meet the challenges thrown her way by an elite Tokyo school, but the struggles are daunting, as she and her son search for their own place in the system. At once moving, distressing, hilarious and very informative." —Stacy Perman, author of In-N-Out Burger and A Grand Complication

"Hilarious and poignant. Any parent swept up in our testing culture will understand how Kumiko Makihara's hopes and dreams gave way to the insanity of competition in a Japanese elementary school. And they will marvel at Taro's refreshing oblivion to the crazy culture in which he is immersed." —Debbie Stier, author of The Perfect Score Project

"Compulsively readable, hilarious and hopeful, Kumiko Makihara's memoir tells two stories—one of a mother and son traversing the treacherous 21st century terrain of private education—the other of a sensitive writer whose own creative spark was nearly extinguished by culture, society, gender and her own well-meaning parents. With writing that is lyrical and emotional but without an ounce of sentimentality, she captures the fleeting wonder of childhood and the particular pain of a parent tasked with ushering that spirit into the realities of adulthood. A must-read for any parent who's ever wondered when to step in and when to step back." —Kathryn Bowers, author of Zoobiquity

"Dear Diary Boy is a poignant story of the lengths a mother will go for her son. It's also an insightful portrayal of the conformity of Japanese society. Anyone who has ever felt like an outsider will relate to Kumiko Makihara's book." —Elliott Holt, You Are One of Them
Arcade, 9781950691616, 240pp.
Publication Date: September 15, 2020
About the Author
Kumiko Makihara' s work has appeared in the International Herald Tribune, the New York Times Magazine and Newsweek, as well as in the books Reimagining Japan: The Quest for a Future That Works and Tsunami: Japan' s Post Fukushima Future. She previously was a reporter for Time Magazine and the Associated Press and a features editor at the Moscow Times. She resides in New York City and Tokyo.
or
Not Currently Available for Direct Purchase