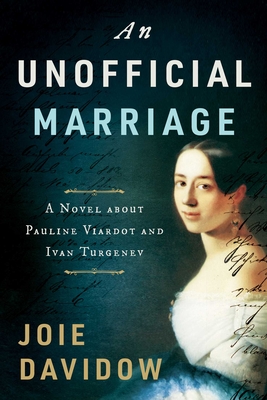 An Unofficial Marriage
A Novel about Pauline Viardot and Ivan Turgenev
Hardcover

* Individual store prices may vary.
Description
For Fans of Alexander Chee's best-selling novel, The Queen of the Night and opera fans everywhere.

Set against the backdrop of the tumultuous events of 19th century Europe, An Unofficial Marriage dramatizes the equally tumultuous real-life love affair of two great artists—the famous Russian author, Ivan Turgenev, and the celebrated French opera singer, Pauline Viardot. From the moment he encounters her on the St. Petersburg stage, Ivan falls completely for Pauline. Though Pauline returns his feelings, she is bound by her singular passion for her art and her devotion to her gentle, older husband, Louis. Nevertheless, Ivan pursues Pauline across countries and continents—from Russia to France to Germany to Prussia—and in the decades that follow their fateful meeting, the lives of Pauline, Ivan, and Louis remain permanently intertwined as the lovers face jealousy, separation, the French Revolution of 1848, the cholera epidemic of 1849, the Franco-Prussian War, Turgenev's arrest in Russia, Louis's heartbreak and resignation, and the highs and lows of their artistic careers. "You know those unofficial marriages," Turgenev would write almost thirty years after meeting Pauline, "They sometimes turn out more poisonous than the accepted form."
 
With beautiful and compelling prose and employing multiple perspectives, Joie Davidow (who herself has a background in opera) illuminates not only the interior lives of these two intensely passionate artists, but also the grand historic moments that Pauline and Ivan experienced and the celebrated figures who moved in their circles—including George Sand, Leo Tolstoy, Frédéric Chopin, Franz Liszt, and Ary Scheffer—providing insight into the dynamic worlds of 19th century opera, literature, art, and politics. Epic in the tradition of the Russian writers whom we encounter, and as romantic and tragic as the operas that Pauline Viardot performs in, An Unofficial Marriage brings to life with great scope and great humanity this captivating story from the past and explores timeless questions about the relationship between art and passion and the complex workings of the human heart.
Praise For An Unofficial Marriage: A Novel about Pauline Viardot and Ivan Turgenev…
"Readers will be swept along . . . Davidow writes beautifully about the artistic vision and technical demands involved in singing opera. The varied settings feel exquisitely vibrant, from chic, restful Baden-Baden, in Germany's Black Forest, to politically fraught Paris during France's Second Republic."—Booklist

"Lyrical and dramatic, like the best operas, Joie Davidow's AN UNOFFICIAL MARRIAGE guides us on an emotional journey against the backdrop of stormy historical events. Brava!" —Esmeralda Santiago, bestselling author of Conquistadora and When I Was Puerto Rican
 
"In prose as tender as Turgenev's feelings for the legendary diva, Davidow weaves a nineteenth century tale of helpless obsession and undaunted love." — Elizabeth Cobbs, bestselling author of The Hamilton Affair

"A tale of culture and passion, a trove of delights for lovers of literature and opera, and an eye-opener for everyone who'd like to learn more about both." —Judith Dupré, NYT best seller author of Churches, Skyscrapers, and One World Trade Center

"Reading this expansive, intimate book during a time of crisis is like emerging from a sensory deprivation tank. The sights, sounds, scents, and, oh, the touches, in Joie Davidow's novel about Ivan Turgenev's furtive love affair with international opera diva Pauline Viardot create a world so vivid and seductive, you'll never want to leave." —Cathleen Medwick, author of Teresa of Avila: The Progress of a Soul 

"How fascinating to get a glimpse into the private life of Turgenev and the even more intriguing Pauline Viardot, proclaimed by many of her contemporaries to be a musical genius. Joie Davidow is herself an opera singer and the portrayal of Viardot's passion for her vocal instrument, her preparations for performance, and her sadness when, with age, her singing voice begins to lose its power and precision, all feel extremely authentic."—Jane Harris, award-winning author of Sugar Money

"Drawing upon her experience as a performer and lover of opera, Joie Davidow has found an exhilaratingly fresh way to present turbulent 19th-century Europe through the obsessive love of author Ivan Turgenev for married opera singer Pauline Viardot.  Davidow seduces her readers as surely as Turgenev did Viardot." — Hunter Drohojowska-Philp, author of Full Bloom: The Art and Life of Georgia O'Keeffe

 

 

 
Arcade, 9781950691784, 288pp.
Publication Date: March 16, 2021
About the Author
Joie Davidow is the author of a memoir, Marked for Life (Harmony) and co-editor with Esmeralda Santiago of two anthologies, Las Mamis and Las Christmas (both Vintage). She was co-founder of L.A. Weekly and founder of L.A. Style and Si magazines. She lives in Rome where she leads creative writing workshops.