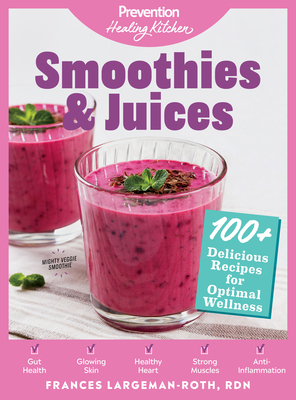 Smoothies & Juices
Prevention Healing Kitchen: 100+ Delicious Recipes for Optimal Wellness
Hardcover

* Individual store prices may vary.
Description
Enjoy 100+ refreshing smoothies and juices that promote gut health, glowing skin, heart health, strong muscles, and reduce inflammation from the trusted editors at Prevention.

Smoothies and juices are a delicious and easy way to add more fruit and vegetables into your diet and satisfy cravings between meals. Organized by principal health benefit—gut health, heart health, silky skin, post-workout recovery, and reducing inflammation—every recipe includes a detailed explanation about why it's so good for you. Plus, nutrient-rich ingredients include whole fruits and vegetables like avocados, berries, and kale; fresh herbs like mint, basil, and cilantro; as well as healthy add-ins like collagen peptides, bone broth, celery juice, alternative milks, chia seeds, flax seeds, and hemp seeds, apple cider vinegar, filling proteins like nut butter and protein powders, and prebiotics and probiotics to support your microbiome.

Smoothies & Juices: Prevention Healing Kitchen includes:

· 100+ healthy and delicious recipes such as Carrot-Coconut Smoothie, Pear-Almond Smoothie, Peaches 'N' Cream Oatmeal Smoothie, Citrus-Pineapple Smoothie, Pumpkin Detox Smoothie, Berry, Chia, and Mint Smoothie, Turmeric Twist, Celery Juice, Banana-Avocado Zinger, Blueberry Cobbler Smoothie Bowl, and more!
· No additional equipment needed! All juices as well as smoothies can be made in your blender
· Tips and tricks from the test kitchen for easy preparation
· Recipes clearly labeled as high in fiber, protein, and calcium, as well as vegan and good for meals on-the-go
· Nutritional values for every recipe
· Lie-flat binding for easy use

So power up your blenders! A healthier way of eating is only one tasty smoothie away.
Praise For Smoothies & Juices: Prevention Healing Kitchen: 100+ Delicious Recipes for Optimal Wellness…
"If you're ready to take a whole foods approach to your health, then this book is for you! Smoothie & Juices: Prevention Healing Kitchen does a wonderful job of bringing you the science-based evidence to upgrade your smoothie game into something you'll be EXCITED about making a regular part of your routine. The 100+ recipes inside truly provide something for everyone! The mouthwatering Berry Batido and Get-Ahead Gingerbread Smoothie are definitely calling my name!"  
–Elizabeth Shaw, MS RDN CPT, Nutrition Expert and Owner of ShawSimpleSwaps.com; Author of Instant Pot Cookbook For Dummies, Air Fryer Cookbook For Dummies, and Fertility Foods Cookbook.


"Frances is a guru when it comes to all things health and wellness! The delicious smoothies in this book aren't just dressed up milkshakes, they actually provide real health-boosting nutrients that help to fight inflammation, boost gut health, promote healthy skin—and so much more. This book is a must-have for anyone who wants simple strategies for improving their health."
—Lyssie Lakatos, RDN, CDN, CFT and Tammy Lakatos Shames, RDN, CDN, CFT, The Nutrition Twins and authors of The Nutrition Twins' Veggie Cure


"Finally a book that does smoothies right! Frances shows you how to turn smoothies into nutrition powerhouses to boost the health of your skin, heart, gut and more. This book has recipes you'll love plus smart advice on improving overall wellness at any age." 
—Dawn Jackson Blatner, RDN and author of The Superfood Swap
 
"Whether you're a smoothie novice or a seasoned pro, you'll get a lot out of this book. Frances brings her dietitian knowledge into this gorgeous recipe collection to help readers make nourishing smoothies and understand the "why" and "how" of choosing the right ingredients in the right portions to suit their needs. Confused about whether a smoothie is a meal or snack or what to throw into the blender to heal your gut or make your skin glow? Frances has you covered."
—Jessica Cording, MS, RD, CDN, INHC, author of "The Little Book of Game Changers: 50 Healthy Habits to Manage Stress and Anxiety" 

"If you struggle to eat well or just want to get out of a smoothie rut, you need this book! Smoothies are a time-saving way to pack in healthful ingredients, like fruits, veggies, nuts, and seeds, and this book is filled with delicious combos you wouldn't have dreamed up. Plus, Frances offers dozens of practical tips that go beyond smoothie-making to help you prep faster, use up leftovers, and punch up the flavor in all of your meals."
—Samantha Cassetty, MS, RD, national nutrition and wellness expert and co-author of Sugar Shock
 
"The smoothies in this book have it all— they are nourishing, balanced, creative and supremely tasty. They will make your blender your best friend on your path to healthy eating." 
—Ellie Krieger, RD, TV personality, and award winning cookbook author


"Frances does an excellent job of illustrating how each of us can simply make well-balanced nutritious smoothies that are supportive of our overall health. Additionally, she shares valuable evidence-based nutrition information with a focus on gut health, skin health, reducing systemic inflammation, cardiovascular health, and strength. Think of this book as a roadmap for all things smoothie!" 
—Maya Feller, MS, RD, CDN, national nutrition expert with a private practice in Brooklyn, NY

"Frances has hit it out of the park with Smoothies & Juices: Prevention Healing Kitchen! Covering everything from heart health and gut health to glowing skin, the recipes are approachable, flavorful, and gorgeous. As a registered dietitian, I'm excited to add these recipes to my routine and recommend this book to my clients!"
—Marisa Moore, MBA. RDN, LD


Hearst Home, 9781950785025, 160pp.
Publication Date: September 8, 2020
About the Author
Frances Largeman-Roth, RDN, is a New York Times best selling author and nationally recognized health expert. She was the Food and Nutrition Director at Health magazine. She writes and develops recipes for Parents, BabyCenter, Today.com, Cooking Light among other publications. She is a frequent guest on national TV, including the Today Show, Good Morning America, Access Hollywood Live, CNN, The Rachael Ray Show, and The Dr. Oz Show. She has also lent her expertise as a judge for Food Network Challenge and The James Beard Awards. Frances earned her undergraduate degree from Cornell University and completed the dietetic internship at Columbia University.

Prevention is the world's most established healthy lifestyle brand. For more than 65 years, it has delivered authoritative, trusted information and authentic lifestyle advice that inspires, challenges and leads readers to love their whole life, from nutrition to food, medicine to mood and exercise to the environment.