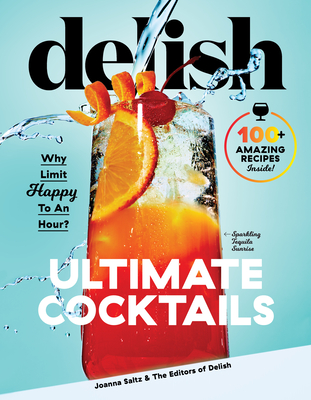 Delish Ultimate Cocktails
Why Limit Happy To an Hour?
Hardcover

* Individual store prices may vary.
Description
100+ insanely great cocktail recipes for every occasion including margaritas, mimosas, martinis and more, each with a fresh and fun twist. Plus, super-creative boozy sweets!

Delish Ultimate Cocktails provides everything you need to make amazing drinks at home...and then some. Each of the 100+ easy and fun recipes dreamt up by the editors of Delish is an excuse to throw a party. These cocktail recipes will shake things up and elevate your entertaining game with best-ever versions of the classics plus inventive new ideas for Jell-O shots and boozy sweets like Banana Pudding Shots and Pina Colada Truffles. There's even an assortment of mocktails including Apple Cider Slushies and Cranberry Basil Sansgria. Recipes include Strawberry Frosé, Dole Whip Margaritas, Taco Bloody Marys, Flamin' Hot Cheetos Bloody Mary, Apple Cider Mimosas, Creamsicle Punch, Negroni Jell-O Shots, Oreo Jell-O Shots, Moscow Mule Pops and many more!

Inside, you'll find:
• A color photograph for every recipe
• Easy-to-follow recipes for every event imaginable from brunch to girls' night to summer parties and holiday gatherings
• Recipe servings range from individual drinks to big batch punches, perfect for any sized celebration!
• Tips on how to stock a bar cart and which glass to use for each drink
• Drinks inspired by your favorite movies and characters, like Butterbeer Punch and Tiffany Mimosas.

Once you've tried just one of these drinks you'll want to know: Why limit happy to an hour!
Praise For Delish Ultimate Cocktails: Why Limit Happy To an Hour?…
"Delish delivers a splashy assemblage of clever, mostly sweet, and Instagram-ready quaffs... The editors are especially inventive when it comes to Bloody Marys, which are accessorized with skewered mini tacos and sliders, or rimmed with crushed Cheetos, or served as shooters in hollowed-out pickle halves. Oreo shots, meanwhile, have their cream filling replaced by a mixture of vodka, gelatin, and sweetened condensed milk, while giant watermelon "shots," molded from a halved melon, are served in the rind and are as big as a plate. There is no shortage of frozen drinks, as well as ice pops in flavors including gin and tonic, and Moscow mule. And for teetotalers, a chapter of mocktails replaces booze with puns in options like the blackberry "faux-jito" and a cranberry basil "sansgria." A rainbow of creations for celebrating or entertaining at home pours forth in this fun collection."
–Publishers Weekly


"All of your boozy dreams come true in Delish Ultimate Cocktails. Whether you're hosting an elaborate dinner party or just having a couple girlfriends over, this book has you covered for any kind of drink you can imagine!" 
—Kristin Cavallari, author of the New York Times best seller True Roots


Delish Ultimate Cocktails is a how-to for creating the best crowd-pleasing experiences. There are cocktails, mocktails, and just drinks that make any day feel a little more special. I love this cookbook for its creativity, great flavors, and fun photography and design. My personal favorite recipes at the moment are the Best Ever Arnold Palmer and the Moscato Margarita but I can't wait to try them all–especially the Jell-O shots for when the kids are at their grandparents' house for the weekend!
—Catherine Lowe, reality television star  

"This book completely captures its title, DELISH. A definite page turner! I can honestly say there's not a cocktail in here I wouldn't want to partake in. The recipes are easy enough for anyone to become their own Tom Cruise. And the photography will literally make you drool." 
—Tiffani Thiessen, actress

Hearst Home, 9781950785155, 256pp.
Publication Date: October 13, 2020
About the Author
Joanna Saltz is the Editorial Director of Delish, which she relaunched with her team in 2015. She is also the author of Delish Eat Like Every Day's the Weekend and Delish Insane Sweets. She was previously the executive editor of Food Network magazine and Seventeen magazine and loves a whisky sour, but also lives for lava flows when on vacation. She lives in New Jersey with her husband and three children.

Delish is the fastest growing food website on the internet, with more than 40 million monthly views and videos that have been viewed billions of times. Every week Delish makes hundreds of stories, videos and recipes that are some of the most engaged with content on the Internet. The Delish motto is, "Come for the food, stay for the fun."