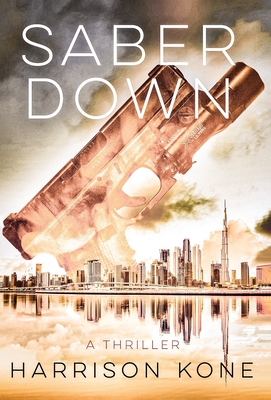 Saber Down
Hardcover

* Individual store prices may vary.
Other Editions of This Title:
Paperback (1/12/2021)
Description
"I guarantee you will enjoy the twists, turns, and gunfights." - SGM (R) Kyle Lamb, President of Viking Tactics, Delta Force
"An exceptional book I can't wait for the second one " - John Lovell, Founder of The Warrior Poet Society, Former Army Ranger
"If you want to experience and understand the sacred brotherhood and loyalty forged between Warriors on the battlefields of the Global War on Terror, look no further than SABER DOWN." - LTG (R) Joe Anderson, Deputy Chief of Staff of the Army, Airborne Corps Commander, Air Assault Brigade Commander, Airborne Battalion Commander, Ranger Company Commander
"Harrison Kone has emerged as a premier author in today's fast-paced, intelligence-driven operations around the world. As a former SEAL TEAM SIX operator, I was riveted from the first page. " - Mike Noell, CEO, SENTRY Products Group, SEAL Team Six
"Real. Raw. Relevant...could very well have happened on any operator's watch "- GySgt (R) Phillip Wyman Jr., USMC, Plank owner of Marine Corps Martial Arts Instructor Trainer Program (MCMAP), Iraq Veteran
Three men must die.
The Terrorist.
The Arms Dealer.
The Officer.
Never one to leave a job undone, Captain David Shaw, a member of the elite MARSOC Raiders, is hell-bent on returning to his team in Afghanistan after a deadly ambush sends him and his career packing back to the US -- but an unwanted, involuntary medical retirement is standing in his way. Invited as a spectator to keep tabs on his team during a mission to Yemen, Shaw is forced to watch in horror as they are taken from him once again.
The mission is simple:
Kill those who killed his men.
But who is behind their deaths?
As Shaw navigates the treacheries of Middle East dealings and American interests, he must be careful who he calls friend...Or foe.
Deeds Publishing, 9781950794393, 436pp.
Publication Date: November 10, 2020