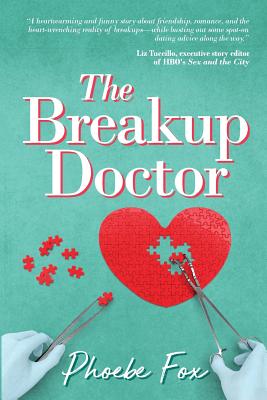 The Breakup Doctor
The Breakup Doctor series #1
Paperback

* Individual store prices may vary.
Other Editions of This Title:
Digital Audiobook (2/22/2016)
MP3 CD (2/23/2016)
Compact Disc (2/23/2016)
Description
The Breakup Doctor Is IN.
Brook Ogden, licensed mental health counselor, is an expert at picking up the pieces after things come apart. She's coached her best friend through more dating disasters than the Bachelorette, and when her mom suddenly announces she's leaving the family home to resume her decades-delayed acting career (if their small-town Florida community theater qualifies), calm, levelheaded Brook holds the rest of the family together. Even when her traditional therapy practice literally collapses under a wrecking ball she maintains perfect control: landing on her feet with a weekly advice-to-the-lovelorn column and a successful consulting service as the Breakup Doctor: on call to help you shape up after a breakup.
But when her own relationship suddenly crumbles, Brook finds herself helplessly engaging in some spectacularly bad breakup behavior of her own--including rebounding with the most inappropriate of men: a dangerously hot bartender with anger-management issues--who also happens to be a former patient.
As her increasingly out-of-control behavior lands her at rock-bottom, Brook realizes you can't always handle the messy parts of life neatly--and sometimes you can't pull yourself together until you let yourself fall apart.
The Breakup Doctor is the perfect beach read: a contemporary women's fiction novel full of humor and heart.
"Therapist Brook Ogden is a genius when it comes to helping people push past the crazy stage and mend their broken hearts, but when Brook suffers her own heartbreak, will she take her own advice? (Answer: no, which is why this book is so funny.)"--Glamour
"THE BREAKUP DOCTOR has it all, humor, romance, and wonderful breakup advice I was expecting a lighthearted chick-lit story, which it is, but it is also so much more...The Breakup Doctor is delightful...sharp, snarky, funny, and fast-paced."--Fresh Fiction
"Fox doesn't just know how to write clearly and powerfully...she has real insight into relationships...a laugh-out-loud read. Fox has a real winner here."--Scene magazine
E3 Press, 9781950830008, 310pp.
Publication Date: June 10, 2019