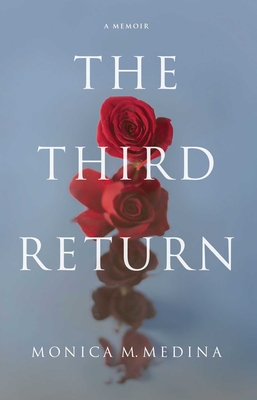 The Third Return
Paperback

* Individual store prices may vary.
Description
"...nothing short of beautiful."— Nicole Munoz, Mental Health Advocate

It is not the usual story told by a victim or survivor, but rather by a daughter who lived to witness the domestic abuse of her mother for seventeen years. This story provides an intimate perspective of the strength it took to recover from the wounds of loss and trauma while lending readers a look at household violence through the eyes of a child.

After Monica's mother remarried and a new baby brother was born, her stepfather, Ian, transformed their Chicago home into a smothering confinement that seeded fear, tension, and horrific abuse. Although her childhood was consumed with dysfunction and confusion, as she grew older, the tormenting cycle of violence became clear to her, and she rebelled against the daily manipulation of her sadistic stepfather.

With continual insistence, she urged her mother to stay away from Ian long enough to break the cycle of leaving and returning. But in spite of her pleas, her mother returned to Ian a third time, and her decision resulted in a feared and tragic outcome that shattered their family as well as their hearts. Yet in spite of the devastation caused by her stepfather, Monica and her siblings bravely struggled to overcome the unexpected pain and grief, and ultimately found lasting peace in their lives.

It is because of her experiences and her awakened understanding of life that the author has come to believe that every life is beautiful. It is with this perspective that she shares her story and encourages her readers with this final message: You are a Beautiful Life.

"A powerful story shared from a lesser-told perspective—an absolute must-read." — Ciara Suarez, LMHC
Praise For The Third Return…
"I worked side by side with beautiful Monica. I grew up in domestic violence, Monica taught me I wasn't alone and suffering as a child full of fear watching domestic violence. When I heard her story my heart sunk down to my chest and I learned that we are survivors, victims no more, she is a brave, women, Using this outlet to help feel, deal, heal the pain of losing her mother! I love you lady!"
— Kate O'Conner, Mental Health Nurse

"Although Monica's story is of mother loss through homicide, the wider story is one of recovery and, eventually, service and empathy towards others. As Monica said to me when I was interviewing her for my book, 'Our mother's death gave us a higher purpose.' What an inspirational reframing of a horrific event!"
— Mershon Neiser, Author of Motherless Daughters

"I was Monica's English teacher at Oak Forest High School when her mother's tragedy occurred. She was one of my outstanding students and I always loved to read her writings. I have since retired, but I have remained in contact with Monica, and she has sent me excerpts of her exceptional book. I admired the way she has put her thoughts in writing to deal with her feelings before, during and after her mother's death. She is remarkable!"
— Carol Flanningan, English Educator

"I had the pleasure of working with Monica for a while and can honestly say that she is one of the most compassionate and dedicated people I've ever met. She's been through some pretty devastating things throughout her life and came through it with the passion and drive to share her story with others in order to try to help them and I find this to be a commendable quality."
— Kristen Gough, Mental Health Advocate

"I was Monica Medina's childhood best friend, so I lived a big part of her life with her. Her vulnerability to share her story and the life of her mother is nothing short of beautiful. Monica is the epitome of strength and an amazing advocate of domestic violence."
— Nicole Munoz, Mental Health Advocate

"As a therapist working with survivors of domestic violence I cannot stress the importance of Monica sharing her story. By communicating her experiences it gives opportunity for others to feel heard and acknowledged. It's importance does not only lie with someone talking about their life, but also with how many lives can be touched because they have lived or are living through a similar situation"
— Erika Soto-Mejia, Domestic Violence Therapist

"A personal experience of how genuine light and healing can come from the trauma of domestic violence. A powerful story shared from a lesser-told perspective—an absolute must-read."
— Ciara Suarez, LMHC
Indigo River Publishing, 9781950906680, 298pp.
Publication Date: May 31, 2022
About the Author
Monica M. Medina was born and raised in Illinois where she received her Bachelor degree in psychology from Northern Illinois University in 2014. At twenty-seven years old, she has served as a personal trainer, research assistant, domestic violence advocate, and volunteer in her current hometown of Sarasota, FL.

Moving to the sunshine state with the pursuit of helping others, she secured a case management role at Centerstone Behavioral Hospital and Addictions Center. For five years, she developed the skills needed to assist and guide individuals during times of crisis. Currently, Monica is a writer and a production assistant for the vibrant South Florida magazine, Venice Gulf Coast Living