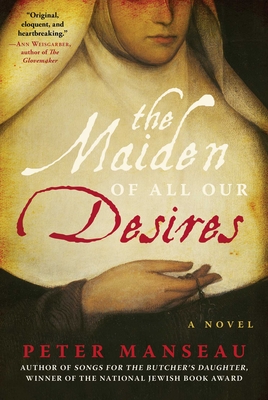 The Maiden of All Our Desires
A Novel
Hardcover

* Individual store prices may vary.
Description
For fans of Lauren Groff, Maggie O'Farrell, and Emma Donoghue, a devastating novel of love, intrigue, and community in a time of sickness that remade the world

Fourteenth-century Europe. The Black Death has killed half the known world, andin an isolated convent, a small group of nuns spends their days in work, austerity, and devotion, chanting the Liturgy of the Hours. But their community is threatened. Rumors of heresy and a scandalous Book of Ursula, based on the teachings of the charismatic former abbess and founder of the order, have prompted the male church hierarchy to launch an investigation. The priest assigned to minister to the nuns, Father Francis, who is wracked by guilt for an unspeakable crime committed during the lawless plague years, was no friend of Ursula and can't be counted on to defend the order. Disrespect and rebellion infect some novices, and the youngest among them pines for the bishop's chief inquisitor. And Mother John, the convent's aging spiritual leader, fears she's losing her mind after experiencing a vision that brings back her own rebellious past.

As events unfold over the course of a single day, a blizzard that has swept across Europe will break over the convent, endangering the women there and testing their faith. In this astonishing novel, the author of the award-winning Songs for the Butcher's Daughter explores the territory between faith and freedom, and how the horrific events of history shape individual lives.
Praise For The Maiden of All Our Desires: A Novel…
"Brilliantly brooding."—New York Times Book Review 

"Evoking both Umberto Eco and Lauren Groff, The Maiden of All Our Desires unfolds in a single day at a convent during the 14th-century Black Death, in which issues of belief and heresy are engaged, and the individual must face the enormity of history."—The Millions, "Most Anticipated: The Great First-Half of 2022 Book Preview"

"Faith, love, and loss in the time of the Black Death are hypnotically portrayed in The Maiden of All Our Desires. . . . Readers will enjoy this spiritual, literary tale that provides what life didn't in plague times—a satisfying conclusion. . . . A thoughtful exploration of freedom, love, and regret during a time of apocalyptic tragedy."—Historical Novel Society

"The Maiden of All Our Desires sheds light on questions of our own time, ranging from religious authority to survival during a pandemic, while entertaining us with eccentric characters, stories of forbidden love (and sex), and mysteries that keep us turning the pages."—The Presbyterian Outlook

"Manseau is not a novelist making a jaunt through matters of faith; he is a writer and thinker whose life has been shaped by the contours of doubt and devotion. . . . In The Maiden of All Our Desires, [he] unfolds a folkloric tale with themes eternally relevant."—Nick Ripatrazone, Catholic Herald

"Manseau's skill in this novel isn't only to make characters who could easily have fallen into holy cliché feel like real, breathing humans, unlike many saints. . . . History, here, breathes like the wind that blows throughout the chapters."—Kaya Oakes, Religion Dispatches

"The Maiden of All Our Desires establishes Peter Manseau as an extraordinary storyteller whose ability to create an ominous mood holds the reader spellbound from the first page to the last. He brilliantly exposes the suppressed desires that shape the destinies of his characters. Original, eloquent, and heartbreaking but with delightful flashes of humor, this superb novel will be read and reread for decades to come."—Ann Weisgarber, author of The Glovemaker  

"A harrowing tale of beliefs, bodies, and their volatile intersection, set in a time very distant but so much like our own. Quiet as snowfall yet epic as a storm, The Maiden of All Our Desires is a gorgeous, wise, and haunting novel not soon forgotten." --Jeff Sharlet, bestselling author of The Family.

"With a nuanced touch and a craftsman's skill, Manseau brings the past alive in this wonderfully evocative novel. Questions of God, sin, and faith are sharply rendered against a backdrop of plague and pestilence, highlighting the turmoil of trying to live a moral life when one's compass is spinning and twisting in a storm."—Lenny Bartullin, author of Fortune

"A thought-provoking, engaging, and entertaining novel."—novelhistorian.com

"Told in incantatory prose . . . the story of Gaerdegen becomes a parable of sorts, a meditation on faith and guilt, on how history shapes us and on the hope that underlies human existence."—Hill Rag (Washington, DC)
Arcade, 9781950994212, 336pp.
Publication Date: February 15, 2022
About the Author
Peter Manseau, born in 1974, is a novelist, memoirist, and historian and serves as Curator of Religion at the Smithsonian Institution. His first novel, Songs for the Butcher's Daughter, won the National Jewish Book Award, the American Library Association's Sophie Brody Medal, and the Ribalow Prize. A Barnes and Noble Discover Great New Writers pick, it was shortlisted for the Center for Fiction's First Novel Prize as well as France's Prix Médicis Étranger, and has also been published in Spain, Italy, Israel, Germany, Australia, the Netherlands, and the United Kingdom. Along with his novels, Manseau is the author of eight nonfiction books. He lives with his family in Annapolis, Maryland.