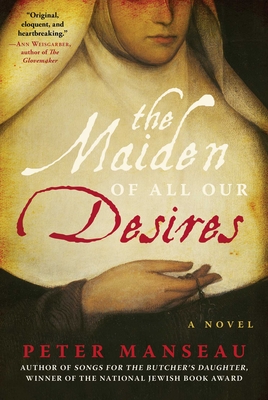 The Maiden of All Our Desires
A Novel
Hardcover

* Individual store prices may vary.
Description
For fans of Hillary Mantel, Maggie O'Farrell, and Emma Donoghue, a devastating novel of love, intrigue, and community in a time of sickness that remade the world.

Fourteenth-century Europe. The Black Death has killed half the known world, andin an isolated convent, a small group of nuns spends their days in work, austerity, and devotion, chanting the hours of the liturgy. But their community is threatened. Rumors of heresy and a scandalous Book of Ursula, based on the teachings of the charismatic former abbess and founder of the order, have prompted the male Church hierarchy to launch an investigation. The priest assigned to minister to the nuns, Father Francis, who is wracked by guilt for an unspeakable crime committed during the lawless plague years, was no friend of Ursula and can't be counted on to defend the order. Disrespect and rebellion infect some novices, and the youngest among them pines for the bishop's chief inquisitor. And Mother John, the convent's aging spiritual leader, fears she's losing her mind after experiencing a vision that brings back her own rebellious past.

As events unfold over the course of a single day, a blizzard that has swept across Europe will break over the convent, endangering the women there and testing their faith. In this astonishing novel, the author of the award-winning Songs for the Butcher's Daughter explores the territory between faith and freedom, and how the horrific events of history shape individual lives.
Praise For The Maiden of All Our Desires: A Novel…
Worldwide Praise for Songs for the Butcher's Daughter
 
"An extraordinary novel, and Itsik Malpesh is one of literature's most stunning achievements."—Junot Díaz

"Manseau reaches across cultures to compose a living, breathing portrait of a bad-tempered but charmingly eloquent poet and the young man chosen to bring his words forward in time. . . . The translator's inexperience puts poet Itsik Malpesh's cynical voice into perspective, as the young man's clumsy first experiences with modern-day romance stand in stark, sometimes poignant contrast…A terrific book with a believable protagonist who's given ample room to tell his tale."—Kirkus Reviews

"Peter Manseau's novel creates a Marc Chagall–like world of pathos, humor and enchantment. . . . Drawing on history and poetry, this winsome story brings lovers together and drives them apart." —Baltimore Sun 

"Seductive and playful, the novel, with many unforgettable scenes, is also a serious meditation on language, love, loyalty and memory."—New York Jewish Week

"Songs for the Butcher's Daughter is a book about writing, a warm, funny, and fascinating testament to the power of words, a power that outlives a dying language and transcends love."—Jewish Book World
 
"What is a writer to do after writing a memoir subtitled The Story of a Priest, a Nun, and their Son? The obvious answer for Peter Manseau was to construct a fictitious story of a Yiddish poet over three continents and 100 years. . . . Manseau has produced a novel that is a love story to life, loss, joy, and pain. It asserts that words may make that life bearable, even comprehensible. But it tells us, too, that actions can have a consequence that can be barely articulated, but resonates down through the ages." —Glasgow Herald
 
"Witnessing a mind such as Manseau's at work, weaving in and out, ducking and diving, racing along, is always a pleasure. It is a virtuoso performance by a gifted, poetic writer with the guts to tackle, in an intimate and not altogether uncritical way, a part of history that Jews might often think that no one else could grasp."—Sydney Morning Herald
 
"Exquisitely beautiful . . . Songs for the Butcher's Daughter is a completely original and exciting novel that, from its first few lines, holds the reader mesmerised. We are in the hands of a supreme storyteller, an author of wit and charm, one who has a breathtaking flair for language. This is a seriously impressive and accomplished work for a debut novel, identifying Manseau as a writer of great and exciting potential, one able to see the world vividly, even through other people's eyes."—Australian

"A great historical fresco and a reflection on the relationship between language and identity, Songs for the Butcher's Daughter is an undeniable success."—Livres Hebdo (France)
 
"A miraculous ode to a forgotten language, to the power of words, and to the possibility of change."—La Repubblica (Italy)
 
"There are two extraordinary things about Peter Manseau's Songs for the Butcher's Daughter; the first is the novel, the second is the author himself…Manseau writes with profound depth and aching beauty…This is a wonderful book, easy for anybody to read, which will give a thrilling insight into the depth and sophisticated culture of the six million people whose lives were truncated by the madness of Nazism. (Five Stars) Outstanding."—Goodreading Magazine
 
"A book of encounters, separations, hilarious and terrible pages of fantasies mixed with reality. A book that caresses with affectionate wisdom a past that no longer exists and convinces, with lexical hybrids, words that flip from language to language."—Provincia Granda (Italy)
 
"The masterly narrative art of the author Peter Manseau already shows itself in his amazing debut. The book can undoubtedly be described as one of the highlights of the literary year."—ORF (Germany)
 
"The novel is a mix between a painting by Chagall, with flying women, dreams of love, and rabbis playing the violin on the roofs of Russian shtetls, and a Dickensian saga of an orphan seeking his fortune in a metropolis...  Is your head already spinning? This was, I suspect, one of Peter Manseau's intentions: to transport us into a magical world."—Il Piccolo (Italy)
 
"A magnificent novel exploring the link between language and identity, enchanting in the key of klezmer jazz."—Marianne (France) 

"It's hard for me to describe the feeling I had [reading Songs for the Butcher's Daughter]: something akin to a chocolate addict's move near a candy factory when the smell envelopes you in all directions… or standing next to a coffee grinder that is currently brewed with good quality fresh beans. A feeling of intense intoxication."—Tapuz (Israel)
 
"Manseau confidently pulls all the strings he sets in place, yet Songs for the Butcher's Daughter remains admirably complex... And though it is unmistakable that religious discourses form the backdrop of his novel, it is always effortless, suggesting that identity, especially religious identity, is a variable, a yearning, shaped by the languages ​​we speak."—Frankfurter Algemeine (Germany)

"A wonderfully rich novel about the people of the book. A hymn of praise for their linguistic richness and art of survival.. . . Astonishing, moving and compelling, it is a great novel about great storytellers."—Nu.nl (Netherlands)
 
"The truth is that I have prevaricated so far, simply because, as usual, the masterpieces are more difficult to deal with. In the meantime, let's say that anyone who wants to read an epic, touching, humorous, as well as extraordinarily acute novel on small topics such as God, life, death, love would do well to trust a secret heretic named Peter Manseau, who recently gave us his Songs for the Butcher's Daughter. The author is one of those literary curiosities to which the reviewer cannot fail to give at least a hint: son of a priest and a nun, after a few years of militant agnosticism, he was the first 'Gentile' to receive in 2008 the National Jewish Book Award. And perhaps in these initial contradictions we could already find the secret of this exceptional novel, Songs is a book of encounters and separations, but above all a book that has the merit of ending up being all that it would stubbornly want not to be. It pretends to be a secular book, as well as a liberal and ironic one like the Yiddish world itself, but it has sparkles of spirituality that are bright, convincing, smiling. It disguises itself as a sarcastic novel about a wasted life, that of the 'greatest Yiddish poet in America' Itsik Malpesh, and instead it is one of the most engaging and successful monuments of all Yiddish culture ever; a monument that saves everything: Europe, America, even that God who stole our land of happiness from us."—Il Riformista (Italy)
Arcade, 9781950994212, 312pp.
Publication Date: February 8, 2022
About the Author
Peter Manseau, born in 1974, is a novelist, memoirist, and historian and serves as Curator of Religion at the Smithsonian Institution. His first novel, Songs for the Butcher's Daughter, won the National Jewish Book Award, the American Library Association's Sophie Brody Medal, and the Ribalow Prize. A Barnes and Noble Discover Great New Writers pick, it was shortlisted for the Center for Fiction's First Novel Prize as well as France's Prix Médicis Étranger, and has also been published in Spain, Italy, Israel, Germany, Australia, the Netherlands, and the United Kingdom. Along with his novels, Manseau is the author of eight nonfiction books. He lives with his family in Annapolis, Maryland.