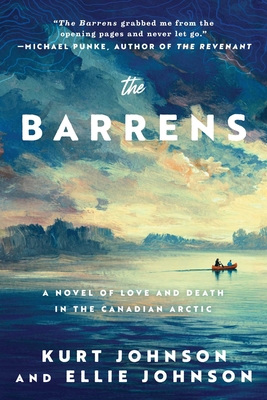 The Barrens
A Novel of Love and Death in the Canadian Arctic
Hardcover

* Individual store prices may vary.
Description
This riveting debut is at once a white-water adventure, coming-of-age novel, and tale of tragic love—and an extraordinary father-daughter collaboration. "The Barrens grabbed me from the opening pages and never let go."—Michael Punke, author of The Revenant

Two young women attending college decide to have a summer adventure canoeing the rapids-strewn Thelon River that runs 450 miles through the uninhabited Barren Lands of subarctic Canada. Holly made the trip once before with a group of skilled paddlers she trained with at camp, and she wants to share that experience with her friend and lover, Lee, believing it will draw them closer. But a week in, Holly, the risk-taker, falls while taking a selfie near the edge of a cliff. She is left injured and comatose, and soon dies. Their locator beacon for summoning rescue was smashed in Holly's fall. It remains to Lee, the inexperienced paddler, to continue the grueling and dangerous trip alone, to save herself and return her lover's body to civilization and Holly's family.

In their relationship, Holly and Lee had always told each other stories; Lee had called Holly a "storyist." Storytelling helps Lee endure the rigors of her journey and engage her grief as she explores her relationship with Holly while chronicling her own coming-of-age off the grid in Nebraska with her estranged eco-anarchist father, who is now serving time in prison.
Praise For The Barrens: A Novel of Love and Death in the Canadian Arctic…
"The Barrens grabbed me from the opening pages and never let go. A riveting adventure story written by a father-daughter team who clearly have wilderness chops."—Michael Punke, author of The Revenant

"A poignant and engaging thriller with a formidable lead character . . . a vibrant, tender novel of love, loss, stamina, and self-discovery."—Kirkus Reviews

"Close encounters with migrating caribou, and a haunting, hallucinatory encounter with a white wolf lend magic to this survival tale."—Minneapolis Star Tribune

"A deeply compelling tale, told in vivid, elegant but concise prose, The Barrens carried me along, swiftly as the river at the heart of the story. The central character, Lee, will break your heart, although she'll have none of it. Love, loss, life, and death, against a landscape as raw and ancient as the human heart. Most highly recommended."—Jeffrey Lent, author of In the Fall
 
"The Barrens is the raw and moving story of two young women paddling by canoe down one of North America's most remote rivers—of their coming of age, their love, and terrible loss. I've rarely come across a text that is so visual, and so tangible. The Barrens is a vivid portrayal of the Canadian subarctic, and of the human drive to persevere."—Alex Messenger, author of The Twenty-Ninth Day: Surviving a Grizzly Attack in the Canadian Tundra
 
"The Barrens is a bravura work, propulsive in its storytelling, simultaneously economical and fulsome, and as restrained as it is brimming with unspoken wisdom. It demands a wide audience."—Peter Geye, Minnesota Book Award winner for Wintering
 
"As harrowing as the whitewater adventure it chronicles, The Barrens is an epic tale of wilderness survival and death in the techno age. The writing throbs with presence: the life-force embedded in Canada's northern frontier landscape and in the life-scape of its queer young heroine as she journeys toward selfhood. Co-authors Kurt and Ellie Johnson reveal the pulse of identity, born of the stories we weave. A mesmerizing, devastating read."—Carol Bruneau, author of Brighten the Corner Where You Are: A Novel Inspired by the Life of Maud Lewis

"Armchair adventurers and outdoors people alike will enjoy the immersive reading experience that this novel offers, based on the experiences of the coauthor's own 450-mile trek on the Thelon River at the age of seventeen. The Barrens is a Miramichi Reader "Pick" for an exceptional book that was authored and published outside of Canada."—Miramichi Reader
 
Arcade, 9781950994489, 288pp.
Publication Date: May 3, 2022
About the Author
Kurt Johnson lives in St. Paul and grew up spending summers on a remote island near the Boundary Waters Canoe Area, first with his parents and later with his wife, Stephanie, and then their daughter, Ellie. He lives in Minneapolis.

Ellie Johnson paddled the 450-mile Thelon River with three other women at the age of seventeen. The novel is based in part on that canoe trip as well as her real-life experiences growing up as a gay woman. Ellie is a recent graduate of the University of Minnesota and lives in St. Paul.