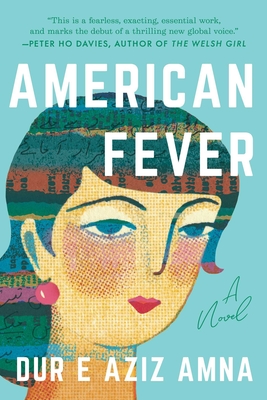 American Fever
A Novel
Hardcover

* Individual store prices may vary.
Other Editions of This Title:
Digital Audiobook (9/19/2022)
Description
USA Today Best books of August
Christian Science Monitor Ten Best Books of August
The Millions Most Anticipated Books of 2022
Harper's Bazaar Must-Read Books of August 2022
Debuts of the Season by Vogue India
Bustle Most Anticipated Books of August 2022

"A funny and affecting novel...a wonderful new spin on the coming-of-age story. A smart, charming debut." (Kirkus, starred review)

"A fascinating mix of immigrant tale, coming-of-age narrative, and cultural exposition...tackling some of the big migration questions of home and identity." (Booklist)"This is a fearless, exacting, essential work, and marks the debut of a thrilling new global voice."—Peter Ho Davies, author of The Welsh Girl

On a year-long exchange program in rural Oregon, a Pakistani student, sixteen-year-old Hira, must swap Kashmiri chai for volleyball practice and try to understand why everyone around her seems to dislike Obama.  A skeptically witty narrator, Hira finds herself stuck between worlds. The experience is memorable for reasons both good and bad; a first kiss, new friends, racism, Islamophobia, homesickness. Along the way Hira starts to feel increasingly unwell until she begins coughing up blood, and receives a diagnosis of tuberculosis, pushing her into quarantine and turning her newly established home away from home upside down. 

American Fever is a compelling and laugh-out-loud funny novel about adolescence, family, otherness, religion, the push-and-pull of home. It marks the entrance on the international literary scene of the brilliant fresh voice of Dur e Aziz Amna. 
Praise For American Fever: A Novel…
"Amna's novel is a perceptive look at what home means—"It is the sole landscape of dreams, the only place that will ever convince you that its failings, its bounties, its excesses, and caresses are all your own. After all, where does it end and you begin?" This is a funny and affecting novel, understated but powerful, a wonderful new spin on the coming-of-age story."—KIRKUS REVIEWS (STARRED)
 
"A subversive debut…It is the sharpness, and surprise…that makes Dur e Aziz Amna's coming-of-age, coming-to-America debut novel stand out…The highly quotable Hira is a force to be reckoned with. Her spiky prose style provocatively undercuts received narratives about the "American dream" from the immigrant's perspective."—The Guardian

"A fascinating mix of immigrant tale, coming-of-age narrative, and cultural exposition. Amna achieves a fine balance in capturing both meaningful and mundane aspects of Hira's experiences as a newcomer to America. Hira's freshness in the way she assesses the world and herself while skewering the inconsistencies of those around her makes for a layered read." —Booklist

"Within the single character of Hira, Dur e Aziz Amna brilliantly interrogates what it means to feel at home in the world, exploring themes of gender, religion, and family along the way. This book could not have come at a better time. Developing a sense of self has always been challenging, but Amna skillfully captures the unique struggles of finding a place in oneself and the world during a time of mass migration, the collapsing of social orthodoxies, and globalization."--Chicago Review of Books

"An affecting, well-told tale."--Christian Science Monitor

"I texted a friend immediately after I read American Fever for the first time: "I think I just had the most spiritual/close to divine/sacred reading experience of my life." I called my mother after, me in Northampton, her in Pune, and I read out sections of the text to her, and said I felt seen in text for the first time."--Liminal Transit Review
 
"In Dur e Aziz Amna's gorgeous debut, American Fever, readers can expect to find all the hallmarks of a bumpy adolescence—destructive confidence, crippling self-doubt, steamy crushes, social gaffes, obsession with looks and style, and pervasive loneliness. But within this jewel-box of a novel, these universal qualities unfold in a most unusual situation. ...  Amna is a bold storyteller skilled at blending character, plot, and the kind of existential crises that keep us up at night. Her debut novel, American Fever—as propulsive as it is lyrical, as hilarious as it is sobering—is, above all, an irresistible read from an impressive new literary voice."—Michigan Quarterly Review
 
"Dur e Aziz Amna does what every great writer within this tradition does – indeed whatever immigrant to America has done – to retell that familiar story of exile and prejudice, discovery and glory once again, but to make it indelibly and completely her own."—TheMillions (Selected as One of the Most Anticipated Books of the Year)

"Fierce, razor-sharp, poignant, and rendered with fiery wit and deep empathy for human foibles, American Fever is a powerful tale of exile, identity, and belonging in our complex world." — Vikram Paralkar, author of Night Theater 
 
"Brave, tender-hearted, and painfully bittersweet, American Fever is a sharply observed debut that announces Dur e Aziz Amna as a brilliant new voice."—Fatima Farheen Mirza, bestselling author of A Place for Us
 
"In this sharply observed twist on the classic coming-to-America story, we find an America recognizable in all its generosity, cruelty, and sometimes-well-intentioned bumbling. And we find a brilliant exploration of the sacred, scary moment when a girl comes into the wider world."—Benjamin Moser, Pulitzer-Prize-winning author of Sontag: Her Life and Work 
 
"The immigrant experience is frequently one of defamiliarization, but in American Fever, Dur e Aziz Amna, has hit on a brilliant means of defamiliarizing the immigrant novel: exploring the liminal experience—not quite settler, not quite expatriate—of the foreign exchange student. Hira is a wonderfully complex creation, perfectly poised at the adolescent juncture of wide-eyed newcomer and precocious cultural critic. Her razor-sharp observations of the US and Pakistan—their faiths, politics, culture—have the bold truth-telling power of both innocence and experience."—Peter Ho Davies, bestselling author of The Welsh Girl
 
"American Fever is the unforgettable story of a teenage girl in a year of transformation. Dur e Aziz Amna navigates the choppy waters of adolescence with blistering insight and humor, and exquisitely captures the way we can long for home while yearning to escape it. Rarely does a book sharpen how you see the world around you, but American Fever does just that. It dazzled me on every page."—Julie Buntin, author of Marlena
 
"Hira's is a voice I won't soon forget; her biting intelligence, her irreverence, and her wit blazes through this riveting, brilliant novel which stuns in its insights, its sensitive understanding of the complexities of identity, of what home means, and what it means to exist within a globalized world. A searing debut."—Aamina Ahmad, author of The Return of Faraz Ali
 
"Dure Aziz Amna's American Fever is a fresh, fierce bildungsroman—a story of homesickness and adolescent ache, not to mention a biting meta-commentary on what we expect from immigrant narratives. It's a relief to witness America as Hira does, seeing it clearly as an absurd, flawed nation that is all too often, as Hira says, a concept on whose behalf immigrants are unreasonably asked to testify."—Sanjena Sathian, bestselling author of Gold Diggers
 
"American Fever is an extraordinarily assured and gripping debut. The intelligence, humour and longing of Hira's voice, as she negotiates what it means to belong to a place, will stay with me."—Ayşegül Savaş, author of Walking on the Ceiling
 
"Dur e Aziz Amna's American Fever is a loving and unflinching exploration of home and homeland, the ways they make and unmake us, how they feed us and also eat away our insides. . . . Amna's crystalline prose reflects and refracts, dazzles and captivates."— Nawaaz Ahmed, author of Radiant Fugitives
 
"A poetic, memorable novel. I loved it. Hira is a marvellous creation — American Fever marks the arrival of a hugely promising writer." Mirza Waheed, author ofThe Collaborator

"In American Fever's Hira, Dur e Aziz Amna gives us an unforgettable South Asian protagonist—clever, clear spoken, equal parts brash and vulnerable—navigating the mores of illness, separation, and small-town America. Charming, fearless, and politically aware, American Fever is a novel that will stay with you for a long time."—Sarah Thankam Mathews, author of All This Could Be Different
 
"What an utterly hypnotic, witty and brilliant novel about Hira's journey across two oceans, from Pakistan to America, two lands rife with their own troubles, especially for young Muslim femmes navigating their often fraught relationship to culture, faith and their dreams. Dur e Aziz Amna's virtuosic way with language kept me enthralled the whole way through. This book is a necessary next-leveling of diasporic consciousness, the unraveling of borders between homeland and newfound home that happens inside of us." —Tanaïs, author of In Sensorium: Notes For My People and Bright Lines
Arcade, 9781950994496, 288pp.
Publication Date: August 16, 2022
About the Author
Dur e Aziz Amna grew up in Rawalpindi, Pakistan, and now lives in New Jersey, USA. Her work has appeared in the New York Times, Financial Times, and Longreads, among others. She won the 2019 Financial Times / Bodley Head Essay Prize, with an e-book publication by Penguin, and was longlisted for the Sunday Times Audible Short Story Award 2020. She graduated from Yale College and the Helen Zell Writers' Program at the University of Michigan. Her debut novel, AMERICAN FEVER, was simultaneously published with Sceptre in the UK and Arcade Publishing in the US.