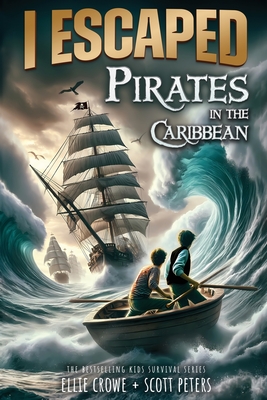 I Escaped Pirates In The Caribbean
Paperback

* Individual store prices may vary.
Description
15-year-old Jon battles high seas, scurvy pirates, and Spanish galleons after he's captured by the famous pirate, Captain Morgan.The Survival Series that celebrates the awesome history of us.
From multi-award winning Ellie Crowe and Scott Peters comes a swashbuckling, kid-powered adventure on the high seas
Short attention spans - Chapter book - Ages 8-12 - B&W Illustrations -
15-year-old Jon is thrilled to be a merchant sailor aboard a ship that's laden with goods bound for the Caribbean islands. But when pirates attack in the middle of a storm, the sailors don't stand a chance. Jon is captured by the infamous Captain Morgan and his scurvy crew. Jon's given an ultimatum--join the pirates or be marooned on a desert island But he's no buccaneer. He's a kid from the American colonies with worried parents back home. He's way out of his element. For now, he'll play along. But the second he can get away, he'll make a break for it. With Spanish galleons bearing down, fortresses filled with gold, and battles looming ahead, who knows what tomorrow will hold? Jon is determined to make it home. Can he escape?
This is the 7th children's book in the I Escaped Series about brave boys and girls who face real-world challenges and find ways to escape disaster. Sure to appeal to fans of New York Times Bestseller Lauren Tarshis's I Survived Series, the Jack Jones series by Zander Bingham, and Treasure Island by Robert Louis Stevenson.
The short chapters make for easy wins, and Jon's gripping situation keeps even reluctant readers turning pages just to find out what's going to happen next.
Great for kids book clubs and classrooms.
Contains an informative fact section at the back, packed with trivia and catch-phrases guaranteed to satisfy your inner pirate
An adrenaline-charged, nonstop action adventure tale of values and courage.
Collect the whole I Escaped Series
"a must for every reading list"
Can Jon escape to freedom? Read it and find out
Best Day Books for Young Readers, 9781951019198, 120pp.
Publication Date: April 22, 2021