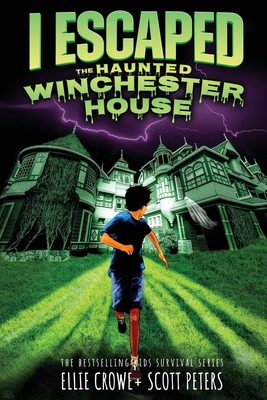 I Escaped The Haunted Winchester House
A Haunted House Survival Story
Paperback

* Individual store prices may vary.
Other Editions of This Title:
Hardcover (2/25/2022)
Description
Bestselling authors Ellie Crowe and Scott Peters tackle the mysterious Winchester House during the 1906 San Francisco earthquake in this latest installment of the trailblazing I Escaped series.
15-year-old Jesse longs to be a famous news photographer. What better way to get started than by sneaking into the haunted Winchester House and snapping photos of the weird place? But once inside, Jesse and his friends become lost on staircases that lead to nowhere and in hallway mazes with dead ends. When the house starts to jolt and sway, Jesse is convinced that spirits are at work. Little does he know they're caught in one of history's most significant earthquakes. Bricks are tumbling down, and walls are moaning. But his inner strength is seriously tested when he's trapped in the tilting mansion. He's no superhuman who can knock down walls. He's just a kid Can Jesse survive the 1906 San Francisco disaster?
Best Day Books for Young Readers, 9781951019303, 122pp.
Publication Date: February 25, 2022