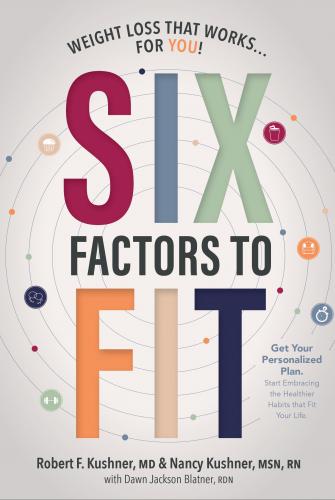 Six Factors to Fit
Weight Loss that Works for You!
Paperback

* Individual store prices may vary.
Description
Tired of going on and off diets? Struggling with your weight? In this book, leading weight-management expert Dr Robert Kushner shares his novel way of tackling weight that starts with YOU: your lifestyle, your habits, your mindset. Through his latest research and development of the scientifically-validated Six Factor Quiz, he discovered the six factors that end up being major barriers to successful weight management. Once you know your factors, you ll get a personalized weight loss plan to help you eat better, be more active, gain energy, improve your mood, boost confidence, and find the fun in healthy living.

Dr Kushner learned long ago that generic weight loss advice doesn't work well for most people. Since managing weight is personal, influenced by your likes and dislikes, goals, and personal challenges, doesn't it make sense that the program should be tailor-made for YOU?

Six Factors to Fit addresses all aspects of how you approach and live your life that can get in the way of losing weight and keeping it off (for example, unhealthy eating, inactivity, insufficient sleep, low energy, unhealthy stress response, neglected self-care, ineffective coping skills, a poor body image, or feeling stigmatized by your weight).

Six Factors to Fit uses a progressive approach, taking your current diet and habits and guiding you with nudges and tweaks to make your lifestyle healthier.

Six Factors to Fit shows you how to build your own heathy-eating meal plan based on your personal tastes and food preferences - a plan that can be altered whenever boredom sets in or your needs change.

Six Factors to Fit offers you the latest breakthroughs in the changing fields of lifestyle medicine, nutrition, exercise science, psychology, biology, and behavior change and tailors them to your personal factors to support your success in losing weight and keeping it off.
Praise For Six Factors to Fit: Weight Loss that Works for You! …
"What a privilege you will have to work with one of, if not the best expert in the field! That's what you ll get when you follow the Six Factors to Fit program and allow Dr Kushner and his team to guide YOU toward a weight management plan that fits your life." --Michael F. Roizen MD, four-time #1 New York Times bestselling co-author, the RealAge and YOU series and What to Eat When

"There are decades of experience, research, and weight loss wisdom built into this plan! Six Factors to Fit nails it with easy tips to change the eating and lifestyle habits that have been interfering with reaching or staying at a comfortable weight. This program can change your life!" --Samantha Cassetty, MS, RD, nutrition and weight loss expert, columnist for NBC News BETTER, and contributor to Sugar Shack!

"At last! A scientifically validated tool and a personalized weight loss program, based on each person's behaviors, that I can recommend to patients and easily implement in my practice." --Jeffrey I. Mechanick, MD, Medical Director, Kravis Center for Clinical Cardiovascular Health at Mount Sinai Heart

"I love this book Six Factors to Fit!. It s packed with practical tips, meal and snack ideas and patient stories you can relate to, helping you learn that achieving a healthy weight is about tweaking your lifestyle to match your needs and fit your daily routine. A quick quiz, not a quick fix diet, is the secret ingredient to getting you started on the right path." --Connie Diekman, M.Ed, RD, CSSD, FAND, Former President of the Academy of Nutrition and Dietetics

"If you are serious about losing weight and keeping it off, you need to read this book! Dr Kushner is one of the most respected experts in the field and has used the latest research to create a program that gives you the best chance of long-term success." --James O. Hill, PhD, Director, Nutrition Obesity Research Center, University of Alabama at Birmingham, author, The Step Diet and State of Slim



"Dr Kushner takes readers on a life-changing journey away from the typi¬cal one size fits all, restrictive diet regimens toward positive and produc¬tive guidance, valuable for anyone working toward building a healthier life." --Scott Kahan, MD, MPH, Director, National Center for Weight and Wellness



"Six Factors to Fit offers individuals personalized and achievable solutions to losing weight and keeping it off; a welcome change from the all-too-common 'just eat less and move more mantra." --Joe Nadglowski, President and CEO, Obesity Action Coalition



"Most diet plans are one size fits all, but Dr. Kushner uses personalization, which is what will ultimately help a client reach their weight loss goals. His approach helps individuals target the issues that throw them off course, puts them in the driver's seat, and shows them how to address those obstacles to reach lasting results." Frances Largeman-Roth, RDN, nutrition and wellness expert, author of Eating in Color and co-author of the New York Times best selling The CarbLovers Diet
Academy of Nutrition and Dietetics, 9781951123000, 311pp.
Publication Date: November 25, 2019
About the Author
Robert F. Kushner, MD has a long career as one of the most highly respected weight management experts in the world. He is the author (or editor) of 12 books, 58 book chapters and nearly 200 scientific articles on overweight, obesity and nutrition.

Nancy Kushner, MSN, RN is a nurse practitioner and health writer.

Dawn Jackson Blatner, RDN is a registered dietitian nutritionist who helps clients lose weight and supercharge their health. She is author of two award-winning books: The Flexitarian Diet and The Superfood Swap.
or
Not Currently Available for Direct Purchase