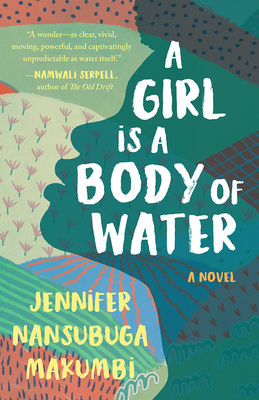 A Girl is A Body of Water (Hardcover)
Tin House Books, 9781951142049, 560pp.
Publication Date: September 1, 2020
* Individual store prices may vary.
Description
"Makumbi's prose is irresistible and poignant, with remarkable wit, heart and charm—poetic and nuanced, brilliant and sly, openhearted and cunning, balancing discordant truths in wise ruminations. A Girl Is a Body of Water rewards the reader with one of the most outstanding heroines and the incredible honor of journeying by her side." —The New York Times
"A mesmerizing feminist epic." —O, the Oprah Magazine

International award–winning author Jennifer Nansubuga Makumbi's novel is a sweeping and powerful portrait of a young girl and her family: who they are, what history has taken from them, and—most importantly—how they find their way back to each other.
In her thirteenth year, Kirabo confronts a piercing question that has haunted her childhood: who is my mother? Kirabo has been raised by women in the small Ugandan village of Nattetta—her grandmother, her best friend, and her many aunts—but the absence of her mother follows her like a shadow. Complicating these feelings of abandonment, as Kirabo comes of age she feels the emergence of a mysterious second self, a headstrong and confusing force inside her at odds with her sweet and obedient nature.
Seeking answers, Kirabo begins spending afternoons with Nsuuta, the local witch, trading stories and learning not only about this force inside her, but about the woman who birthed her, who she learns is alive but not ready to meet. Nsuuta also explains that Kirabo has a streak of the "first woman"—an independent, original state that has been all but lost to women.
Kirabo's journey to reconcile her rebellious origins, alongside her desire to reconnect with her mother and to honor her family's expectations, is rich in the folklore of Uganda and an arresting exploration of what it means to be a modern girl in a world that seems determined to silence women. Jennifer Nansubuga Makumbi's unforgettable novel is a sweeping testament to the true and lasting connections between history, tradition, family, friends, and the promise of a different future.
About the Author
Jennifer Nansubuga Makumbi is a recipient of the Windham-Campbell Prize and her first novel, Kintu, won the Kwani? Manuscript Project Prize in 2013 and was longlisted for the Etisalat Prize in 2014. Her story "Let's Tell This Story Properly" was the global winner of the 2014 Commonwealth Short Story Prize. Jennifer lives in Manchester, UK with her husband and son.
Praise For A Girl is A Body of Water…
Makumbi's prose is irresistible and poignant, with remarkable wit, heart and charm—poetic and nuanced, brilliant and sly, openhearted and cunning, balancing discordant truths in wise ruminations. A Girl Is a Body of Water rewards the reader with one of the most outstanding heroines and the incredible honor of journeying by her side.


A mesmerizing feminist epic.

In lyrical prose, Jennifer Nansubuga Makumbi renders Kirabo's coming-of-age tale as a tender depiction of evolving womanhood, self-awareness in a tight-knit community and the path back to family and history.

At turns rapturous and devastating. . . . Makumbi's writing uplifts and inspires, evoking the grand tradition of folklore and stories passed down, one woman to the next.

With each new work, Makumbi cements her position as a writer of great influence in our time and for future generations.

Makumbi's rich language and detailed descriptions are a must-read.

Kirabo's journey of self-discovery is at once inspiring and epic.

A magnificent blend of Ugandan folklore and more modern notions of feminism. . . . This book is a jewel.

This beautifully rendered saga is a riveting deconstruction of social perceptions of women's abilities and roles.

Bewitching. . . . Jennifer Nansubuga Makumbi is a mesmerizing storyteller, slowly pulling readers in with a captivating cast of multifaceted characters and a soupçon of magical realism guaranteed to appeal to fans of Isabel Allende, Julia Alvarez, or Yaa Gyasi's Homegoing.


In A Girl is a Body of Water Jennifer Nansubuga Makumbi takes the classic male quest for identity and turns it spectacularly on its head. Kirabo's journey toward self-possession is a beautiful, wise, and exhilarating read.

— Lily King, author of Writers & Lovers

A wonder—as clear, vivid, moving, powerful, and captivatingly unpredictable as water itself.
— Namwali Serpell, author of The Old Drift

A Girl is a Body of Water is captivating, wise, humorous and tender: Makumbi has come back stronger than ever. This is a tale about Kirabo and her family, and her place in the world as she searches for her mother and a true sense of belonging. But most of all, this is a book about the stories that define us, and those we tell to redefine ourselves. A riveting read.

— Maaza Mengiste, author of The Shadow King

Superb. An intoxicating tale that combines mythic and modern elements to make the headiest of feminist brews.
— Irenosen Okojie, author of Nudibranch

In her characteristically page-turning and engaging style, Makumbi lays bare the complex power dynamics of patriarchy, capitalism and neocolonialism, not through academic jargon but via that most effective tool of education—storytelling. An achingly beautiful tale.
— Sylvia Tamale
1. What do the origin stories in A Girl Is a Body of Water tell us about the powers of storytelling or the power given to those who create foundational myths and folklore? Why do you think Jennifer Nansubuga Makumbi reclaims mythology for women in the narrative?
2. Women inform much of the action in the novel; how do they work together (or against each other) throughout the novel?
3. Uganda itself emerges as a character in the book. How did the setting and its history inform your reading of the novel? Did you consult a map at any point? Were you curious to read more about Uganda's history?
4. What role do family secrets and gossip play in this novel? Are there ways in which village gossip unearths truth, or is it always damaging?
5. Discuss the ways in which Makumbi reveals the differences in social class among her characters. What are the different cultural assumptions Kirabo encounters—the girls she meets at boarding school, the family she lives with in the city with her father, and those of the citizens in the small village of Natteta?
6. How do you think this novel would be different if it was written from Giibwa's perspective? Are there things she understands that Kirabo doesn't, and vice-versa?
7. Makumbi dedicates A Girl Is a Body of Water to her grandmothers, and Kirabo has many maternal figures in the novel. How is motherhood and maternal care portrayed in this novel?
8. What was it like to be immersed in Makumbi's inventive writing style and the way she weaves different languages throughout the prose? What sets A Girl Is a Body of Water apart from other multi-generational family sagas you have read?
9. Describe the various portrayals of marriage in the novel. What are some similarities or differences you see across generations?
10. Kirabo comes of age over the course of the novel, but she's not the only one who experiences great change. What characters change the most in your opinion?