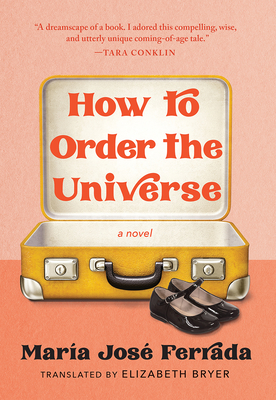 How to Order the Universe
Hardcover

* Individual store prices may vary.
Description
A San Francisco Chronicle and Southwest Review Best Book of the Year and A World Literature Today Notable Translation of the Year

"A dreamscape of a book. I adored this compelling, wise, and utterly unique coming-of-age tale." —Tara Conklin
For seven-year-old M, the world is guided by a firm set of principles, based on her father D's life as a traveling salesman. Enchanted by her father's trade, M convinces him to take her along on his routes, selling hardware supplies against the backdrop of Pinochet-era Chile. As father and daughter trek from town to town in their old Renault, M's memories and thoughts become tied to a language of rural commerce, philosophy, the cosmos, hardware products, and ghosts. M, in her innocence, barely notices the rising tensions and precarious nature of their work until she and her father connect with an enigmatic photographer, E, whose presence threatens to upend the unusual life they've created.
María José Ferrada expertly captures a vanishing way of life and a father-daughter relationship on the brink of irreversible change. At once nostalgic, dangerous, sharply funny, and full of delight and wonder, How to Order the Universe is a richly imaginative debut and a rare work of magic and originality.
Praise For How to Order the Universe…
Exceptional.
— The New York Times Book Review

The novel is about the length of a baby carrot and its prose is so spare it almost reads like a blueprint—but you know what they say about good things and small packages.
— Vulture

María José Ferrada examines the Pinochet regime through the eyes of a traveling 7-year-old in How to Order the Universe. Traveling salesman D is his daughter, M's, whole world. But readers will catch the subtle shifts taking place around them in Chile, even if the novel's young protagonist does not.

— Bustle

Charming. . . . Fans of The Elegance of the Hedgehog will want to make time for this one.

— The Chicago Review of Books

Arresting.
— Sydney Review of Books

A tale that captures a child's perspective on a world created and disrupted by adults.
— The Christian Science Monitor

I was so delighted with it. . . . It's one of these novels in translation that you can read in a sitting or extend it out in a way that's really lovely.
— So Many Damn Books podcast

This quick and quirky book is as charming as it is unsettling, as appealing as it is wise.
— Kirkus, Starred Review

A moving tribute to childhood, Ferrada's novel is an enthralling tale of resilience, deception, and trauma during a dark time in Chile's history.
— Publishers Weekly

A debut as haunting as it is charming, a study in contrast between the simplicity of childhood and the heaviness of adulthood. Readers will fly through this slim novel, which is perfect for discussion.
— Booklist

Outstanding.
— World Literature Today

Through a child's clever but innocent point of view, this inventive debut novel considers family, hope and the harsher realities of 1980s Chile.
— Shelf Awareness

Sparse, poetic. . . . Ferrada organizes her work in short, breathable chapters, each of which is constructed like a poem without ever feeling pretentious.
— Rain Taxi

A Paper Moon-esque story set in Pinochet-era Chile. . . .  A really bittersweet story of a girl's love for her dad and the things in life that even the most intelligent children don't understand when they are young.

— Book Riot

How to Order the Universe is rife with wisdom, lists and wishes, and Ferrada unpacks the strangeness of M's early years in poetic and simple prose.

— Bookreporter

Intimate, intense. . . . Luminous and tender, How to Order the Universe is a novel about the love—filled with words unsaid—between a father and daughter who are caught up in the tides of change that engulf their ordinary, ordered way of life.

— Foreword Reviews

How to Order the Universe is a dreamscape of a book. In an assured and striking voice, María José Ferrada tells the story of M, a girl who skips school to join her traveling salesman father on the road. Along the way, M witnesses tragedy, desire, secrecy, and grief as she finds her own truths and learns to separate her father's disappointments from her own. I adored this compelling, wise, and utterly unique coming-of-age tale.

— Tara Conklin, author of The Last Romantics

Complex in its simplicity, and full of life and mystery.
— Frances de Pontes Peebles, author of The Air You Breathe

Powerful and accomplished.
— Complete Review

Honest, endearing and nostalgic—it seems to scratch an urge one didn't even know they had. Its length and accessibility may make it the perfect novel to pick up on a Sunday afternoon with a cup of tea.
— Sounds and Colours
Tin House Books, 9781951142308, 180pp.
Publication Date: February 16, 2021
About the Author
María José Ferrada
's children's books have been published all over the world. Her first adult novel,
How to Order the Universe
, has been translated into nine languages. Ferrada has been awarded numerous prizes and is a three-time winner of the Chilean Ministry of Culture Award.
How to Turn Into a Bird
received the Chilean Art Critics Circle Award. She lives in Santiago, Chile.
Elizabeth Bryer is a translator and writer from Australia. Her translations include Claudia Salazar Jiménez's Americas Prize–winning Blood of the Dawn; Aleksandra Lun's The Palimpsests, for which she was awarded a PEN/Heim Translation Fund grant; and José Luis de Juan's Napoleon's Beekeeper. Her debut novel, From Here On, Monsters, was co-winner of the 2020 Norma K. Hemming Award.
1. Why do you think María José Ferrada wanted to tell this story from M's precocious, though limited, perspective? If you could read this book from another character's point of view, how would it be different?
2. Why do you think the characters are only referred to by their initials?
3. Early on, M says that "my parents designed a learning plan that would allow me to comprehend the things that a child—a girl, in this case—needed in order to make her way in the world. Thus, I began early with a classification of things." How does M's relentless categorization of objects and the people around her help her cope with the changing world and challenges she is faced with?
4. How does the photographer, E, change the dynamic of the father/daughter relationship?
5. Much of the book's prose is rooted in metaphor, such as D's motto that "every life has its own moon landing." What does he mean by this, and how does it relate to his own life as a traveling salesman?
6. Augusto Pinochet's dictatorship looms in the background of the novel; how does it inform the everyday lives of the characters in the book?
7. Throughout the story, M's mother is an "off-screen" character. Why do you think the author makes this choice?
8. M says she thinks of her excursions with her father as "an extension" of her schooling. What does she learn with him that she might not in school? Outside of school, where do you feel you learned the most valuable life lessons?
9. At one point in the book, salesmen share tall tales that get more outlandish with each retelling. In what ways do they, and M, mythologize their work, and how does it compare to reality?
10. Are there other narrators that M reminds you of? What are some of your favorite books narrated by younger voices?