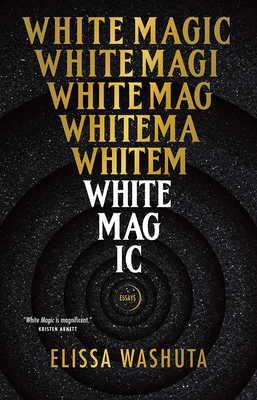 White Magic
Hardcover

* Individual store prices may vary.
Description
"White Magic is magnificent." —Kristen Arnett
Bracingly honest and powerfully affecting, White Magic establishes Elissa Washuta as one of our best living essayists.
Throughout her life, Elissa Washuta has been surrounded by cheap facsimiles of Native spiritual tools and occult trends, "starter witch kits" of sage, rose quartz, and tarot cards packaged together in paper and plastic. Following a decade of abuse, addiction, PTSD, and heavy-duty drug treatment for a misdiagnosis of bipolar disorder, she felt drawn to the real spirits and powers her dispossessed and discarded ancestors knew, while she undertook necessary work to find love and meaning.
In this collection of intertwined essays, she writes about land, heartbreak, and colonization, about life without the escape hatch of intoxication, and about how she became a powerful witch. She interlaces stories from her forebears with cultural artifacts from her own life—Twin Peaks, the Oregon Trail II video game, a Claymation Satan, a YouTube video of Stevie Nicks and Lindsey Buckingham—to explore questions of cultural inheritance and the particular danger, as a Native woman, of relaxing into romantic love under colonial rule.
Praise For White Magic…
Electric.
— Time Magazine

Elissa Washuta's newest collection of essays is coming out in 2021—and they may be exactly what you need right now.
— O, The Oprah Magazine

In this potent, illuminating memoir in essays, Elissa Washuta, a member of the Cowlitz Indian Tribe, digs into her relationship with magic and the occult. . . . Touching on love, heritage, identity, and faith, White Magic is resonant and weighty.

— BuzzFeed

Riveting and insightful.
— Ms. Magazine

A fascinating magic trick of a memoir that illuminates a woman's search for meaning.
— Kirkus, Starred Review

Washuta's frank confrontations with, and acknowledgments of, unhealed wounds are validating. . . . evoking the sense of peeling open a letter from an estranged friend. A poignant work by a rising essayist.
— Foreword Reviews, Starred Review

Her prose is crisp and precise, and the references hit spot-on. . . . Fans of the personal essay are in for a treat.
— Publishers Weekly

Powerful. . . . Washuta's essays refuse the mandate of a tidy resolution. Instead she circles around each subject, inspecting it as symbol, myth, metaphor, and reality, all while allowing her readers space to draw their own conclusions, or to reject the need for any conclusion at all. Like a stage magician, she asks readers to look again. White Magic is an insightful, surprising, and eloquent record of stories of magic and the magic in stories.

— Booklist

[White Magic] is unlike any other book out there and will certainly launch Washuta's meteoric rise.

— BookPage

Washuta's story and struggles become a metaphor for the toll of colonialism on generations of Indigenous people like herself. Readers of recovery narratives, women's issues, and keenly observed social commentary will be rewarded here.
— Library Journal

A funny, piercingly intelligent memoir. . . . Washuta is thoroughly gifted.
— SeattleMet

Remarkable. . . . Each essay is skillful at interweaving the personal and the historical—and on the whole, the collection is, well, magic.
— Alma

[Sifts] through the broken shards of culture, looking for messages to restore one's spirit.
— The Los Angeles Times

Spellbinding.... [stirs] historical research and contemporary memoir into a captivating frenzy.
— Nylon

White magic, red magic, Stevie Nicks magic—this is Elissa Washuta magic, which is a spell carved from a life, written in blood, and sealed in an honesty I can hardly fathom.
— Stephen Graham Jones, author of The Only Good Indians

White Magic is funny and wry, it's thought-provoking and tender. It's a sleight of hand performed by a true master of the craft. White Magic is magnificent and Elissa Washuta is spellbinding. There is no one else like her.

— Kristen Arnett, author of Mostly Dead Things

Elissa Washuta is exactly the writer we need right now: as funny as she is formidable a thinker, as thoughtful as she is inventive—her scrutiny is a fearless tool, every subject whittled to its truest form.
— Melissa Febos, author of Girlhood

These pages are windows into a black lodge where Twin Peaks and Fleetwood Mac are on repeat—sometimes forward, sometimes backwards, sometimes in blackout blur. I stand in awe of everything here. What an incredible and wounding read.
— Richard van Camp, author of The Lesser Blessed

Part history, part riddle, part portal: this book worked on me like a spell. I've never read anything like White Magic, and will be returning to it again and again.

— Claire Comstock-Gay, author of Madame Clairevoyant's Guide to the Stars

The most incredible memoir.
— Liberty Hardy, All the Books podcast - BookRiot

In this incantatory, impassioned book of essays, Elissa Washuta offers readers a glimpse into a world of magic and spirituality, one which she has created for herself, drawing on the traditions of generations before her, and incorporating those things in her own life that have meaning and power. It starts with disillusionment; Washuta is healing from the trauma of a decade of unsustainable intoxication and addiction, and she seeks—and finds—a connection with a world beyond this one. Washuta's essays interlace themes of inheritance, loss, colonialism, identity, and ownership to beautiful, heart-aching effect in this, yes, wholly magical look at learning how to recognize the power that rests within you.
— Refinery29

Her unique voice as a Cowlitz woman who refuses to be contained by colonialism, sexism, and ableism will light a fire in any reader who is paying attention.
— BookRiot

In the end, it is not tarot cards but writing — the tedious but magical process of decoding and rebuilding with new tricks and spells — that proves to be the real magic.
— Crosscut

An innovative and deeply felt work to sink into.
— The Millions

A well of invention and imagination.
— The Believer

Beautifully crafted.
— Wake Island Podcast

This is definitely one that you need on your TBR right now. Like stop whatever you're doing, open your Goodreads or whatever you use. StoryGraph. And add it because it's definitely one you're going to want to read this year.
— Reading Women Podcast
Tin House Books, 9781951142391, 432pp.
Publication Date: April 27, 2021
About the Author
Washuta is a member of the Cowlitz Indian Tribe and a nonfiction writer. She is the author of Starvation Mode and My Body Is a Book of Rules, named a finalist for the Washington State Book Award. With Theresa Warburton, she is co-editor of the anthology Shapes of Native Nonfiction: Collected Essays by Contemporary Writers. She is an assistant professor of creative writing at the Ohio State University.