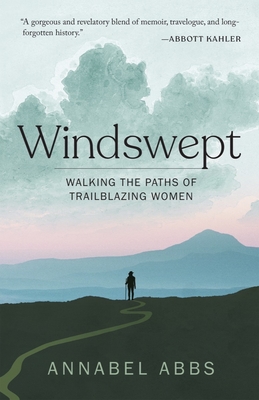 Windswept
Walking in the Paths of Trailblazing Women
Hardcover

* Individual store prices may vary.
Description
In this wondrous and provocative work, acclaimed writer Annabel Abbs follows the footsteps of extraordinary women who walked in wild landscapes throughout history.
Annabel Abbs's Windswept: Walking the Paths of Trailblazing Women is a beautifully written meditation and memoir that reflects on that most fundamental way of connecting with the outdoors: the simple act of walking. In absorbing and transporting prose, Abbs follows in the footsteps of groundbreaking women, including Georgia O'Keeffe in the empty plains of Texas and New Mexico, Nan Shepherd in the mountains of Scotland, Gwen John following the French River Garonne, Daphne du Maurier following the River Rhône, and Simone de Beauvoir—who walked as much as twenty-five miles a day in a skirt and espadrilles—in the mountains and forests of France. These trailblazing women were reclaiming what had historically been considered male domains.



The stories of these incredible women and artists are laced together by the wilderness walking in Abbs's own life, beginning with her poet father who raised her in the Welsh countryside as an "experiment," according to the principles of Rousseau. Windswept is an inventive retrospective and an arresting look forward to the way walking brings about a kind of clarity of thought not found in any other activity, and how it has allowed women throughout history to reimagine their lives and break free from convention. As Abbs traces the paths of these exceptional women, she realizes that she, too, is walking away from, and towards, a very different future. Windswept crosses continents and centuries in an arresting and stirring reflection on the power of walking in nature.
Praise For Windswept: Walking in the Paths of Trailblazing Women…
[Abbs] connects clarity of mind, communion with land, and rejection of gender roles to this specific corporeal movement — one which many have turned to in the past year.
— Buzzfeed

A triumph . . . I felt as though I were being lifted, carried up to peaks.
— Charlotte Peacock, author of Into the Mountain: A Life of Nan Shepherd

A gorgeous and revelatory blend of memoir, travelogue, and long-forgotten history, Annabel Abbs's Windswept tells the stories of six extraordinary women and their intertwining journeys—one accomplished by foot and the other by the mind and heart. Abbs is a witty and engaging guide, seamlessly weaving her own experience with those of her "walking women," all of whom discovered that the simple act of taking one step at a time can be the most powerful—and defiant—of all.
— Abbott Kahler, New York Timesbestselling author (as Karen Abbott) of The Ghosts of Eden Park
Tin House Books, 9781951142704
Publication Date: September 7, 2021
About the Author
Annabel Abbs is an award-winning author and journalist. She writes regularly for a wide range of newspapers and magazines and lives in London, with her husband and four children. Her novels, The Joyce Girl and Frieda, were published to great acclaim. Windswept is her first work of nonfiction.