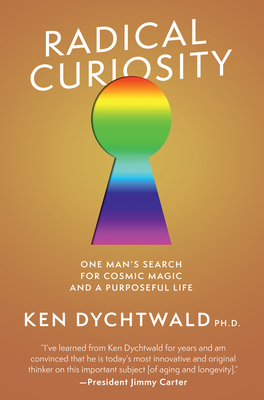 Radical Curiosity
One Man's Search for Cosmic Magic and a Purposeful Life
Hardcover

* Individual store prices may vary.
Description
"A modern-day Siddhartha story." --Michael Murphy, best-selling author of The Life We Are Given
Dr. Ken Dychtwald has dedicated a renowned career to envisioning our potential as we grow up and grow older. Through his books and teaching, he has helped millions of people make sense of today's longevity bonus. Now, in an entirely different kind of book, Dychtwald dives deep to examine his own life in the context of his work, passions, and incredible breadth of experience to show readers his key to a meaningful, masterful and purposeful life: a cyclical process of reflecting, learning and teaching - that never ends, no matter what stage of life one is at. The result? An approach to taking on challenges, facing frightening moments, soaring to new heights and cultivating personal growth that Dychtwald calls Radical Curiosity.
Using memoir and storytelling to illustrate a process that is both ambitious and humble, Dychtwald shares experiences not just of success and failure, but of the nuanced spaces between. From his working class roots in New Jersey to the cliffs of Big Sur and the pinnacles of the human potential movement; from launching his company Age Wave and collaborating with presidents to accepting profound personal loss and coming to terms with his own experience with aging, Ken Dychtwald's Radical Curiosity is both a glimpse into a visionary's extraordinary world, and a guide for claiming a powerful vision of one's own. Ultimately, Radical Curiosity is a call to action: asking that we add more purpose, service and empathy to our lives, regardless of age.
Unnamed Press, 9781951213312, 352pp.
Publication Date: April 6, 2021
About the Author
As an author of 18 books, a celebrated public speaker and teacher, successful entrepreneur, documentary film-maker and visionary thinker, Dr. Ken Dychtwald has been helping people look ahead for decades, both at their own - and their clients, consumers, patients and voters' - futures as well as the culture at large. Dychtwald has given presentations to over two million people worldwide and his ideas and research have garnered nearly fifteen billion media impressions. His client list has included over half the Fortune 500. He has served as a Fellow of the World Economic Forum, has keynoted two White House Conferences on Aging, and is the recipient of the McKinsey Prize from the Harvard Business Review. Ken has twice received the distinguished American Society on Aging Award for outstanding national leadership and he was honored by Investment Advisor as one of the 35 most influential thought leaders in the financial services industry over the past 35 years. Ken and his wife, Maddy are the recipients of the Esalen Prize for their outstanding contributions to advancing the human potential of aging men and women worldwide. Ken was recently awarded the Inspire Award from in the International Council on Active Aging for his efforts to make a difference in the lives of older adults worldwide and the Global Pioneer award from the Retirement Coaches Association.