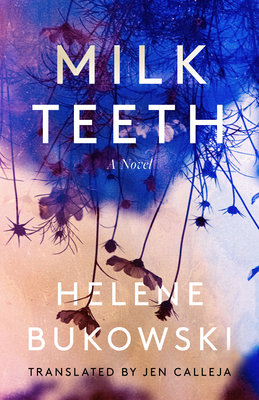 Milk Teeth
Hardcover

* Individual store prices may vary.
Description
Skalde writes her thoughts on pieces of paper, making new discoveries and revelations, and finding scraps with which to understand her limited world. Her mother Edith tells her little, preferring the solitude of her room. Their house is full of silence, and secrets.
Skalde has only ever known life with her mother, rarely crossing the boundaries of their plot of earth to visit neighbors, and never leaving their zone. Skalde has never even seen blue in the sky--their region has been plagued by fog for as long as she can remember. Their terrain is dry and burning, and Edith and their neighbors cling to the memories of what once was: snow and rain, green grass and trees ripe with fruit.
When a girl called Meisis arrives, from where no one knows, Skalde goes against Edith's wishes by bringing her in. Meisis's arrival doesn't simply mean that Skalde has someone to care for or a friend, it means there has been a serious breach in security for the area.
Beautifully written in immersive, spare prose, Helene Bukowski's debut novel is about what it means to be a mother at the end of the world, about living with the impacts of climate change, and the way we view "outsiders." Jen Calleja's translation from the German breathes life into this modern-day fairytale, where each moment witnessed and word uttered is weighted with importance in the quiet, sparse world of these characters living on the brink.
Unnamed Press, 9781951213350
Publication Date: September 21, 2021
About the Author
Jen Calleja is the author of I'm Afraid That's All We've Got Time For (Prototype), Goblins (Rough Trade Books) and Serious Justice (Test Centre). She is a literary translator from German of Marion Poschmann, Wim Wenders, Kerstin Hensel, Michelle Steinbeck, Gregor Hens, and more. Her translation of The Pine Islands was shortlisted for the Man Booker International Prize 2019.