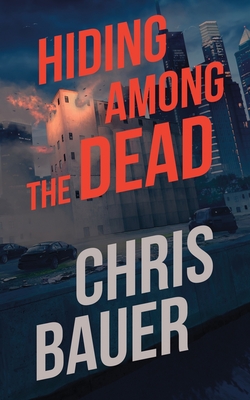 Hiding Among the Dead
Paperback

* Individual store prices may vary.
Other Editions of This Title:
Hardcover (5/14/2019)
Description
Philo Trout:
Retired Navy SEAL.
Former bare-knuckles boxer.
Current crime scene cleaner.
"Couldn't pry me away...Bauer writes with authenticity...A knockout original story, with a host of equally original characters. Certainly not your typical crime fiction, and that's a good thing." --David Swinson, author of Trigger.
_________________________________
Philo Trout just wanted to start over.
He moved to Philadelphia to keep his past a secret. His new life as a crime scene cleaner is quiet--until he discovers that many of his "clients" are coming up short on their organ count.
As Philo tries to outrun his past, a coworker can't remember his own. Patrick was found brutally beaten, and is now an amnesiac as a result. When the connection between his coworker's history and missing organs begins to emerge, Philo is determined to solve the puzzle.
The trail of clues leads Philo into a dark conspiracy. A brutal organization will stop at nothing to protect their secret. And Philo's past as a fighter might be his only route to the truth...
If he can survive that long.
__________________________________
HIDING AMONG THE DEAD is a dark and action-packed thriller by Chris Bauer. If you enjoy Elmore Leonard and Breaking Bad, then you'll love this edgy, heart-stoppingly suspenseful book.
__________________________________
What readers are saying about Chris Bauer and HIDING AMONG THE DEAD:
★★★★★ "This is a novel of remarkable characters"
★★★★★ "Hiding Among the Dead is not your usual thriller. And that's a good thing."
★★★★★ "Come for the thrills, stay for the compelling characters, gritty North Philly setting, and great dialog. "
★★★★★ "The deft combination of quirky characters and dark humor with serious topics...makes the story and characters linger in the mind long after the last sentence."
★★★★★ "This is tough, crisp, noir-ish writing that will take you to the underbelly of life and other places you haven't been before. It's a crazy romp that will satisfy and then do it again. Promise."
Buy HIDING AMONG THE DEAD to start the explosive thriller today
Severn River Publishing, 9781951249410, 296pp.
Publication Date: May 14, 2019