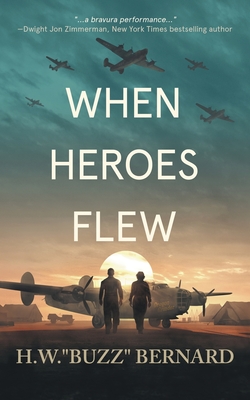 When Heroes Flew
Paperback

* Individual store prices may vary.
Other Editions of This Title:
Hardcover (4/28/2020)
Description
**2020 GOLD MEDAL WINNER - MILITARY WRITERS SOCIETY OF AMERICA**
A novel of extraordinary bravery, inspired by the true story of one of the most harrowing air raids ever flown. Fans of Beneath A Scarlet Sky, The Nightingale, and Unbroken will enjoy this unforgettable tale of duty, honor, and compassion.
"...a bravura performance..." --Dwight Jon Zimmerman, New York Times bestselling author
For B-24 bomber pilot Al Lycoming, the mission was history in the making. For Women's Airforce Service Pilot Vivian Wright, it was a chance to put her skills to the ultimate test...and share in the burden of combat.
Dispatched to Benghazi on mysterious orders, Al Lycoming finds nearly 200 other B-24 bombers being assembled...and a top secret assignment that will catapult them all into seemingly impenetrable Nazi defenses.
Their mission: a daring low-level attack on Hitler's extensive oil refineries.
But when his co-pilot falls ill at the last moment, Al secretly finds help from an unlikely source--Vivian.
Together, the two fly towards dark skies filled with enemy flak and fighters...and into the pages of history.
With perspectives from American and German pilots alike, When Heroes Flew masterfully weaves together one of the most dangerous and incredible aerial operations of World War Two with a riveting tale of bravery, suspense, and self-sacrifice.
____________________________
Praise for H.W. "Buzz" Bernard's WHEN HEROES FLEW:
"Highly recommended." --P.T. Deutermann, author of Pacific Glory
"World War II angst and action brought to life." --Commander George Wallace, USN (Ret.), author of the Hunter Killer series
"This book gripped me from the very first page...In real life, this WW2 mission resulted in the award of Five Medals of Honor. In my view, they all deserved one. Highly recommended." --Rachel Wesson, author of The Orphan Train series
"...feel the vibration, smell the exhaust, and sense the fear." --Tom Young, author of Silver Wings, Iron Cross
"...chuckle and weep in tandem while forgetting everything around you but the story itself." --Kathleen M. Rodgers, author of The Flying Cutterbucks
" The pilot's]...amazing courage, and that of the entire group, is subtly drawn." --John J. Gobbell, author of the Todd Ingram series
"Strap in It's one hell of a ride " --Don Keith, author of Final Bearing
Severn River Publishing, 9781951249977, 286pp.
Publication Date: April 28, 2020