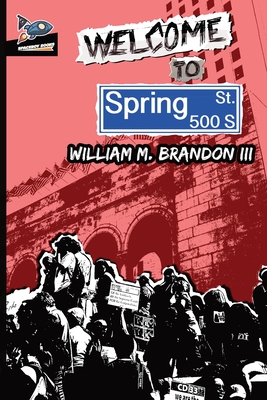 Welcome to Spring Street
Paperback

* Individual store prices may vary.
Description
Downtown Los Angeles 2013 - Protesters are being hunted.In the wake of nationwide protests, the federal government created the Revision of Origin Act. Under the act, interstate travel is prohibited and political dissidents who are captured over state lines, disappear without a trace.By completing the Revision program, Seward Keagan becomes a citizen of Los Angeles, where encroaching tyranny has met desperate resistance. He cavorts with geniuses, madpersons, and the depraved, as they fight for their right to exist. When Keagan discovers an insidious presence in his building he joins anarchists and soccer moms alike in their quest to get out of l.A.-Before it's too late...Welcome to Spring Street asks for your empathy, and in return, offers a call to rebellion.Praise for Welcome to Spring Street: "Brandon takes us into an alternative version of our own world with the confidence and resolve of a well-worn psychic-voyager. Multi-layered, multi-stylized, and featuring a wild and diverse cast, Welcome to Spring Street is a spark of hopeful art against authority and those who abuse power. Read this wisely "- Jordan A. Rothacker, author of Gristle: weird tales and the forthcoming, The Death of the Cyborg Oracle"William M. Brandon III has a vision that cuts to the core of where we are now and shines a light on the forces of the underground. Moving from downtown Los Angeles's dive bars to the memory of Occupy encampments and beyond, Welcome to Spring Street is a pulsing ride through corruption, insurgency, and, ultimately, hope."- Saskia Vogel, author of Permission"Welcome to Spring Street is a portrait of a Los Angeles that once seemed fictional, but becomes less so every time I read it. Brandon's ensemble cast foretells a brutal future, one that increasingly feels like it is arriving eerily close to Spring Street's schedule. Is there a way out? Is there a safe place? Spring Street has no easy answers, only the cold comfort of its Noir world that lingers even after you put the book down."- Scott Gilbertson, WIRED"If Bukowski wrote about anarchists, dissidents, and reactionaries, the result would be Welcome to Spring Street. A prescient and delightfully discombobulating take on the American police state."- Jim Ruland, author of DO WHAT YOU WANT: The Story of Bad Religion.
Spaceboy Books LLC, 9781951393038, 194pp.
Publication Date: July 2, 2020