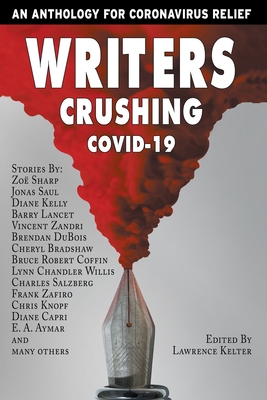 Writers Crushing Covid-19
Paperback

* Individual store prices may vary.
Description
Film and recording artists the world over are broadcasting from home, doing their share to raise money for COVID-19 relief. And now the literati has picked up the gauntlet.Bestselling and award-winning authors have contributed their short stories and essays to inspire one and all during this challenging time, to enlighten the mind, and raise the spirits. Inside you'll find stories and tidbits that run the gamut of the literary world, from a personal letter to a crime thriller short story to a mystery short. You'll enjoy stories from authors you know and authors you'll discover.
AUTHORS: Bruce Coffin, Charles Salzberg, Cheryl Bradshaw, Debra Goldstein, Jaden Terrell, Frank Zafiro, Cathy Cobb, Phillip Bowie, Warren Moore, Zo Sharp, Marvin Wolf, Tom Wood, Jonas Saul, Barry Lancet, Brendan DuBois, Diane Capri, Lawrence Kelter, Diane Kelly, Chris Knopf, Jill Fletcher, Karen McCullough, Vincent Zandri, Jennifer Delozier, Alexia Gordon, Gabriel Valjan, Ed Aymer, Richard Helms, J.D. Allen, Ross Cavins, Julie Bates, Jeff Hargett, Agnes Alexander, Micki Bare, Karen Fritz, Lynn Chandler Willis
Piedmont Authors Network, 9781951604097, 314pp.
Publication Date: August 1, 2020