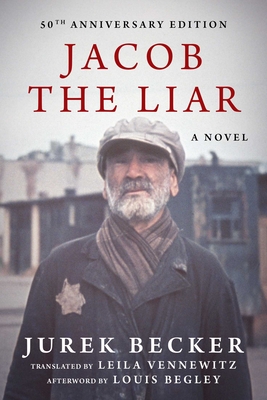 Jacob the Liar (Paperback)
A Novel
Arcade, 9781951627041, 264pp.
Publication Date: October 6, 2020
Other Editions of This Title:
Hardcover (2/1/1996)
Paperback (9/1/1997)
* Individual store prices may vary.
Description
​One of the most remarkable novels of the Holocaust ever written, and the basis of the 1999 major motion picture starring Robin Williams.

A novel about the Holocaust "that has never been surpassed" (Times Literary Supplement), Jacob the Liar is a now classic work from one of the giants of German postwar literature and a tale of everyday heroism and the extraordinary power of illusion.

In the ghetto, possession of a radio is punishable by death. Like thousands of his fellow prisoners, Jacob Heym is cut off from all news of the war—until he is arrested one evening and brought to the German military office, where he overhears a report of the Red Army's advance to a city some 300 miles away. Miraculously, he is allowed to return to his quarters, but when he tries to spread the good news, the only way to make people believe him is to tell a lie: "How do I know? I have a radio." One lie leads to another, and before long Jacob finds himself feeding the entire ghetto fabricated news reports of the Russians' advance—reports that save lives by giving people renewed hope. So Jacob is a hero and a liar. But how much longer can his web of lies hold?

Told with suspense and humor, here is a masterful tale of hope, desire, and the life-giving force of fiction. Awarded Germany's prestigious Heinrich Mann Prize for fiction and in a new translation by Leila Vennewitz, Jacob the Liar is a masterpiece of Kafkaesque comedy which unfolds with the impact of a timeless folk legend. This edition includes a new afterword by Louis Begley.
About the Author
Jurek Becker was born in Lódz, Poland. The exact date of his birth is unknown, because, while the family was living in the Lódz ghetto, his father made him out to be older in an unsuccessful attempt to prevent him from being deported. From 1939 until 1945, Jurek Becker was a prisoner in the concentration camps of Ravensbrück and Sachsenhausen. After the war, Becker's father took him to East Berlin, where they were among few surviving Jews who chose to stay in Germany. An acclaimed screen-writer and novelist, Becker won several literary prizes including the Heinrich-Mann and the Charles Veillon Prizes for Jacob the Liar . He is also the author of the novels Sleepless Days and Bronstein's Children. He died in 1997.

Leila Vennewitz was the distinguished translator of Heinrich Böll and other postwar German writers, including Jurek Becker and Martin Walser. She won numerous awards for her translations. She died in 2007.

Louis Begley is the award-winning author of Wartime Lies, About Schmidt, and many other acclaimed novels and works of nonfiction.
Praise For Jacob the Liar: A Novel…
Winner of the Heinrich Mann Prize for fiction
Winner of The Charles Veillon Prize

"An unforgettably beautiful novel . . . Cuts to the very heart of human experience. Jacob the Liar is a strange, powerful, moving work, beautifully written and well served by its translator."—The New York Times Book Review

"One of the enduring works of the Shoah . . . This miraculous novel pays profound homage to remembrance."—Boston Globe

"Creative storytelling . . . Asks us to weigh the human need for hope in all its real and imagined forms."—The New Yorker

"A novel about the martyrdom of Europe's Jews that has never been surpassed."—Times Literary Supplement

"Twenty-seven years after its initial German publication, this celebrated . . . novel of life and death in a Nazi-occupied Jewish ghetto during WW II appears here in the translation authorized by the author, a Jewish Holocaust survivor. In the midst of a morally inverted universe where the monstrously wicked has become utterly commonplace, Jacob Heym, a yellow star on his chest, gives hope to his fellow ghetto occupants by telling them he has clandestinely overheard a radio report that Russian troops are advancing and will soon liberate the ghetto. One life-sustaining lie leads to another as the former eatery owner, who now does back-breaking forced labor in a freight yard, circulates invented radio news of German defeats and Allied progress. Jacob's stories halt a stream of suicides, even though savage beatings, shootings, executions, starvation and deportations to concentration camps continue unabated. In a moving, almost hallucinatory, narrative that gives voice to a grief beyond words, Becker shows us ordinary people struggling to maintain their humanity and dignity. Vennewitz's translation conveys the restraint and emotional power of a story that unfolds with the impact of a moral parable or a folk legend."—Publishers Weekly