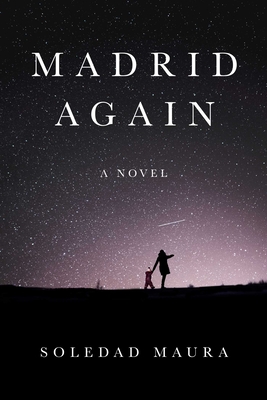 Madrid Again
A Novel
Hardcover

* Individual store prices may vary.
Description
A modern-day bildungsroman, featuring a young woman on a quest to discover her family history as she is torn between the US and Spain, the old world and the new. 

Told with humor, candor, and grit, Madrid Again is a highly original novel, and an homage to the haunting power of history, and how it shapes the identity of two generations of women.

Madrid, 1960s. Odilia is a brilliant young student who seems to have it all until she is unexpectedly spirited away on an exciting journey across the Atlantic to the United States by a magnetic professor. But the professor disappears from Odilia's life as mysteriously as he appeared. Left alone in a new country with a baby girl, Lola, Odilia must decide whether to strike out and raise her daughter alone, or return to her strict, upper-class Catholic family in Spain. Mother and daughter travel to Madrid as often as possible, but Odilia ultimately chooses a life of self-reliance in New England.

As Lola grows up, she feels torn between two countries, two cultures, and two languages. She becomes a historian and embarks on a quest to seek out the history of her origins. She wrestles with family secrets, as she struggles to answer questions about her own identity and future. How does she fit in to the United States, Spain, or anywhere else? 

 
Praise For Madrid Again: A Novel…
"What does it mean to belong (but not entirely) to two completely different countries and cultures? In her debut novel, Soledad Fox Maura creates an indelible portrait of exile, longing, identity, and of one woman's search for her essence amid the scraps and fables of the past. 
Madrid Again
 is a knockout—spare, lyrical, sexy, and haunting." —Peter Smith, author of
A Good Family
"Soledad Maura has written a book for our times, an age of multinational wanderers, exiles and refugees, of people living in two countries, two cultures and two languages. Here, through the fragile voice of her bi-national narrator, Maura poignantly reveals how only by unveiling the hidden past of her family can she finally resolve the disturbing contradictions of her own identity."—Alan Riding, author of 
And The Show Went On: Cultural Life in Nazi-Occupied Paris
"The tempo of
Madrid Again
carries you effortlessly from beginning to end. The story is fascinating…and has all the unmistakable ingredients of exile. The writing is strong and bold and often thankfully tender."  —Gloria García Lorca, Artist and Poet
"From small town Massachusetts to metropolitan Madrid, Soledad Maura essays the power of objects and the shadowland of memory to create a powerful narrative of both hope and resignation.  Our fragile feelings are reconnected in this [A] brave and deeply moving transatlantic odyssey in search of identity and the solace of a healing heart."—Gijs van Hensbergen, author of
Guernica: The Biography of a Twentieth-Century Icon and 
Gaudi: A Biography
"Madrid Again
is a subtle, shimmering novel about searching—for identity, for secrets, and ultimately for home. Like Maura herself, as well as her main character, it is a book as American as it is Spanish. An immigrant story about finding belonging between two cultures, and a postwar story about communing with the ghosts of history."—Aaron Shulman, author of 
The Age of Disenchantments: The Epic Story of Spain's Most Notorious Literary Family and the Long Shadow of the Spanish Civil War
"
Madrid Again
is a powerful account of a Spanish-American family, its upheavals and the impact history has upon it. Crisscrossing the Atlantic, Soledad Maura's novel skillfully explores what it means to be caught between two cultures and two languages. She conjures up a vivid picture of both post-war Spain and small-town America and in the process evokes the dilemmas, insecurities and wonders of a bi-cultural existence.
Madrid Again
shows the inexorable link between a family's history and its present and how difficult it can be to escape the shadow of the past." —Guy Hedgecoe, Spain correspondent for the BBC
"Soledad Maura has woven a magical, cross-cultural, transnational tapestry that will prove vital in these times when global migration is both so poignant yet controversial. Maura's fiction reads at a much faster pace than in her biographies, perfect for this book and genre. Still, she is able to transport the skill she uses in creating such a sense of intimacy in her non-fiction work to her novel. It may be very cliché to say that I felt I was walking the streets of Madrid with her—briskly—but I kept feeling that incredible sensation, again and again." —Mark Eisner,
Neruda: The Biography of a Poet
Arcade, 9781951627126, 192pp.
Publication Date: November 17, 2020
About the Author
Soledad Maura is a Professor of Spanish and Comparative Literature at Williams College. She has a PhD in Comparative Literature from the City University of New York, and is a former Fulbright Senior Research Scholar. She has published three books, including the 2018 biography of Jorge Semprún Exile,Writer, Soldier, Spy which was cited in 2019 as one of the top 5 "literary lives" by the Wall Street Journal. She lives in Western Massachusetts.